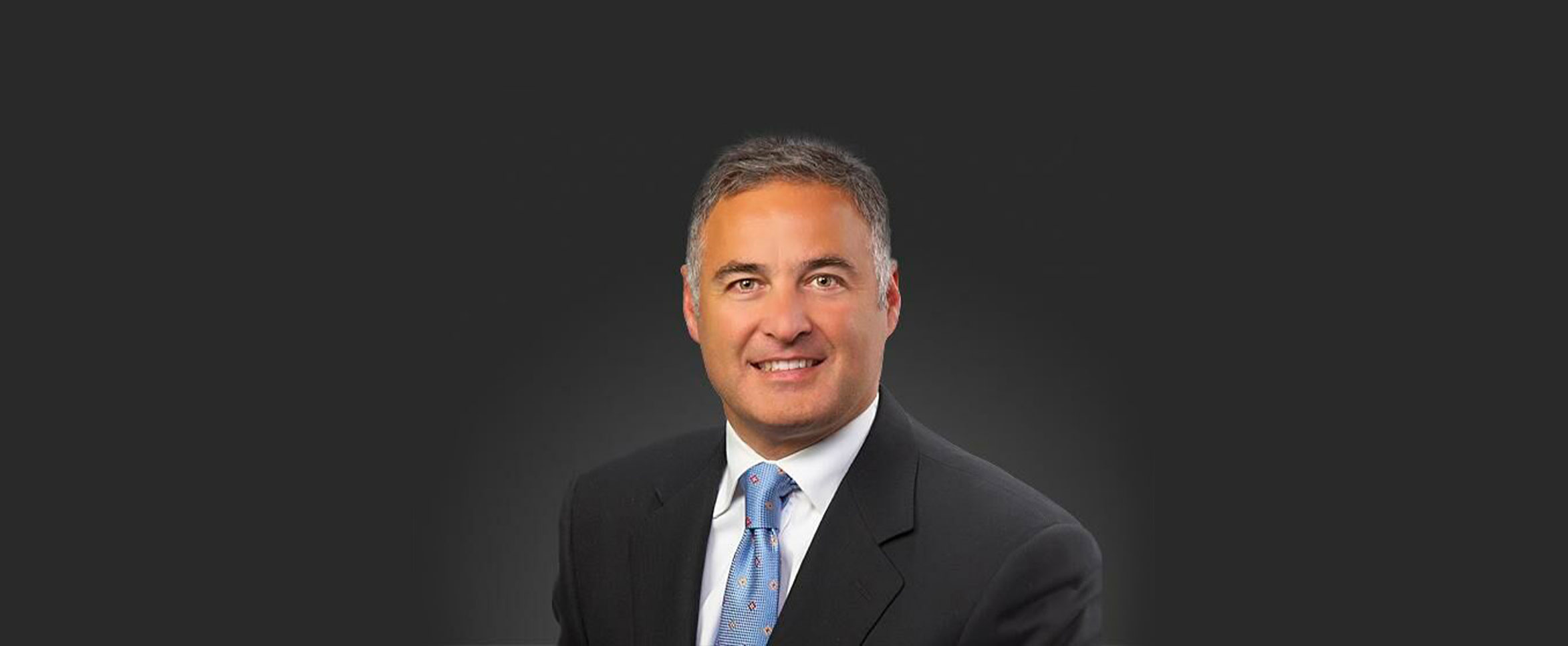 George Bamber has seen the highs and lows during his 35-year career
In 35-plus years in Calgary's real estate industry, George Bamber has witnessed market highs, market lows … and everything in between.
With three decades of business experience and customer trust, George Bamber, the owner/broker of Century 21 Bamber Realty, is confident in the continued strength of Calgary and Alberta's economy. "Calgary real estate has been undervalued for so long and while we may see a bit of a dip in momentum after coming off a record sales year, the strength of Alberta — especially in oil and gas and with continued diversification — is going to mean net in-migration. Alberta is going to be the place to be."
Bamber expects his real estate company — the largest Century 21 office in Alberta and one of Canada's largest in overall volume — to continue to grow substantially in 2022. In the first three months of this year, his office had 1,000 sales throughout the Calgary region, including Springbank, Bragg Creek, Okotoks and Airdrie, for homes from $130,000 to $8 million. In 2021, Bamber Realty had 2,800 sales with a value of $1.6 billion.
While increasing interest rates may take some potential homebuyers out of the market to save more money before buying a home or to look for a potential dip in prices, Bamber says Calgary continues to be an affordable place to buy, especially in the apartment condo realm where prices in many cases are below replacement value. He is hoping this year for a more balanced market that will be good for both buyers and sellers as opposed to 2021, where there were often multiple bids on a limited amount of inventory.
"Hopefully it will be a year when buyers don't have to purchase the first home they see," says Bamber. "Buyers are doing their research online and through various social media tools prior to engaging with a professional realtor," says Bamber. "At that point, it gets down to our expert knowledge and professionalism from start to finish." It's important to have an experienced agent who can move as quickly as the market by using all their professional tools, from on-the-spot market evaluations to constant communication, negotiating competing offers and taking a buyer or seller to agreement completion, he adds. 
In more than three decades, Bamber Realty has grown while retaining its community roots. It's still at its original 17th Avenue S.W. location — even with the same phone number. And that community connection sees individual real estate agents supporting multiple local charities while Bamber Realty's major initiative involves Century 21's commitment to Easter Seals, helping Calgary children with disabilities attend Camp Horizon. 
To learn more about Bamber Realty, check out bamberrealty.c21.ca.
Posted on the Calgary Herald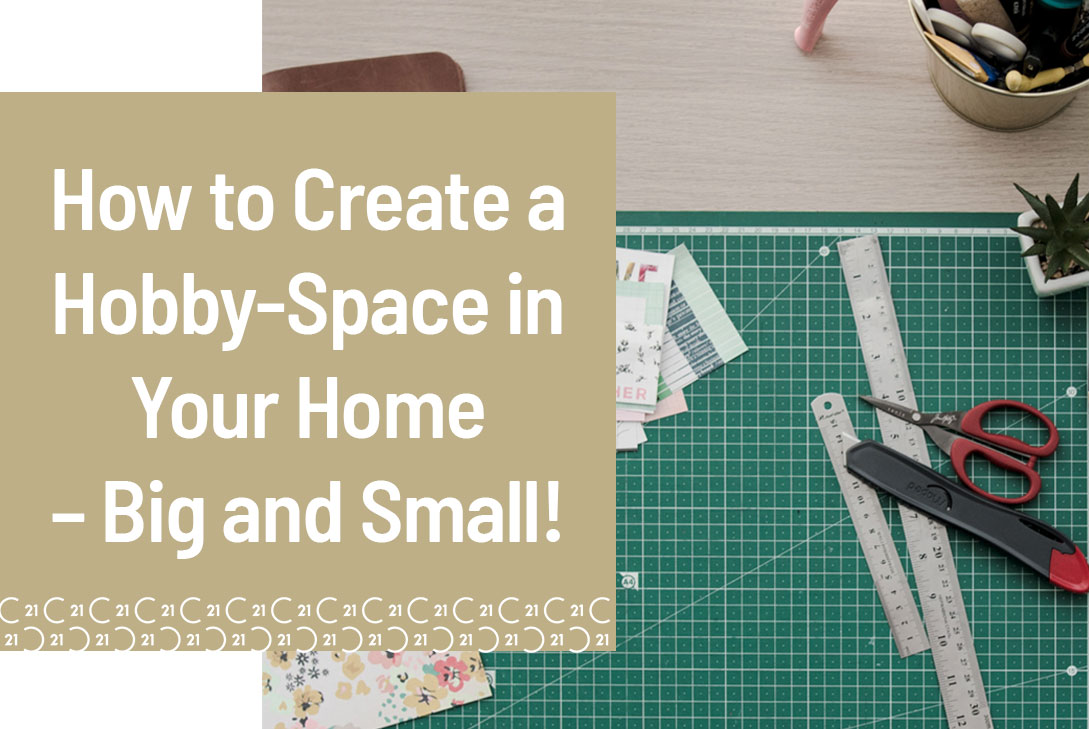 Hobbies are a great way to relax, hone your skills, and unwind after a long day. Having a dedicated space in your home for your hobby can keep supplies organized and give you a place to enjoy your favourite pastime. Whether it's a whole room or just a corner, here's how you can carve out some space for your hobbies.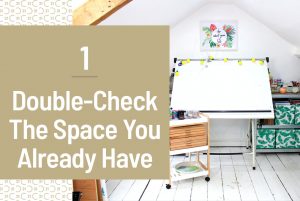 Double-check the space you already have
Do you use each room in your home every day? Take a moment to consider whether a storage room can be cleared out if it's full of junk, or if a corner is being occupied by a side table that could be a small desk instead. Maybe consider changing up one of the larger rooms if it's not used often – do you often use your dining room, or eat in the kitchen?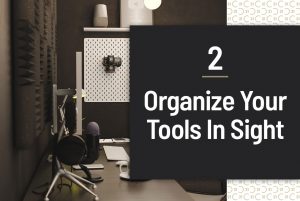 Organize your tools insight
If you have a lot of tools and not a lot of space to store them, consider using a pegboard to keep them up and on the walls. You'll be able to see where everything is, and if you have smaller odds and ends, mason jars will allow you to keep them together and even show them off as unique decorations.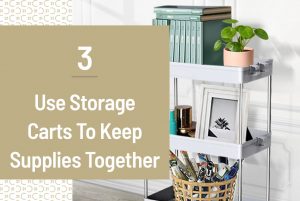 Use storage carts to keep supplies together
Artists of all kinds can find themselves collecting supplies that end up all over the place, so keep things together using a wheeled storage cart. These are great if you don't have a big desk and want to maximize the surface area to create your work. Storage carts can sit next to your work area and hold your supplies at the ready.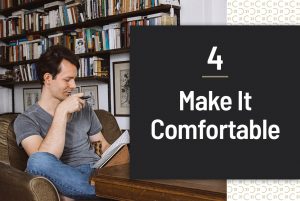 Make it comfortable
If you're a reader, a crafter, a gamer, or any kind of hobbyist that sits down a lot, make sure you're comfortable! Look for a cushion that offers good back support, or a throw blanket to curl up under. Ask yourself if your hobby would be easier if your chair has arms, or better off without.
Add some decor!
Show off your skills! Make a piece of art or create a sign for your hobby space to show off your passion. If you're not crafty, consider a related piece of artwork or a print, or maybe an old tool you have lying around that can be displayed. These can serve as little pieces of inspiration when you want to settle into your space and unwind.
Monthly Features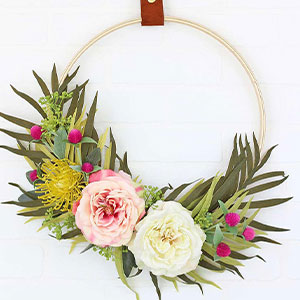 DIY Project: Modern Spring Wreath
Celebrate the sunnier weather with a vibrant wreath! This simple DIY project is fun, elegant, and will give you a great décor piece for your door.
Get DIY project here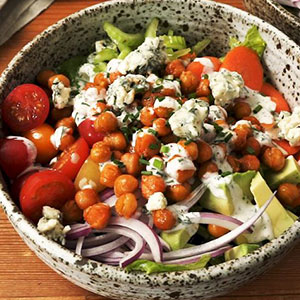 Recipe: Best Buffalo Chickpea Salad
Take some Buffalo Chicken and turn it into a hearty salad. For an extra homemade touch, make the ranch dressing from scratch!
Get recipe here
Image Credits: Image 1, Image 2, Image 3, Image 4​​​, Image 5​​​​​​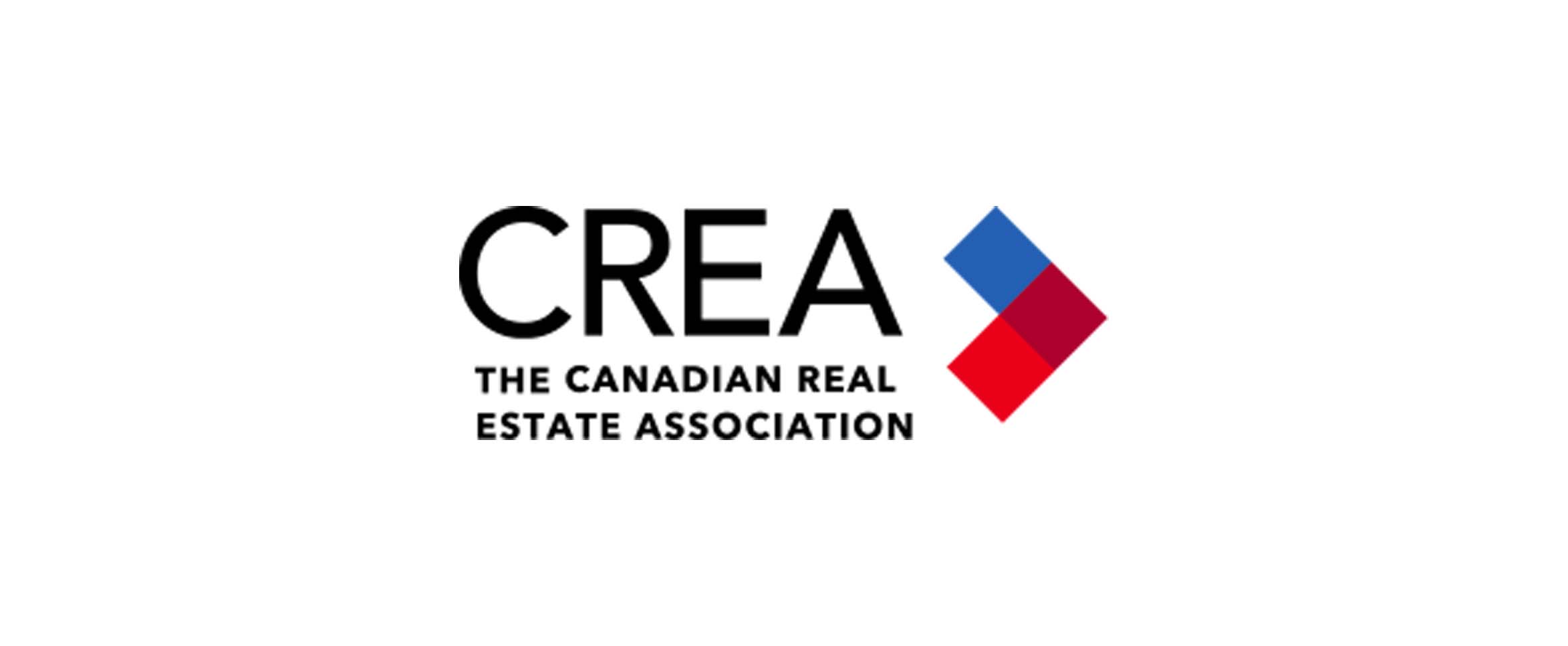 Congratulations to James Mabey and Gurcharan Garry Bhaura who were both elected to the Canadian Real Estate Association's (CREA) Board of Directors in early April 2022. CREA is one of Canada's largest single-industry Associations. With more than 150,000 real estate brokers, agents, and salespeople, working through 78 real estate Boards and Associations across Canada. Both elected C21-ers will help represents the interests of their CREA members to the federal government and their agencies on existing or proposed legislation that will affect those members, and/or impact homeownership and enhances member professionalism.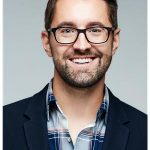 James Mabey, the owner of CENTURY 21 Masters, was named Vice Chair of CREA. He previously served as CREA's Regional Director – Alberta, Chair of the CREA Marketing and Communications Committee, and Chair of the Board for the REALTORS® Association of Edmonton. Mabey has been in the real estate industry since 2005 and now manages over 100 agents across four offices in the Edmonton area. He is also an avid supporter of his community, volunteering and fundraising for many local causes.
"I am feeling incredibly grateful! Yesterday I was elected as the Vice Chair of the Canadian Real Estate Association. I am so proud that once again I have been given the opportunity to volunteer on behalf of over 150,000 REALTORS® across Canada," says Mabey. "Very thankful for the support of my husband Dylan, my mentors, and the CREA Board of Directors. I am so excited to carry on learning from my peers on this leadership journey."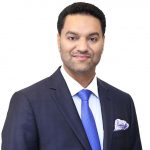 Gurcharan Garry Bhaura, the owner of CENTURY 21 President Realty Inc. Brokerage in Brampton, ON, was chosen as a Director-at-Large of CREA. Being in the industry for over 22 years and with the continued success of his #21 GLOBAL21 ranked office of almost 200 agents, Bhaura will use his skills and knowledge to help serve the 150,000 nationwide realtor community. Bhaura was the former President of the Toronto Regional Real Estate Board and has also previously sat on four different non-profit boards, including the Toronto Regional Real Estate Board, where he served as President with over 65,000 members. Bhaura has also chaired numerous committees.
"We are in very fluid times, the world is changing, technology is evolving very rapidly, and it is very important that the REALTOR® brand continues to be front and centre. I want to make a difference and leave the industry better than we found it," said Bhaura in a news release. Bhaura adds, "It would be an honour to serve the members of CREA across the country."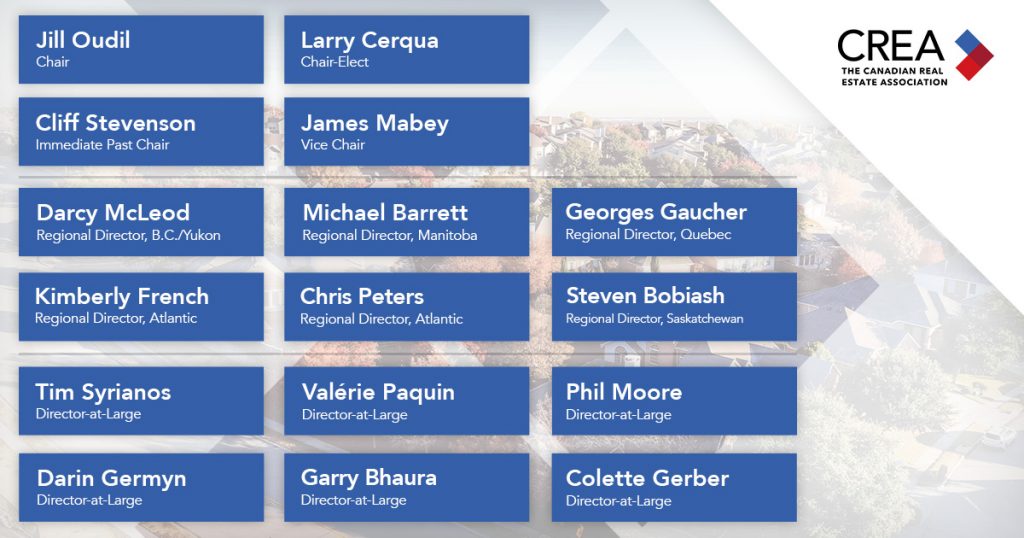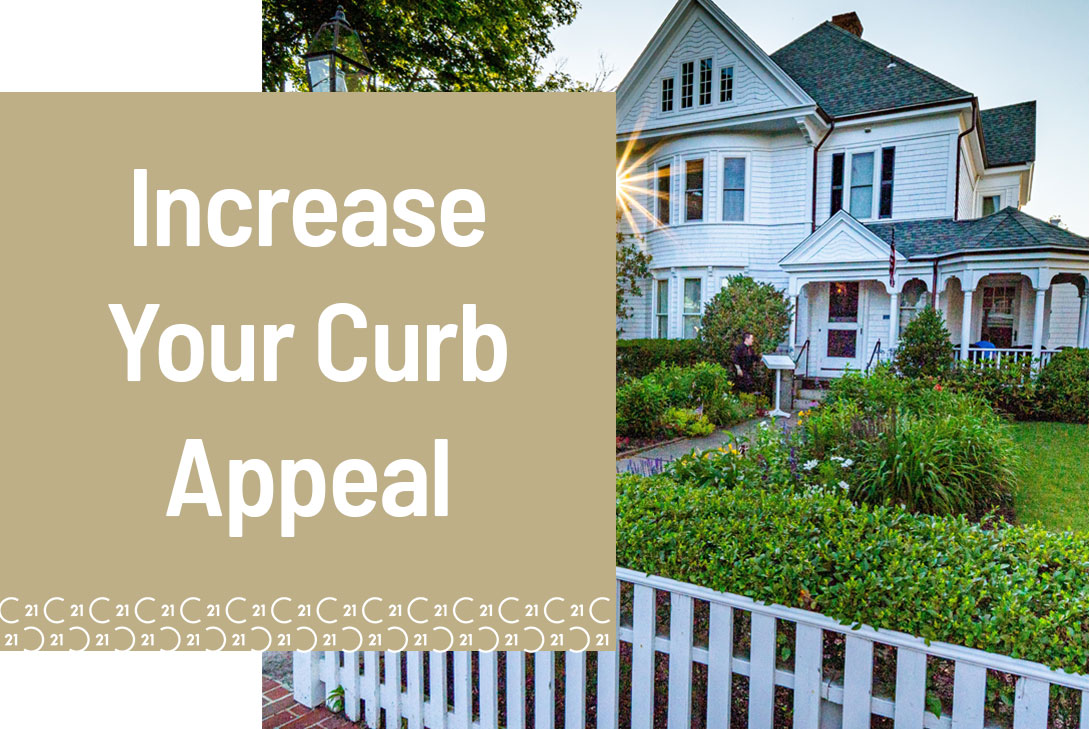 First impressions are everything and can make or break any opportunity, so what impression is the exterior of your home giving? Whether you are putting your house on the market or just want to give your home a nice and finished look, these simple upgrades will boost your home's curb appeal and make an exceptional first impression.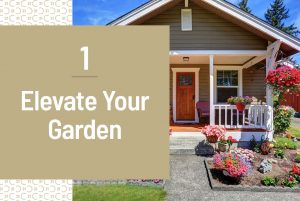 1. Elevate Your Garden
There is no quicker way to upgrade your curb appeal than with a lush, vibrant garden and plants. Here are some of the many ways you can add eye-catching greenery to your front yard.
First, include potted plants on the front porch to bring colour to your home. Create your own arrangements with your favourite plants or flowers, or if you don't have a green thumb opt for ready-made containers from your local garden center.
Second, installing window boxes is another great way to boost your home's curb appeal. Mix and match flowers and plants to pair with your colour scheme and try this DIY window box for a fun weekend project.
Finally, adding a garden bed in the front of your home is a sure way to make a great first impression. Trees, shrubs, flowers, and more can be combined to add vibrance and dimension to your front yard. When creating your garden bed, be sure to choose plants that will frame your home rather than obscure it. Any greenery will increase your home's welcoming feel, but you must be sure to keep up its maintenance. To keep your garden in tip-top shape, water regularly, prune overgrowth, remove weeds, and trim the lawn.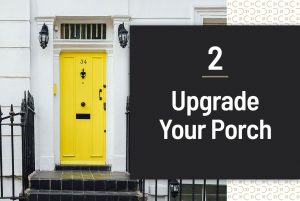 2. Upgrade Your Porch
Small upgrades to your front porch can instantly improve your curb appeal and create a warm, welcoming home. Paint your front door to add contrast and brightness. A fresh coat of paint or a brand-new bold colour will help revive the look of your front porch and attract loads of attention. Bright, loud coloured doors have been a popular trend, but you can never go wrong with a classic red door.
Next upgrade your hardware. Your door handles, house number, mailbox, and lanterns probably haven't seen an update since before you moved in. Now is the time to replace these for a matching, modern look.
To finish off your front porch look, add a seasonal wreath and lighthearted welcome mat. This simple touch makes your home approachable and keeps the season's dirt outside. When making your porch upgrades keep symmetry in mind as a balanced appearance will attract more viewers with its calm, reliable feel.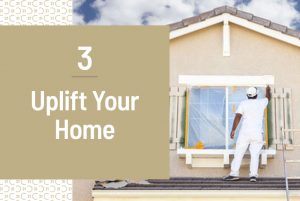 3. Uplift Your Home
Improving your home's curb appeal does not require a full exterior renovation. Simple outdoor maintenance tips can do wonders in making your home look brand-new. Start at the top of your home – the roof. Rather than replacing your roof, give it a good clean. Removing dirt, stains, and discolouration will make your roof look pristine and help it last longer. While you are up cleaning your roof, take the time to thoroughly wash your gutters. Remove any clogged debris and built-up dirt to impress neighbours and guests.
Cleaning your windows is another simple way to boost your home's curb appeal. Dirty windows can be a serious eyesore, plus they hinder beautiful views. A quick, consistent wipe-down (especially after the winter season) will help keep your exterior tidy. To really make your windows pop, try adding window shutters. Depending on the style of your home, natural wood or energetic coloured shutters bring dimension and contrast to your home's exterior. These DIY cedar shutters are a quick and cost-effect project to up your home's look.
An additional home maintenance tip to boost your curb appeal is painting your exterior. A fresh coat of paint or a new modern colour will immediately upgrade your home's appearance, making it feel brand-new. Although this may be no simple or cheap task, it shows you take care of your property and gives off a memorable first impression.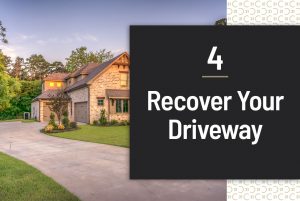 4. Recover Your Driveway
Your driveway sees a lot of wear and tear over the years and growing damage can be deteriorating your home's curb appeal. A full redo is not necessary to upgrade your home's appearance, some minor repairs will get your driveway looking as good as new.
First wash the whole driveway to remove any stains, debris, or unwanted weed growth. If you have access to a power washer this will save you time and scrubbing effort. Then repair and fill in cracks with the proper solution for your surface. These small fixes will make a drastic improvement to your home's curb appeal and give neighbours, visitors, and passerby an exceptional first impression.
Monthly Feature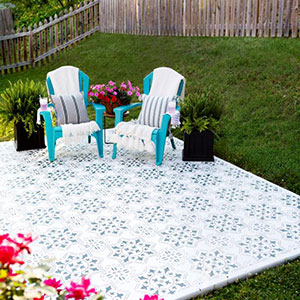 DIY Project: Stain & Stencil a Concrete Patio
Get your patio spring-ready with this DIY stain and stencil a concrete patio project.
Get DIY Project Here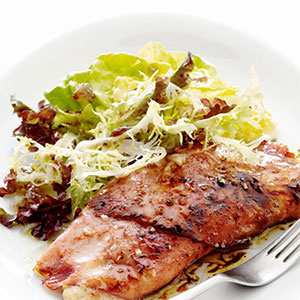 Recipe: Inside-Out Chicken Cordon Blue
This quick and easy inside-out chicken cordon blue will be your go-to meal on busy nights.
Get Recipe Here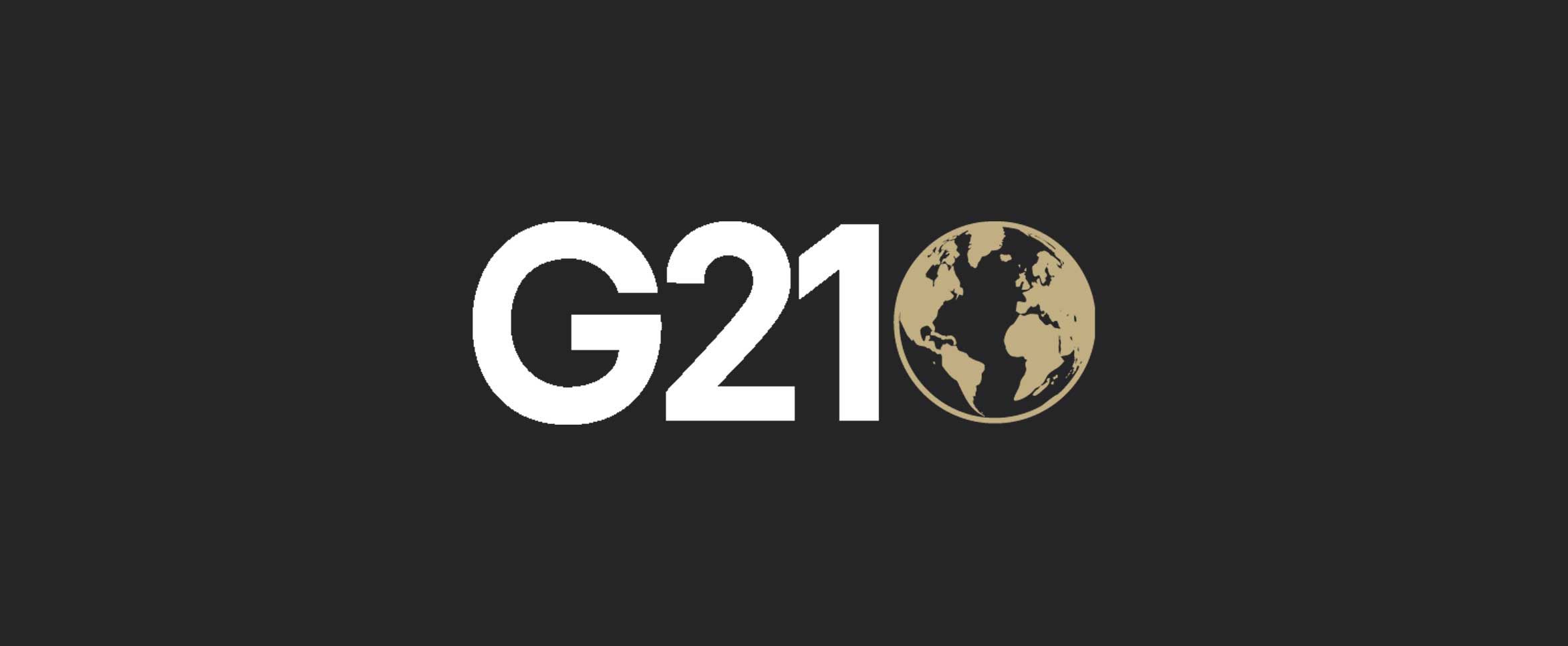 Vancouver, B.C. (March 23, 2022)—CENTURY 21 Canada continues to rank among the best in the world as shown in the CENTURY 21 Annual GLOBAL 21 Rankings for -2021. With fifteen of the top 21 Offices, including the #1 office worldwide (C21 Coastal Realty) as well as the #1 ranked team (The Goodale Miller Team), the brand was well represented in the annual rankings which recognize the top 21 CENTURY 21 companies, offices, teams and producers by sales production in their worldwide system.
"Once again, CENTURY 21 Canada is well represented on a global stage," says President and CEO Martin Charlwood. "We significantly outperformed regions with bigger population counts and surpassed every goal we had, especially in a year that wasn't the full return to normal we might have hoped for. Throughout the year our network was relentless and kept delivering that gold standard level of service of which we are so proud."
In addition to high rankings for offices and teams, CENTURY 21 Canada also had nine of the Top 21 Companies and six of the Top 21 Producers make the lists. Jasbir Sandhu, manager of the Surrey, BC office of CENTURY 21 Coastal Realty which ranked highest in the world, attributes this success to the passion of their agents. "When you have passion, you do a good job and that's what brought us to the global stage," says Sandhu. "We represent a large brand, a leader in real estate, and what got us here was good service, good training and having knowledgeable agents out in the field, serving their community."
Likewise, the leaders of the Goodale Miller Team from CENTURY 21 Miller Real Estate Ltd. commend the professionalism and integrity of their team members which has led them to be the #1 ranked team for the second consecutive year. "Our team members are highly experienced in their craft," says Brad Miller and Kieran McCourt. "Each one of them is an award winner on their own but collectively we're so much more, and our collaboration give us a competitive advantage. This is entirely a team award."
In addition to teams and offices, CENTURY 21 Canada had nine of the top performing companies with CENTURY 21 Leading Edge Realty Ltd. coming highest at #3 in the world. Six of the Top 21 Producers also represented CENTURY 21 Canada, with Harpreet Khela from CENTURY 21 Coastal Realty coming in highest at #6 worldwide.
CENTURY 21 Canada is the most recognized name in real estate and continues grow each year. Deeply rooted in Canadian history, CENTURY 21 Canada focuses on supporting entrepreneurship, marketing innovation and homeowner education. CENTURY 21® operates in 86 countries, with over 143,000 sales professionals working in independently owned and operated franchises.
2021 Global Rankings by Companies
| | | | |
| --- | --- | --- | --- |
| Rank | Company | City | Province |
| 3 | CENTURY 21 Leading Edge Realty Inc. | Scarborough | ON |
| 6 | CENTURY 21 Coastal Realty Ltd. | Surrey | BC |
| 9 | CENTURY 21 Atria Realty Inc. | Toronto | ON |
| 11 | CENTURY 21 People's Choice Realty Inc. | Toronto | ON |
| 12 | CENTURY 21 First Canadian Corp. | London | ON |
| 15 | CENTURY 21 Heritage Group Ltd. | Thornhill | ON |
| 17 | CENTURY 21 Percy Fulton Ltd. | Toronto | ON |
| 18 | CENTURY 21 B.J. Roth Realty Ltd. | Ontario | ON |
| 19 | CENTURY 21 Millennium Inc. | Toronto | ON |
2021 Global Rankings by Offices
| | | | |
| --- | --- | --- | --- |
| Rank | Office Name | City | Province |
| 1 | CENTURY 21 Coastal Realty Ltd. | Surrey | BC |
| 2 | CENTURY 21 First Canadian Corp. | London | ON |
| 3 | CENTURY 21 Atria Realty Inc. | Richmond Hill | ON |
| 5 | CENTURY 21 People's Choice Realty Inc. | Toronto | ON |
| 8 | CENTURY 21 Leading Edge Realty Inc. (3271) | Toronto | ON |
| 10 | CENTURY 21 Miller Real Estate Ltd. | Oakville | ON |
| 12 | CENTURY 21 Green Realty Inc. | Mississauga | ON |
| 13 | CENTURY 21 Bamber Realty Ltd. | Calgary | AB |
| 14 | CENTURY 21 Leading Edge Realty Inc. (2508) | Markham | ON |
| 15 | CENTURY 21 Innovative Realty Inc. | Toronto | ON |
| 18 | CENTURY 21 Creekside Realty Ltd. | Chilliwack | BC |
| 19 | CENTURY 21 King's Quay Real Estate Inc. | Markham | ON |
| 20 | CENTURY 21 United Realty Inc. | Peterborough | ON |
| 21 | CENTURY 21 President Realty Inc. | Brampton | ON |
2021 Global Rankings by Teams
| | | | | |
| --- | --- | --- | --- | --- |
| Rank | Team Name | Office Name | City | Province |
| 1 | Goodale Miller Team | CENTURY 21 Miller Real Estate Ltd. | Oakville | ON |
| 7 | The Local Home Team | CENTURY 21 Erie Shores Realty Inc. | Leamington | ON |
| 18 | Brandric Real Estate Group | CENTURY 21 Atria Realty Inc. Brokerage | Richmond Hill | ON |
| 19 | The Melnychuk Real Estate Group | CENTURY 21 A.L.L. Stars Realty Ltd. | Edmonton | AB |
| 20 | Tar Team Real Estate | CENTURY 21 Leading Edge Realty Inc. (2508) | Markham | ON |
| 21 | The Wolf Pack | CENTURY 21 Atria Realty Inc. | Richmond Hill | ON |
2021 Global Rankings by Producers
| | | | | | |
| --- | --- | --- | --- | --- | --- |
| Rank | First  | Name | Office Name | City | Province |
| 7 | Harpreet | Khela | CENTURY 21 Coastal Realty Ltd | Surrey | BC |
| 8 | Sarah | Toop | CENTURY 21 Creekside Realty Ltd. | Chilliwack | BC |
| 10 | Mark | Li | CENTURY 21 Leading Edge Realty Inc. | Toronto | ON |
| 13 | Dean | Soufan | CENTURY 21 First Canadian Corp. | London | ON |
| 17 | Stan | Reljic | CENTURY 21 Millennium Inc. | Thornbury | ON |
| 21 | Sam | Elgohary | CENTURY 21 Leading Edge Realty Inc. | Toronto | ON |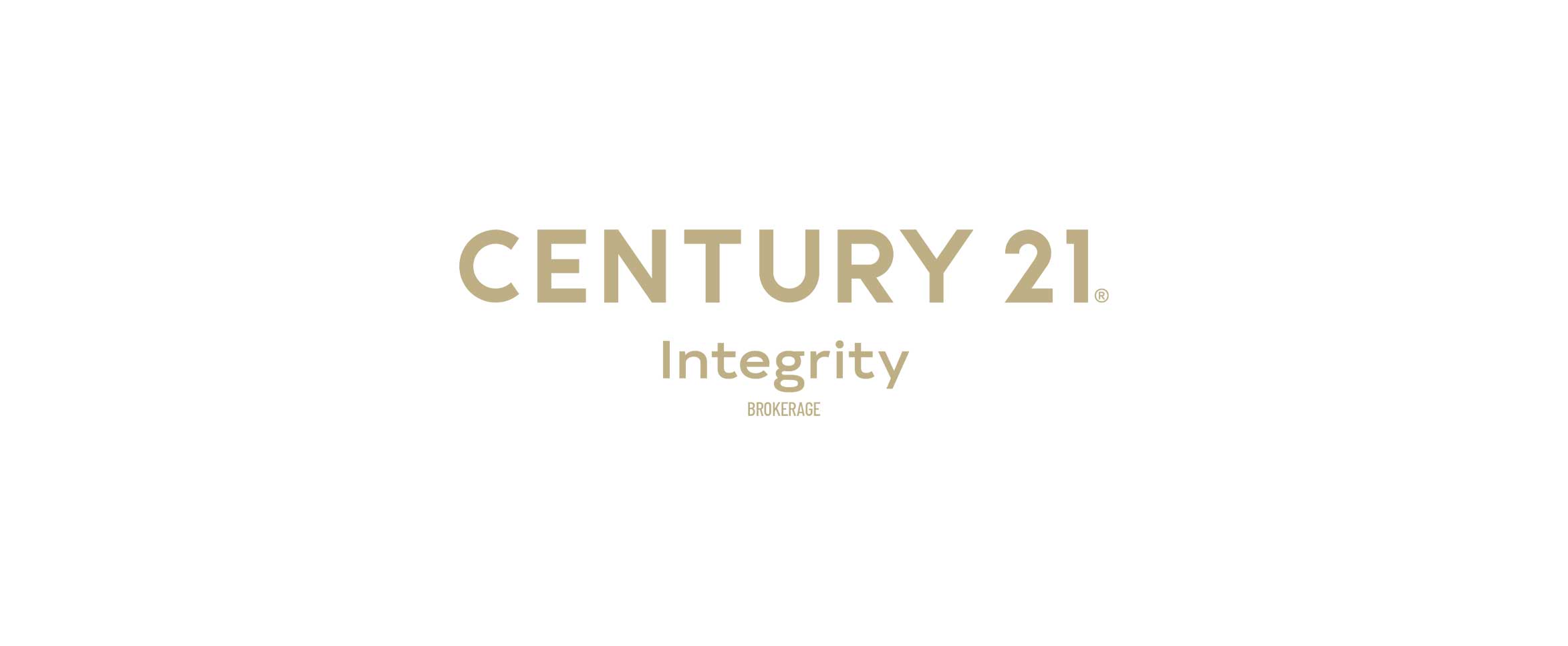 Vancouver, B.C. (March 23, 2022)—CENTURY 21 Canada continues to grow with the addition of a new franchise, CENTURY 21 Integrity in Sudbury, Ontario.
New owners Tasha Carriere and Julie Robert both cite the warm support and cutting-edge technology provided by CENTURY 21 as reasons for choosing the legacy brand, now going into its 46th year of operation. "When thinking about opening our own brokerage, we knew we wanted to move to a brand that was constantly innovating and that we could form a positive, long lasting relationship with. The excellent response and support we received were unmatched by any other brand in the industry," says Carriere. "We have been surrounded by a team of professionals who are invested in our success. CENTURY 21 Canada has a long history of excellence in customer service and, as a brand, holds the same values we do. The technology offered far exceeded our expectations, and we know our agents will love having access to the training and marketing provided. The elegant and modern branding will be appreciated by agents and clients, and we are looking forward to building a strong presence in the market."
Both owners are bringing a wealth of experience to their new brokerage, with Robert having been in the industry for eleven years and Carriere for twelve. Their immediate goals focus on building both a team of Realtors that prioritize client care, and a reputation of providing the best in technology and support for that team, which they aim to grow to over fifty agents. Carriere highlights their media tools, "We are enhancing our office with all the tools they need to make videos for both their listings and communicating with their clients. Our agents are loving the resources that C21 has offered them and they are quickly learning they have the advantage in the market!"
Robert adds, "When leaving our old brand, we wanted to choose a brand that we could grow with, one that would be invested in our agents' success. We were impressed with the tools and the support we received in getting everything implemented, since day one."
The new franchise will be serving Sudbury, ON, a fast-growing market as more buyers branch out from the Greater Toronto Area and the busy markets of the surrounding cities and suburbs. "We're really excited for them," says Gary Zalepa, VP of Brand Expansion, Eastern Canada for CENTURY 21 Canada. "Julie and Tasha bring a wealth of knowledge, they'll have a lot of opportunity in the community and we know we'll be seeing a lot of Century 21 growth in Sudbury."
The opening of a new franchisee continues the trend of expansion for CENTURY 21 Canada, which saw twenty-one renewals and nine new franchisees in 2021.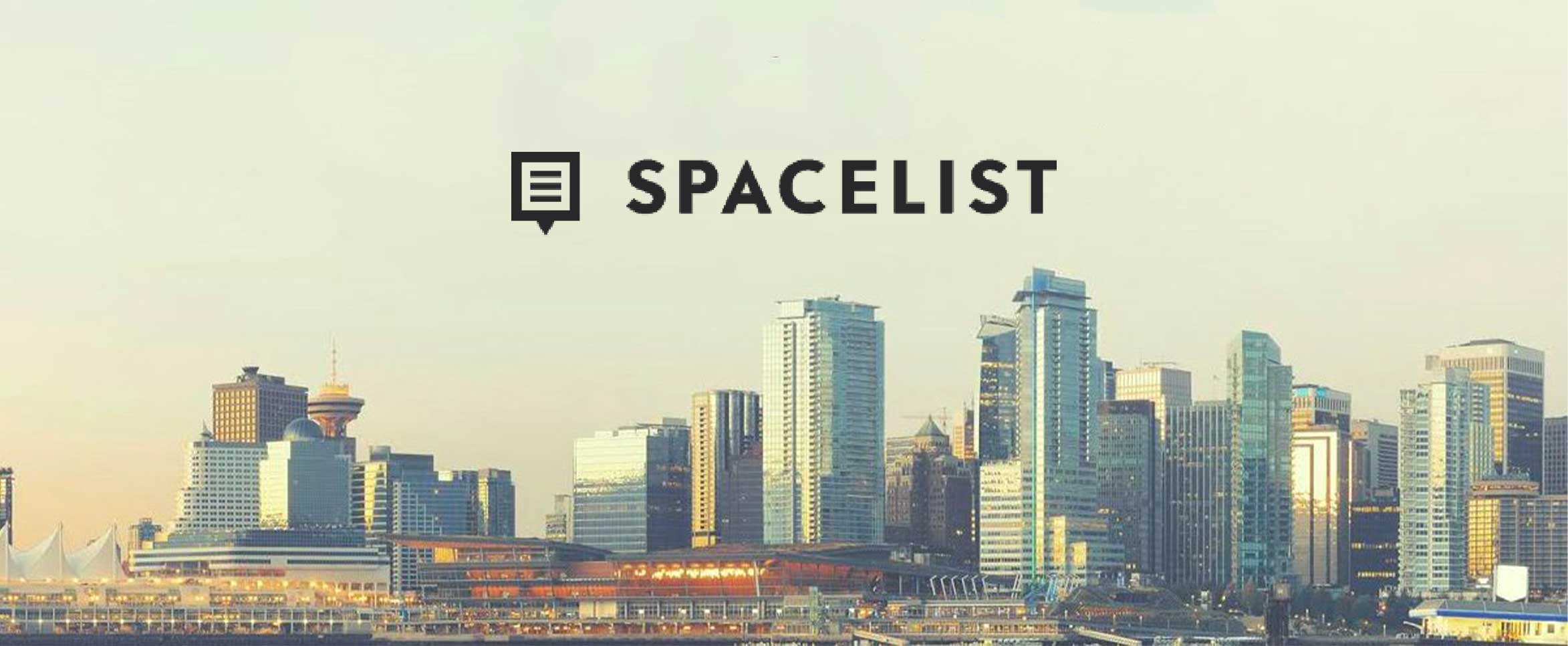 Participating brokers now powered by a centralized commercial listings management system.
Vancouver, BC, March 14, 2022 – Spacelist, a leading commercial real estate listing platform, is announcing its partnership with CENTURY 21 Canada Commercial. A combination of Spacelist's listing syndication service and listing management solutions ensures CENTURY 21's listings at participating offices are accurate and updated across their corporate and individual office websites.
Since 2012, Spacelist has been the leading commercial real estate marketing platform in Canada and has recently expanded to the US. "Working with market leaders like CENTURY 21 Canada Commercial is helping pave the way for new levels of efficiency in marketing commercial properties," says Steven Jaffe, CEO of Spacelist.
The integration leverages listing APIs built by Spacelist, which allow CENTURY 21's listings to automatically update on Spacelist and CENTURY 21's participating websites, saving time and eliminating duplicate data entry and human error in the markets where Spacelist has a relationship with the MLS. Advanced lead generation features also enable listing agents to gather more information from potential clients than ever before.
"The ability for the commercial listings to be syndicated to a number of economic development organizations is key for us," said Todd Shyiak, Vice President, National Network Development at CENTURY 21 Canada. "We want to ensure that our sales reps listings are seen in as many places as possible and Spacelist makes it easy to do that. The feedback we've received from our participating offices has been very positive."
This collaboration reinforces commitments to streamline the marketing and administration of C21 Commercial listings in Canada. Spacelist has been investing in new technologies to further improve the efficiency of the commercial real estate industry, including its latest venture Propdocs, which streamlines commercial real estate transactions end-to-end.
"With a network as large as CENTURY 21 Commercials in Canada, we're excited to be able to help their offices and listing agents benefit from simplified listing management and streamline their back-office work," said Jaffe. "Spending less time on admin work and listing management offers even more time to provide excellent service to their clients."
ABOUT SPACELIST
Founded in 2012, Spacelist's mission is to make commercial real estate more accessible and efficient. Spacelist brings all the commercial real estate listings in Canada and the US together in one place, making it easier than ever to find great space for your business. In addition to serving thousands of prospective tenants daily, Spacelist offers a wide range of listing and lead management solutions for commercial real estate firms. For more information, or to find commercial space, visit: spacelist.co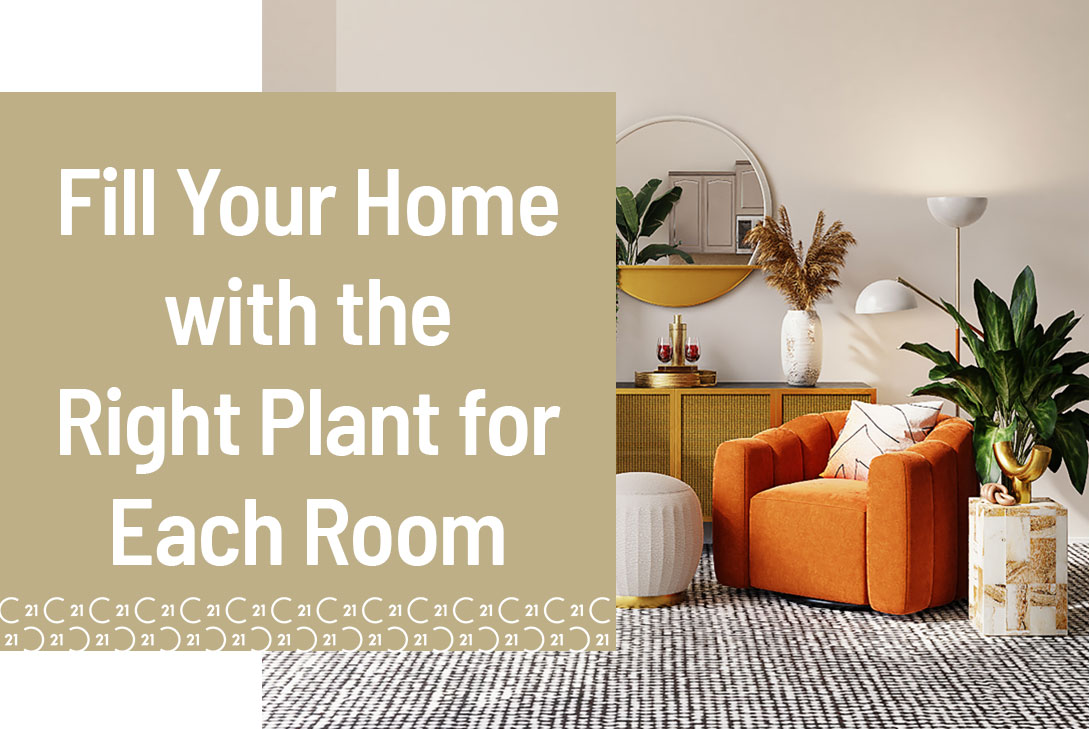 Plants are a great way to decorate your home, adding vibrancy, colour, and according to some studies, they can even lower your stress levels. Know which plants are right for each part of your home and think about adding a few today!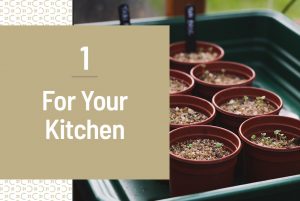 For your kitchen:
Spruce up the space and your cooking with fresh herbs! Small potted herb plants like parsley, mint, and chives do well if your kitchen doesn't have windows, and if you do have some sunshine, consider basil or rosemary. Aloe vera also favours sunlight, and a pinch of the gel from the outer leaves will help soothe any cooking burns.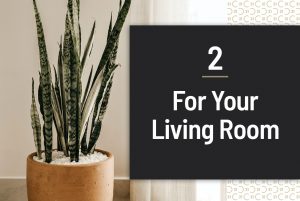 For your living room:
This is where you want to make a statement! Consider orchids on your coffee table, they come in a variety of colours and sizes to complement your space and can bloom for months. If you have a spare corner to fill, a larger pot of fiddle-leaf fig is great in bright, indirect light and is a popular trend on social media right now. For newbie plant owners, snake plants with their bold upright leaves are difficult to kill and take up space well.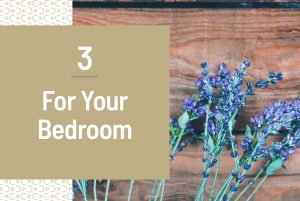 For your bedroom:
Make your comfort space even cozier and use plants as a method to purify the air in your bedroom and help you de-stress and relax. Potted English ivy, Chinese evergreen, or spider plants are great options, and although not usually grown inside, a small pot of lavender will help you fall asleep if you tend to toss and turn all night.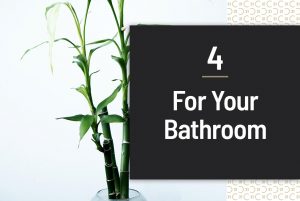 For your bathroom:
Plants that thrive in humidity can be a great addition to your bathroom. Bamboo is low-maintenance and gives a spa-like atmosphere, peace lilies are from the tropics and are easy to perk up with some water, and if you have the space for a majesty palm, they love humid conditions and can handle lower light.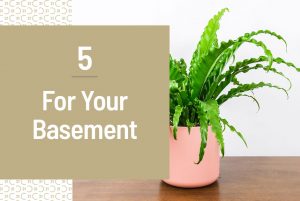 For your basement:
For darker rooms with no natural light like a basement, ferns are a great option. Maidenhair, button, and rabbit's foot are all types of ferns for low-light situations or branch out into other houseplants such as philodendrons, arrowhead plants, and cast-iron plants.
Monthly Features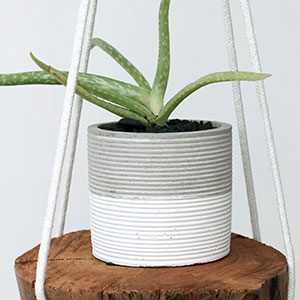 DIY Project: DIY Plant Hangers
Not a lot of surface space for your houseplants? Let them hang from the ceiling and give your space some more greenery or make one for a friend!
Get DIY Project here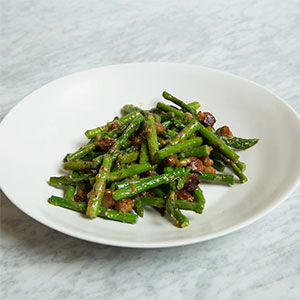 Recipe: Asparagus Carbonara
A riff on the classic carbonara, this uses bright green asparagus for a healthier alternative.
Get Recipe here
Image Credits: Image 1, Image 2, Image 3, Image 4​​​, Image 5​​​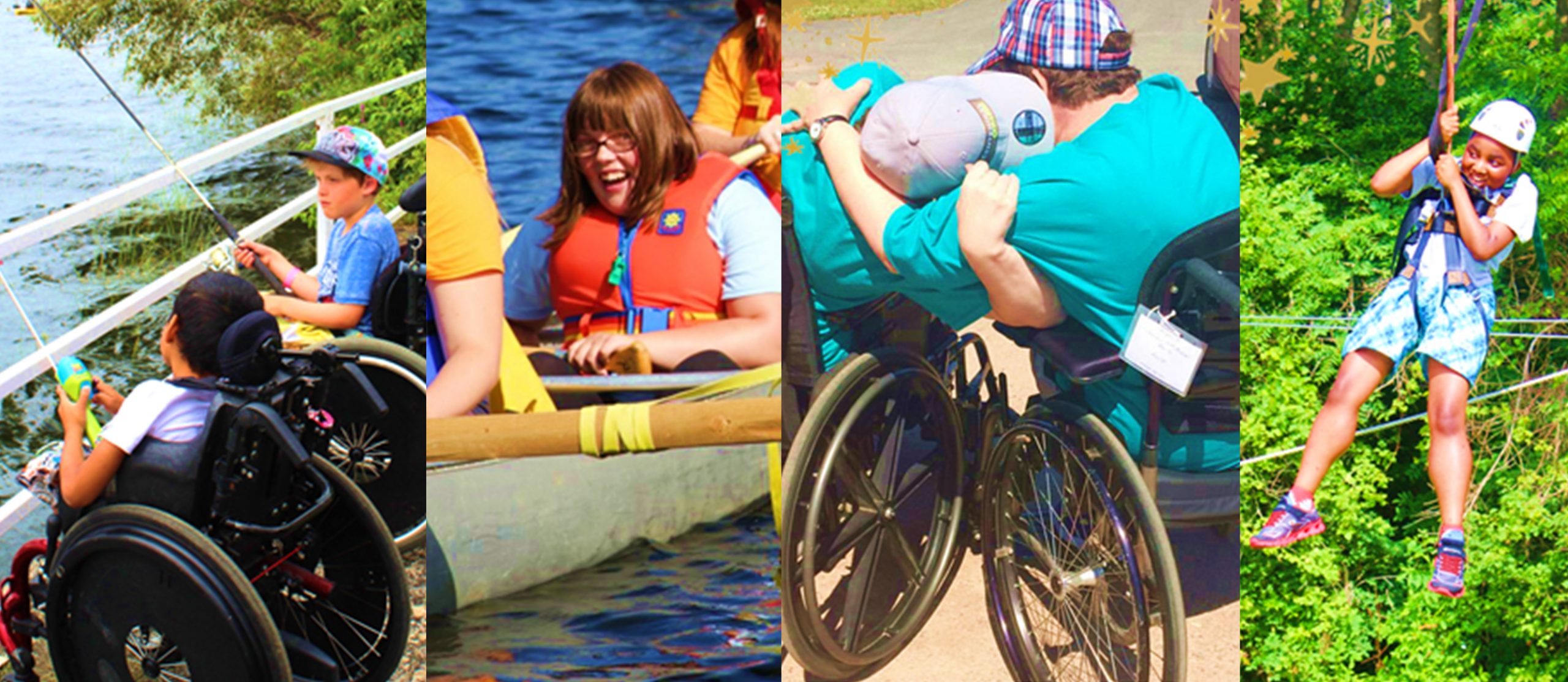 MADISON, N.J. (February 1, 2022) — Today, Century 21 Real Estate LLC announced that in 2021 the CENTURY 21® System raised more than $3.2 million for Easterseals, one of America's largest nonprofit healthcare organizations that for more than 100 years has worked tirelessly with its partners to enhance quality of life and expand local access to healthcare, education, and employment opportunities for more than 1.5 million persons with disabilities, their families and caregivers. Since the inception of this philanthropic partnership in 1979, the CENTURY 21 network's independent franchisees and affiliated relentless sales professionals have collaborated to raise a total of $132.2 million. As the brand looks ahead in 2022, the team is excited to continue building on its partnership with Easterseals and find new ways for its global network of professionals to support this important organization's life-changing local services and powerful advocacy for the one in four Americans living with disability today.
"Our 43-year-long commitment to Easterseals illustrates the culture of giving back that is baked into the CENTURY 21 brand and the relentless spirit of our sales professionals to make a difference in the lives of the people and the communities where they live and work," said Michael Miedler, president and chief executive officer of Century 21 Real Estate. "We look forward to celebrating our partnership with Easterseals and the many other local community and philanthropic efforts of our system members as we mark our brand anniversary on July 28, with our inaugural systemwide 'Day of Giving.'"
"We are truly thankful to the CENTURY 21 System for their extraordinary commitment to Easterseals," said Mark Hechinger, Interim President and CEO, Easterseals. "For 43 years, CENTURY 21 affiliated brokers and agents across North America have been helping Easterseals lead the way to full equity, inclusion, and access through life-changing disability and community services. Together, we're empowering people with disabilities, families, and communities to be full and equal participants in society."
In 2021, for the eighth consecutive year, the top two Easterseals fundraisers from the CENTURY 21 System were:
CENTURY 21 Town & Country; Utica, Michigan
CENTURY 21 Judge Fite Company; Dallas, Texas.
This is the 25th straight year that CENTURY 21 Town & Country has held the top spot among brokerages for fundraising efforts to benefit Easterseals. In fact, CENTURY 21 Town & Country broke last year's record of $1,638,574 by raising $1,750,931 in 2021.
This year, 10 of the Top 21 leading the CENTURY 21® System fundraisers are Canadian firms, led by CENTURY 21 Foothills in Alberta. The "Top 21" North American Fundraisers for Easterseals in 2021 are:
CENTURY 21 Town & Country, Utica, Michigan
CENTURY 21 Judge Fite Company, Dallas, Texas
CENTURY 21 Foothills Real Estate, High River, Alberta, Canada
CENTURY 21 B.J. Roth Realty Ltd. Brokerage, Barrie, Ontario, Canada
CENTURY 21 Dreams Inc. Brokerage, Oakville, Ontario, Canada
CENTURY 21 Arizona Foothills, Phoenix, Arizona
CENTURY 21 Leading Edge Realty Inc. Brokerage, Markham, Ontario, Canada
CENTURY 21 Heritage Group Ltd. Brokerage, Richmond Hill, Ontario, Canada
CENTURY 21 Bachman & Associates, Winnipeg, Manitoba, Canada
CENTURY 21 North Homes Realty, Lynnwood, Washington
CENTURY 21 Green Realty Inc. Brokerage, Mississauga, Ontario, Canada
CENTURY 21 Advantage Gold, Southampton, Pennsylvania
CENTURY 21 Scheetz, Carmel, Indiana
CENTURY 21 Real Estate Center, Lynnwood, Washington
CENTURY 21 Executives Realty Ltd., Vernon, British Columbia, Canada
CENTURY 21 Dome Realty Inc., Regina, Saskatchewan, Canada
CENTURY 21 Frontier Realty, McMurray, Pennsylvania
CENTURY 21 Professional Group, Ocoee, Florida
CENTURY 21 Peak, Woodland Hills, California
CENTURY 21 Bamber Realty Ltd., Calgary, Alberta, Canada
CENTURY 21 Novus, Carrollton, Georgia
A reception recognizing the achievement of the "Top 21" offices will be held on March 23 during the One21 Experience, the global CENTURY 21 networking and learning event, in Las Vegas, Nevada.
About Easterseals
Driven by its purpose to change the way the world defines and views disability, Easterseals makes profound, positive differences in the lives of people with disabilities every day through its life-changing services and powerful advocacy. For more than 100 years, Easterseals has been an indispensable resource for children and adults with disabilities, veterans, seniors, their families, and their communities. Together, its national network of 67 Affiliates serves 1.5 million people annually through high-quality community- and home-based services that include early intervention; autism services; workforce development programs; medical rehabilitation including physical, occupational and speech therapies; behavioral health services; adult day programs; and much more. In schools, workplaces, and communities, Easterseals is fostering environments where everyone is included and valued – making a real and positive impact on us all. Join us in ensuring that everyone – regardless of age or ability – is 100% included and 100% empowered to reach their potential and participate in society. Learn more at www.easterseals.com.
About Century 21 Real Estate LLC
The approximately 153,000 independent sales professionals in approximately 14,250 offices spanning 86 countries and territories in the CENTURY 21® System live their mission every day: to defy mediocrity and deliver extraordinary experiences. By consistently chasing excellence, giving 121% and always elevating, the CENTURY 21 brand is helping its affiliated brokers/agents to be the first choice for real estate consumers and industry professionals worldwide. Century 21 Real Estate has numerous websites to help answer specific consumer needs. They are century21.com, century21.com/global, century21.com/commercial,
century21.com/finehomes and century21.com/espanol.
Century 21 Real Estate LLC is a subsidiary of Realogy Holdings Corp. (NYSE: RLGY), a global leader in real estate franchising and provider of real estate brokerage, relocation and settlement services.
©2022 Century 21 Real Estate LLC. All Rights Reserved. CENTURY 21®, the CENTURY 21 Logo and C21® are registered service marks owned by Century 21 Real Estate LLC. Century 21 Real Estate LLC fully supports the principles of the Fair Housing Act and the Equal Opportunity Act. Each office is independently owned and operated.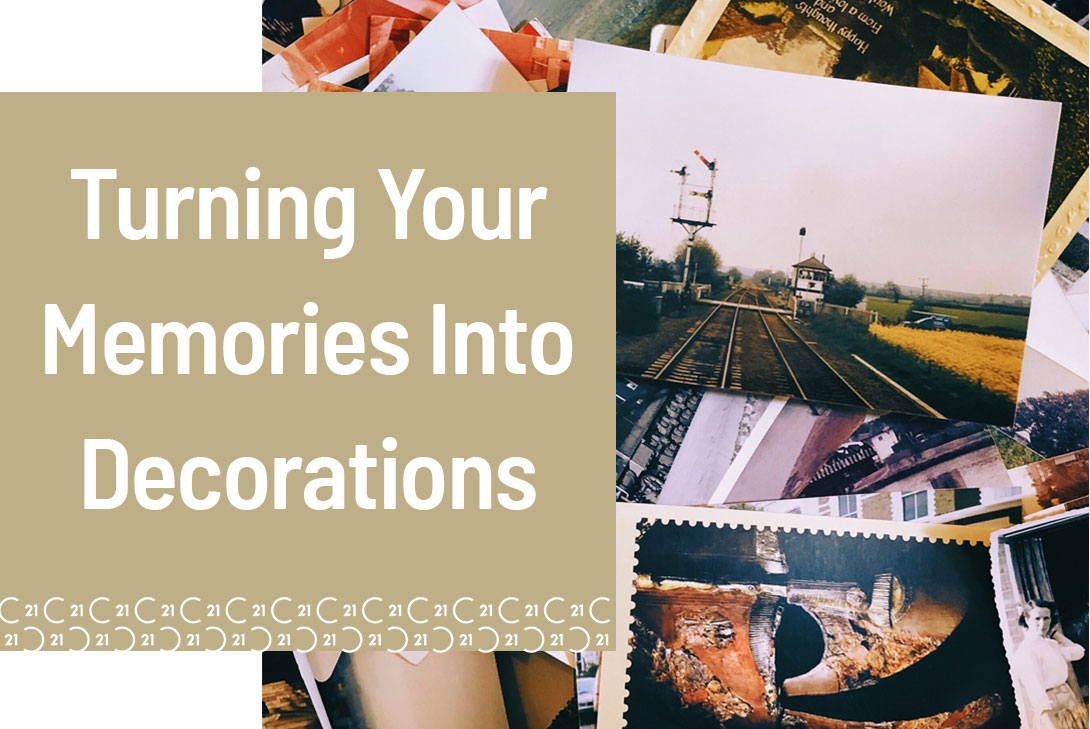 Don't let your photos sit on your phone! Take your favourite memories and bring them to life in your home by turning them into decorative pieces that start conversations and remind you of your best days.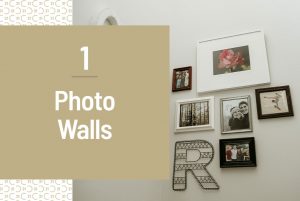 1. Photo Walls
A classic way to display photos, go beyond one or two on the mantlepiece and dedicate a wall in your house to create a gallery of memories. Choose a variety of sizes to fill the space, and don't be afraid to mix-and-match frame types and shapes. If your home tends towards neutral tones, this could be a great opportunity to add pops of colour!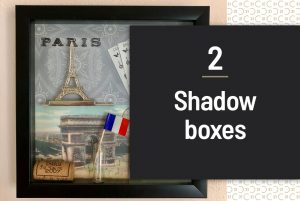 2. Shadowboxes
Shadow boxes are great for souvenir displays, giving you a reason for holding on to ticket stubs, foreign coins, and museum maps! Use some strong glue and gather some meaningful items from your travels – maps, postcards, train tickets, or any other small items you may have collected. Shadow boxes can be found online or at your local craft store.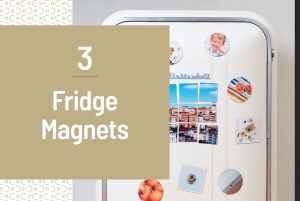 3. Fridge Magnets
We're always opening our fridges, so display your favourite moments on yours! Souvenir magnets are an obvious choice, but you can go a step further and create your own magnets using your own photos. You can find magnet sheets at your local craft stores, stationery stores, and online; simply print out your photo, glue it to the sheet, and cut to size.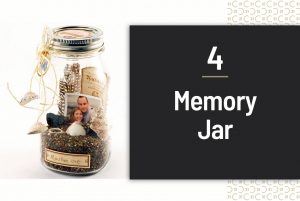 4. Memory Jar
Mason jars are a popular trend for home décor, so the next time you have a spare jar, consider turning it into a decoration to commemorate a special day by filling it with knick-knacks and mementos. Beach days are a popular option, some sand, seashells, and a photo from a day out can keep summer memories alive long into winter.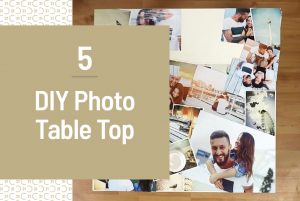 5. DIY Photo Table Top
If you want a DIY project, spruce up an old coffee table and make it a conversation piece by adding some of your photos to it! Give your table a new coat of paint and use Mod Podge to secure your favourite photos to the top. You can choose to cover your table with casting resin or pay a visit to your local hardware store for a glass tabletop cut to size (or clear acrylic, for a cheaper option). Secure your tabletop with adhesive bumpers and you've got a piece of furniture that's totally unique to you!
Monthly Features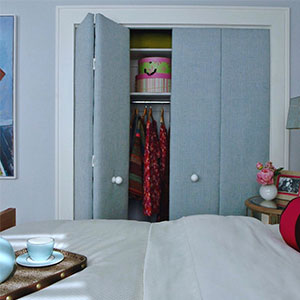 DIY Project: Upgrade your closet doors
Don't let plain closet doors be an eyesore in your room! Give them a makeover and your space will feel refreshed in no time.
Get DIY project here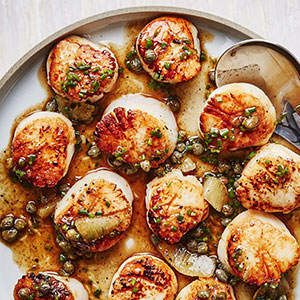 Recipe: Seared Scallops with Brown butter and Lemon Pan sauce
This easy-to-follow recipe is both elegant and delicious! Serve with linguini for an Italian-inspired seafood dinner party.
Get recipe here
Image Credits: Image 1, Image 2, Image 3, Image 4​​​, Image 5