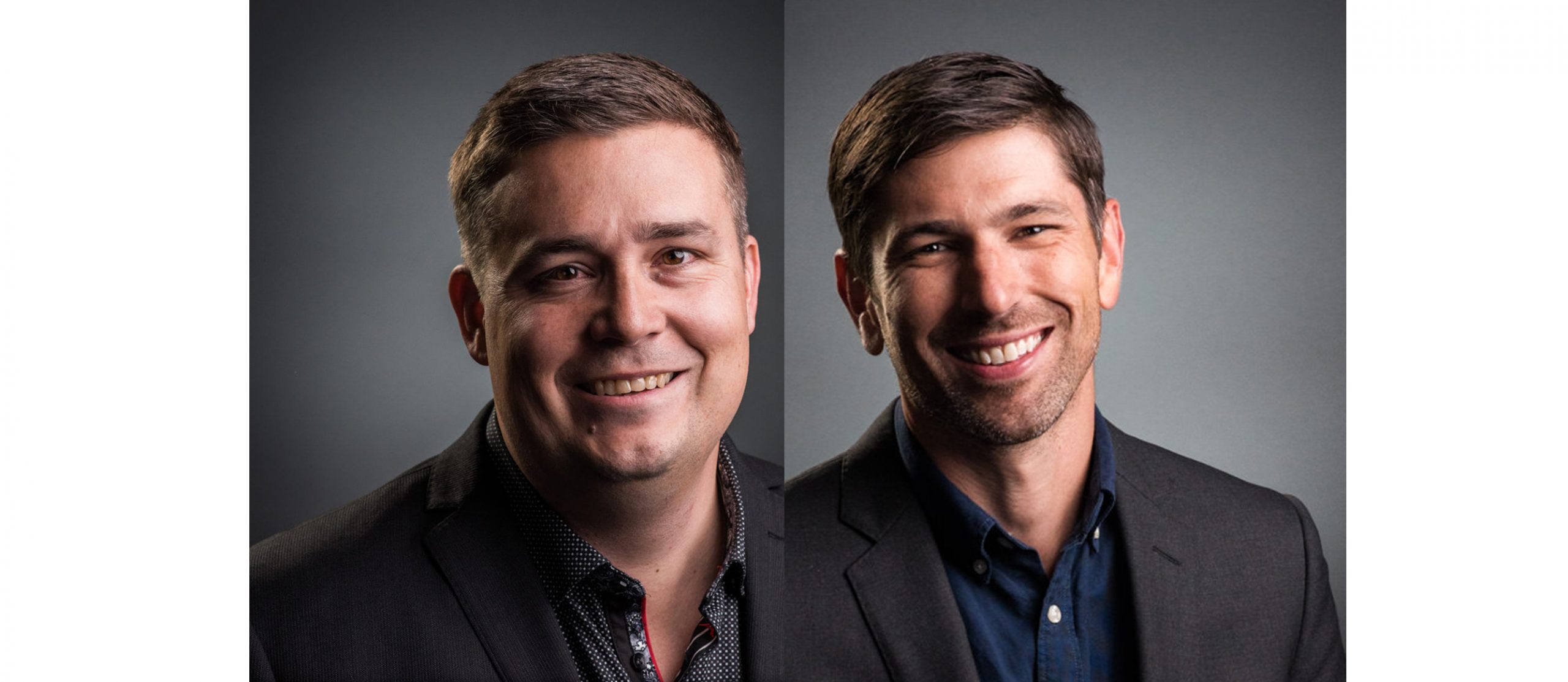 October 6, 2021– CENTURY 21 Heritage House is pleased to announce that Redline Properties in Brantford, Ontario has come aboard to join their team as of October 1, 2021. Since 2017, Redline properties has focused on high-end service, digital marketing and fostered a culture of collaboration which they are excited to bring to the CENTURY 21 family.
"A combination of their social media and marketing platforms will provide our agents with a lot of new opportunities moving forward," says Anthony Montanaro, Chief Operating Officer of CENTURY 21 Heritage House. "When we add all of that on to our existing footprint and market share, CENTURY 21 Heritage House will be set apart from the competition."
All agents will now have access to a marketing assistance to help them create professional pieces to market properties and promote their business. CENTURY 21 Heritage House uses HUB21, the C21 Canada tech platform that provides websites, a CRM, Marketing Centre, Presentation Builder, and social media promotion tool which will now be made available to all the Redline agents, along with the training opportunities for all C21 agents.
"Training is a really important part of our culture," says Jeff Thibodeau, co-owner of Redline Properties. "I'm used to running several training sessions a week for our team and I'm excited that we'll now be able to offer much more under the C21 umbrella."
CENTURY 21 Heritage House has been in business for 40 years in Woodstock, and recently expanded into Brantford in August 2020. They are welcoming 55 realtors who have sold more than 2,000 homes over the past four years.
"We never expected to grow this big, or this fast," says Mike Brown, co-owner of Redline Properties. "We are so excited to combine the best parts of our companies, and our customers can expect the same boutique vibe, now backed by the most recognized name in real estate. We want to invest in our clients and keep pushing and growing into the future."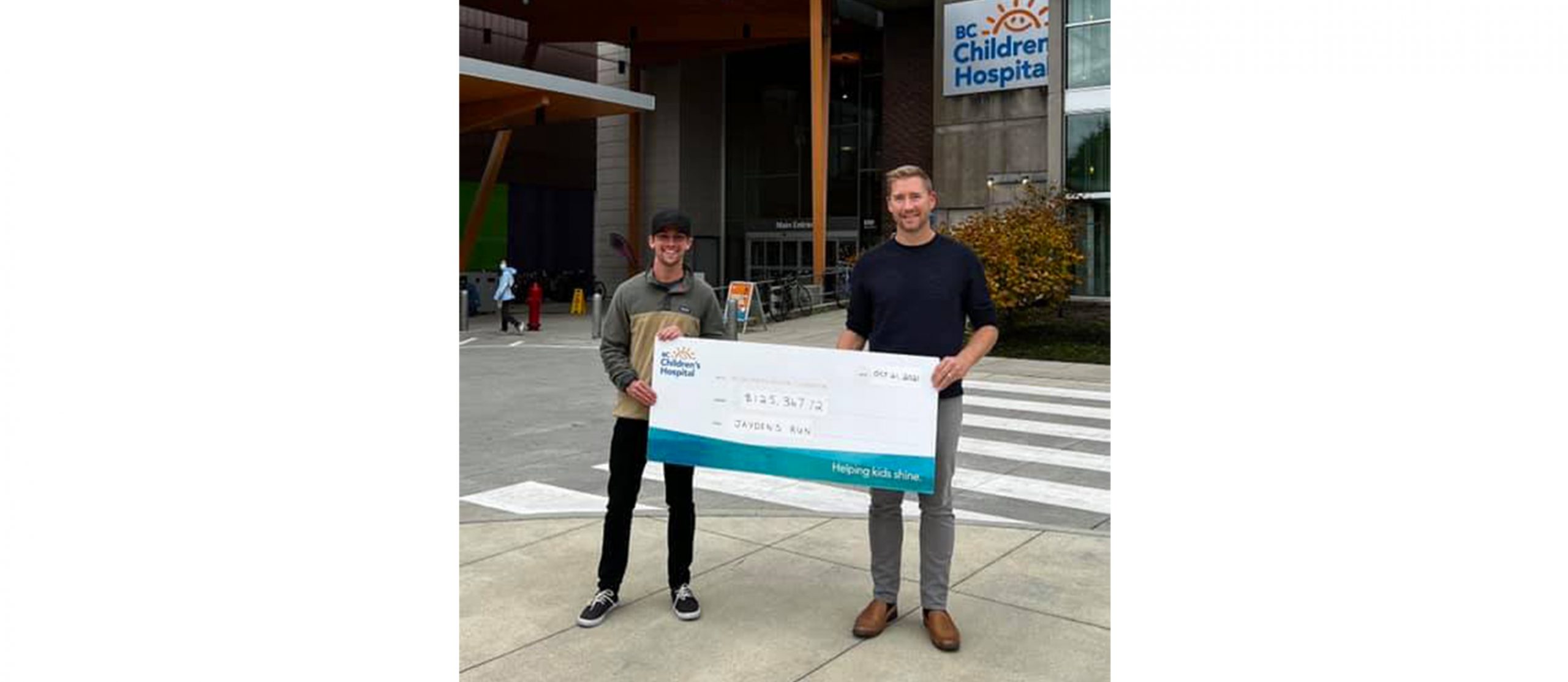 October 13, 2021 – Two members of CENTURY 21 Creekside Realty Ltd. ran in support of B.C. Children's Hospital. Sales rep Jayden Lee and C21 Creekside Realty owner Cameron Van Klei started at the C21 office in Chilliwack at midnight on October 2 and ran 103km to B.C. Children's Hospital. Their endurance was put to the test, but they were able to complete the run in 11.5 hours, excluding break times, and beat their fundraising goal and raised $125,367.72 while lifting patients' spirits along the way.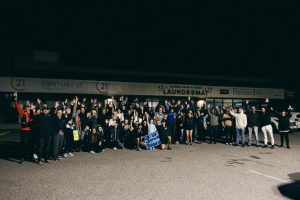 The effort has a personal connection for Lee. Jayden was diagnosed with Acute Lymphoblastic Leukemia in 2015, when he was 15 years old, and completed his chemotherapy in 2018. "I wanted to give back to the hospital that helped me through the difficult three and half years of treatment," he says. During a late-night brainstorm, Cameron mentioned the idea of running to the hospital, and they both laughed it off as Jayden knew how long the trek was from the numerous drives from Chilliwack to Vancouver during his time as a patient. The next morning Jayden tried a 10km run and was sold on his friend's crazy idea.
Cameron and Jayden first met at a CENTURY 21 Creekside Realty Ltd. career night and quickly become good friends. Although Jayden originally wanted to pursue a career in nursing after seeing first-hand all the amazing work they do, he didn't have enough volunteer hours due to his time in the hospital. While working towards completing it, Jayden's father mentioned the C21 Creekside careers night, knowing his son had always been interested in real estate. Jayden attended and quickly realized helping people find their forever homes was his true calling. He completed the REALTORS® course right out of high school and joined the CENTURY 21 Creekside Realty Ltd. Team in 2018.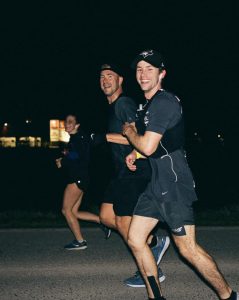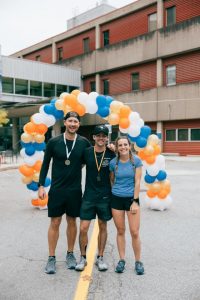 Training for the journey was essential as neither of the men were long-distance runners. Starting January 2nd, they followed a strict training guideline that Jayden's grandmother, a Boston marathon runner, had created specifically for them. Their preparation had many setbacks, including Jayden being out for about two and half months due to a knee injury. But that did not stop him, once he was healed, he completed a 31km, 42km, and 60km run in three consecutive weeks. Cameron also suffered a knee injury and after 72km, had to bike a portion of the 103km run to give the injury some rest.
Although the training and run were both physically and mentally demanding, Jayden and Cameron both had plenty of motivation to keep them going. "Being able to say that I spent three and half years at Children's and was able to run from Chilliwack to Vancouver was just one of the things that motivated me," says Jayden. On the day of the event, family, friends, supports, and patients created signs and cheered the runners on in their last kilometers. Children who couldn't go outside supported from their hospital windows and lined the route with their pictures and treatment stories to help motivate Jayden and Cameron through the finish line. Cameron shares, "I really underestimated how much hope Jayden's story brought to a bunch of the kids."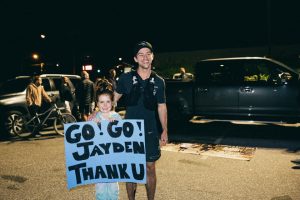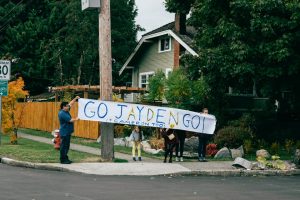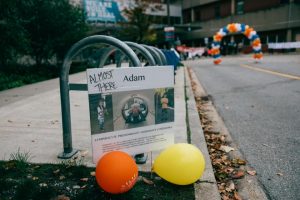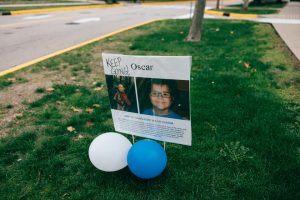 "'Make everyday count' has been CENTURY 21 Creekside's motto for years and that's really what this whole run was about." Jayden adds, "I think it's important in life to do things that are out of your comfort zone and scare you because that's how you grow. I never knew I was capable of running over 100km, but I do now, and I grew a lot as a person along the way. I feel like I was given a second chance on this earth to use my story to help others and show these kids that you can do anything you put your mind to."
The money raised will go toward life-saving medical equipment and research for childhood illnesses at BC Children's Hospital.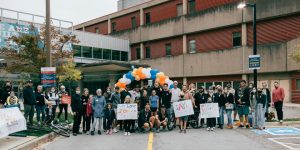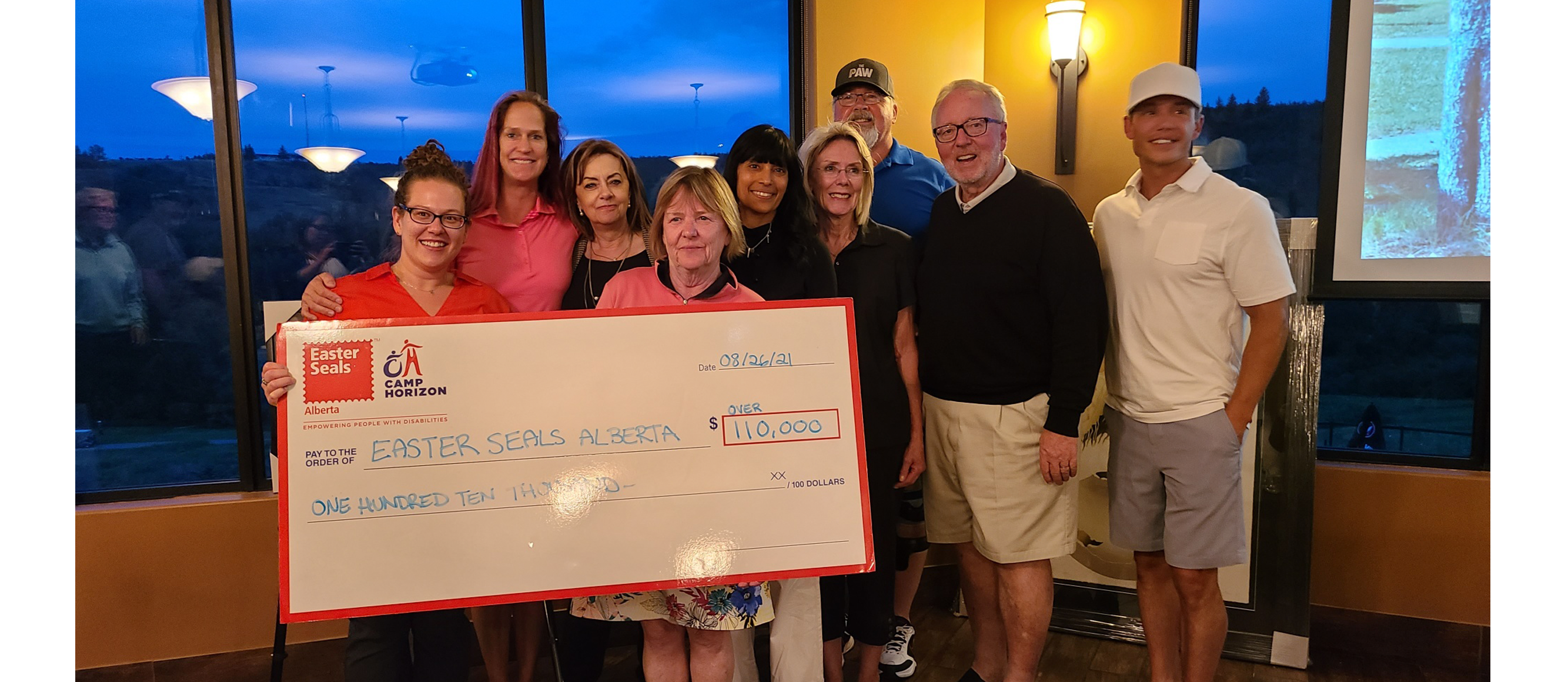 September 20, 2021 – CENTURY 21 Foothills Real Estate hosted the JC Anderson Memorial Golf Tournament in Foothills, AB. This annual event proved to be another successful fundraiser, raising $110,000 for Easter Seals Alberta, helping many children living with disabilities and medical conditions.
The 78 golfers started the day at the Sirocco Golf and Country Club, a local course with unique challenges and unparalleled beauty that winds its way through the Pine Creek Valley. After the tournament, the golfers, family, friends, and supporters enjoyed dinner and an auction hosted by Tiffany Gordon, daughter of CENTURY 21 Foothills Real Estate owner and manager, Blair and Beverly Gordon. Tiffany is a CPGA golf professional and was very instrumental in the success of this event.
The ≈ was founded in support of the late JC's vision to ensure kids with disabilities had a place to play and belong, no matter what their diagnosis. This annual fundraiser provides an opportunity for them to attend Easter Seals Camp Horizon, a one-of-a-kind magical place that empowers them to reach their full potential. "Even though the camp is not open for the second year in a row because of COVID-19, we managed to raise awareness for this important cause and attract people that gave generously," says Blair.
CENTURY 21 Foothills has been a big supporter of Easter Seals Alberta over the years. Their numerous successful fundraising events and the majority of their over 50 agents across six offices in the Foothills area donating $21 per deal, earned them the #2 C21 Easter Seals fundraising company in 2019.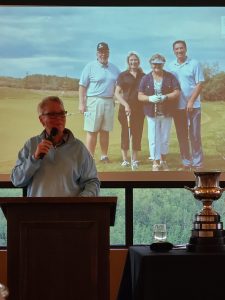 Tiffany Gordon – Emcee of the event
September 30, 2021 – Michelle Zhou and Sharon Yu are new franchisees of CENTURY 21 The One Realty, based out of Markham, Ontario. They have been a highly productive team for 7 years, with 20 plus years combined of real estate experience and decided to expand their success with CENTURY 21 Canada.
Over the past 6 years, this duo has closed 700M transactions, and has already closed 100 deals in 2021. Michelle Zhou started her real estate career over 14 years ago. After graduating with a Master's in Economics, she started her career at IBM while working part-time as a REALTOR®.  She fell in love with helping people find their forever homes and decided to continue her passion full-time.
Sharon Yu, who has always been interested in the industry, started her career 8 years ago. Shortly after joining, she and Michelle created 'The One' team, and they found success quickly. In their previous brokerage of over 500 agents, they earned the #3 spot in their second year. In their third year, they were named #1 and have been in the top spot for the past few years.
"We are a strong, high producing team with just the two of us, and now we are so excited to be able to grow with CENTURY 21 and share our experience with others on how they can build their business just like we did," says Michelle. The team already has a training plan to teach new and experienced agents their successful strategies to help them develop their business. "That is one of the main reasons we became franchisees, we want to help others grow their real estate career so they can help more clients," adds Sharon.
Michelle and Sharon are also eager to combine their reputable "The One" brand with CENTURY 21's powerful branding. "We have had the same brand since day one. People know our name and they know our distinctive red and black colours. Adding CENTURY 21's unmistakable relentless gold will show clients we have a big franchise behind us," says Sharon. The new franchisees were also drawn to CENTURY 21 because of the advanced technology, marketing support, and the welcoming family feel. "We found our home with CENTURY 21," they add.
"The two owners bring an abundance of knowledge and expertise to CENTURY 21 Canada," says Brian Rushton, Executive Vice President at CENTURY 21 Canada. "Their passion to help others grow their business as they have successfully done over the past years is second to none. We are delighted to welcome these new franchisees to C21, and we look forward to supporting their growth."
CENTURY 21 The One Realty group has a strong presence with their local community and is excited to grow their multicultural office and deliver the gold standard to the Markham area with CENTURY 21 Canada.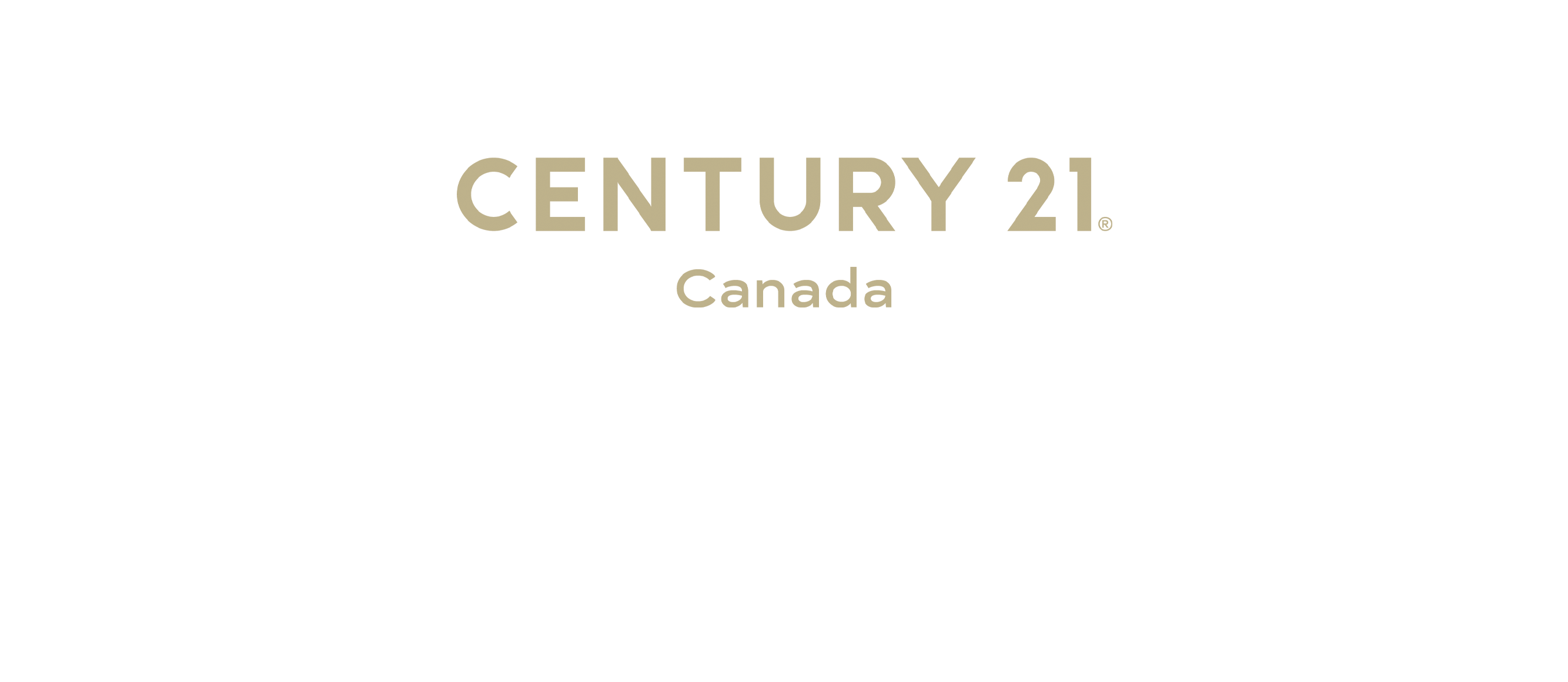 October 1, 2021 – CENTURY 21 Canada has reorganized its leadership team to best meet the needs of its current franchisees and is setting its sights on growth in the coming years. The change comes after the company successfully launched the Moxiworks platform to its agents earlier this year, providing first class websites, marketing, and customer relationship management tools that work together seamlessly in the HUB21 platform.
"We've spent the past few years focusing on our technology and providing our agents with the best tools in the industry," says U. Gary Charlwood, Founder and Executive Chairman of Century 21 Canada. "We're now ready to showcase our value to an expanded audience from coast to coast. The experienced team we've organized is very driven and ready to get started."
Martin Charlwood, previously Vice Chairman, assumes the leadership role as President and CEO by taking a more active role in the organization.
Brian Rushton remains Executive Vice President operations reporting directly to Martin.
Tracy Bartram remains Executive Vice President and Chief Financial Officer for the Charlwood Pacific Group as well as Century 21 Canada.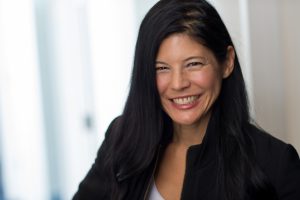 Chiyoko Kakino— Vice President, Brand Expansion, Western Canada. Chiyoko is taking her passion for the brand and sharing it across Western Canada which has been identified as an important region for the brand to continue to grow. Chiyoko has been one of the chief architects of the brand relaunch as Vice President of Marketing for the past six years and will and continue to influence marketing projects throughout the organization.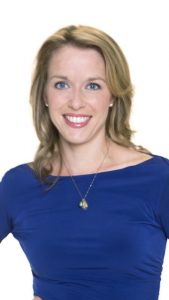 Leigh Kjekstad—Senior Director of Marketing, Communication and Events. Leigh has been with CENTURY 21 Canada for more than four years and has specialized in public relations, marketing, and events. In this new role, she will oversee marketing and communications as well as organize our annual conference and awards events.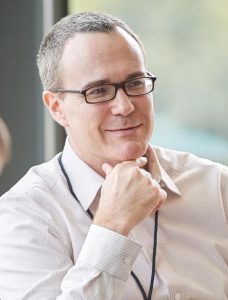 Jack Miller— Virtual Chief Technology Officer. Over the past several years Jack has guided CENTURY 21 Canada through its technology changes. He will remain with the company in the CTO role as well as continue his role as President of the real estate management consulting and analytics firm T3 Sixty.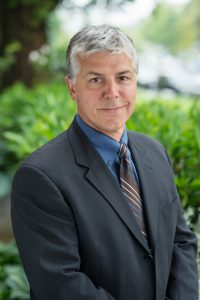 Todd Shyiak—Vice-President, National Network Development. Todd has been with CENTURY 21 Canada since 2013 heading up the Operations department and will continue to help current franchisees with their recruiting and retention strategies. In addition to that, he will be identifying strategic merger and acquisition opportunities within the existing network and continuing to report Brian.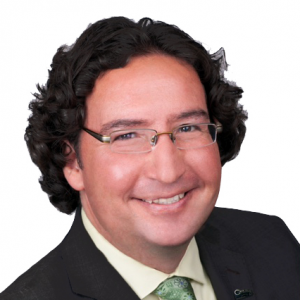 Gary Zalepa- Vice President, Brand Expansion, Eastern Canada. Gary has long been a source of information and advice for our brokers and he will now share his knowledge with a new generation of potential franchisees from Ontario to Newfoundland. Gary's background is of a realtor and broker, so he is well positioned to set up future franchisees for success.  Gary will report to EVP, Brian Rushton.
The timing of the restructuring is, in part, due to the retirement of long-serving members of the C21 staff. Director of Meeting and Events, Carol Hughes, chose to take early retirement at the beginning of the COVID-19 pandemic. More recently, Vice-President of Corporate Services Barbara Fromm also decided to retire after being with the company for more than 40 years.
Tracy Bartram, Executive Vice-President and Chief Financial Officer of CENTURY 21 Canada, says the groundwork that Barb and Carol laid throughout their tenure is already allowing the transition to a new chapter for the company to go smoothly. "Barb and Carol both made sure our day-day business and events ran smoothly. Our awards program, corporate events, and  continued support of Easter Seals wouldn't be what they are without them and we thank them for their service."
Corporate changes over the past few months are also set to better serve existing franchisees. While the Moxiworks platform provides excellent tech support for its product, C21 has invested in enhanced tech support with other tools such as Back At You Media, Google Workplace, and Zillow. There is also a renewed focus on the company's concierge program which is designed to have a "superuser" in each office to ensure everyone knows the tools available to them and understands how to maximize each one for their business.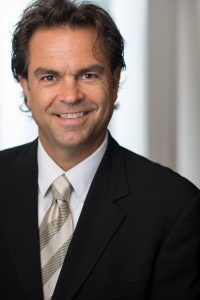 President and CEO Martin Charlwood adds, "Starting in 1975 my father laid the foundation of real estate franchising in Canada in the real estate brokerage industry and we have spent the past almost 50 years continuing to make our mark.  My leadership team will continue to be the gold standard in the industry and our value package remains the best, bar none".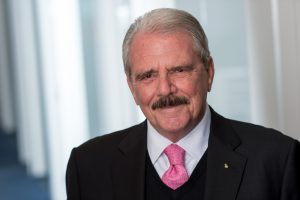 Company founder U. Gary Charlwood adds, "We are the pioneers of real estate franchising in Canada and have spent the past 40 years setting the gold standard for what to offer agents to make them stand out in their local market. The next chapter of our organization is to expand our footprint across the country."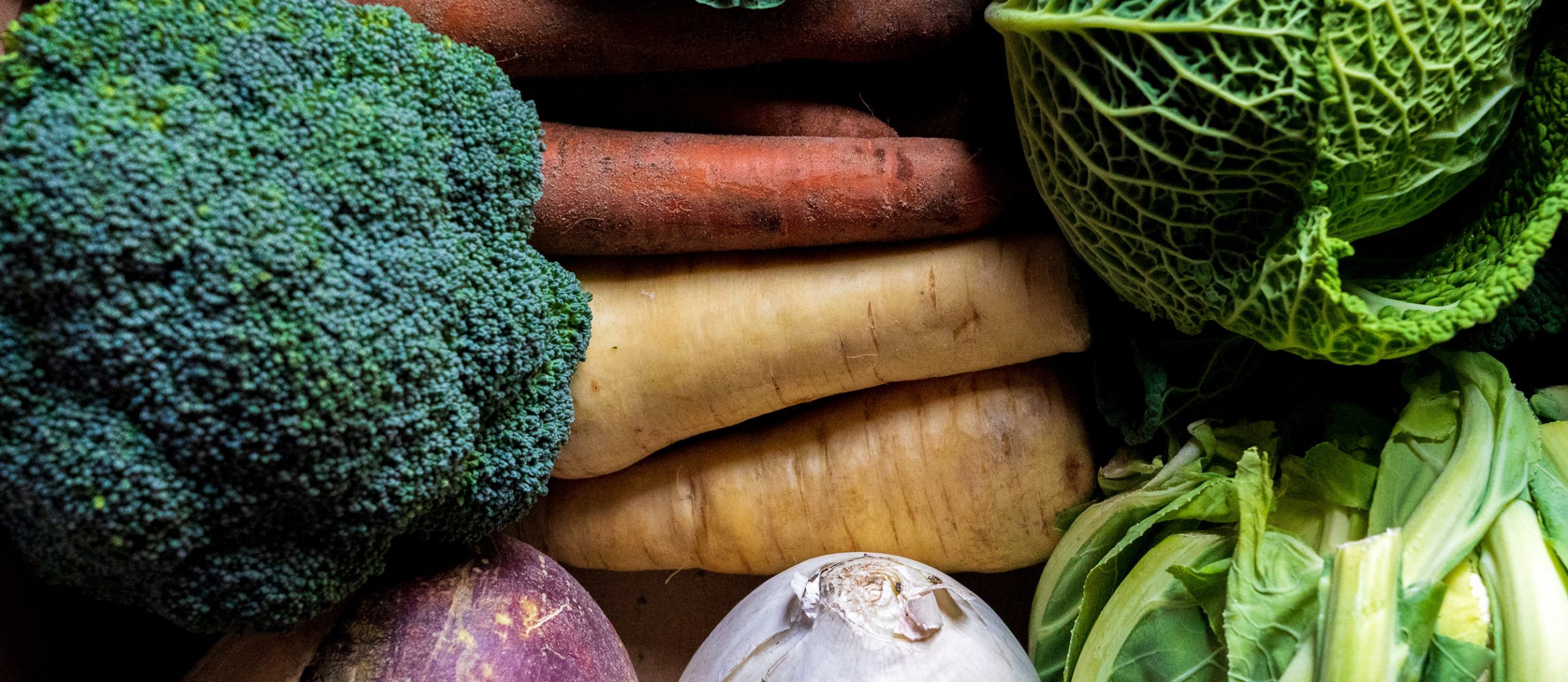 Life@Home – October 2021
With the days growing shorter and the weather getting colder as we shift seasons, it's time to reconsider what produce you are adding to your shopping lists. Knowing what vegetables to buy for the coming winter months makes grocery shopping for the best, local flavours a breeze. We've compiled a list of the best seasonal produce to eat this winter along with tasty recipes the whole family will enjoy.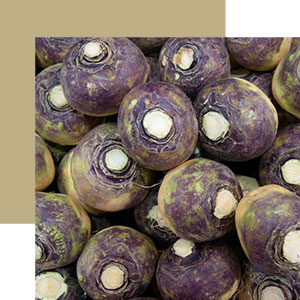 1. Rutabagas
Commonly referred to as a cross between a turnip and a cabbage for its brownish-white colour, the Rutabaga is a root vegetable also known by the name "Swedish turnip." This delicious, hearty vegetable is an excellent source of nutrients and antioxidants and is easy to add to many recipes. Check out these creative ways to eat rutabagas.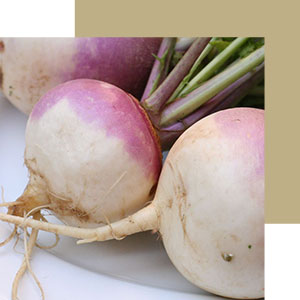 2. Turnips
This white or purple root vegetable is at its best when still small and sweet. Turnips can be eaten raw but are more commonly served cooked with other root vegetables or other strong flavours due to its slight spiciness. Try this easy creamy turnip soup recipe for a warm and comforting meal on a cold evening.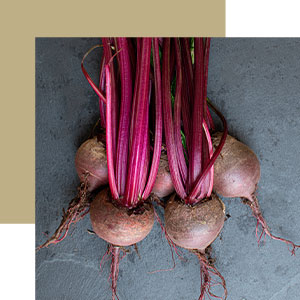 3. Beets
Beets are a popular root vegetable used around the world. They are delicious, easy to include in your regimen, and are packed with vitamins and other nutrients. Plus, their vibrant colour adds an eye-catching pop to any meal. With beets being so versatile, you can create so many delicious meals by chopping, roasting, frying, and more. Check out this list of un-beet-able beet recipes.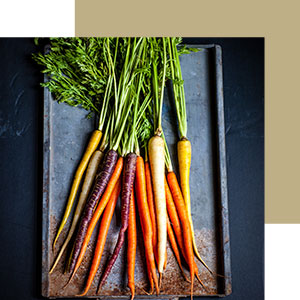 4. Carrots
The tasty, crunchy carrot makes the perfect snack, side dish, or main course. It is highly nutritious and has several health benefits including being low in calories. The root vegetable comes in all shapes and sizes and a variety of colours adding life to any winter meal. This quick and easy carrot loaf will be your new go-to dessert this season.
5. Cabbage
Cabbage comes in an array of shapes and colours and can be found in many popular dishes around the world. It is loaded with many beneficial nutrients and can help improve digestion. Try this hearty cabbage casserole recipe for a cabbage roll taste but far less work.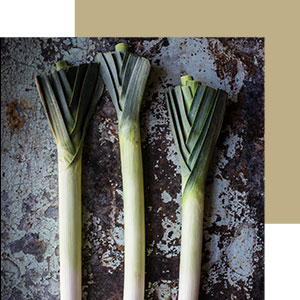 6. Leeks
Leeks are not just saved for potato leek soup; they can be used in so many delicious meals and even on their own! Being a part of the alliums family, leeks are typically cooked as you would onions and shallots and are known for their sweet, oniony flavour. Skip the over-indulged feeling with this healthy chicken and leek pie recipe.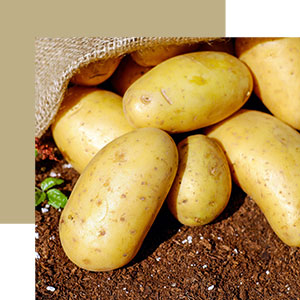 7. Potatoes
This very popular root vegetable is a staple side dish across the world as potatoes can be roasted, mashed, or baked. They are economical as they are relatively cheap to grow and can be quite filling. Although potatoes have a bad reputation for being extremely unhealthy, they are an excellent source of vitamins, minerals, and potassium (even more than a banana!). Plus, potatoes and their nutrients have been linked to an assortment of health benefits. Check out these healthy potato recipes that will get you skipping the fast-food fries.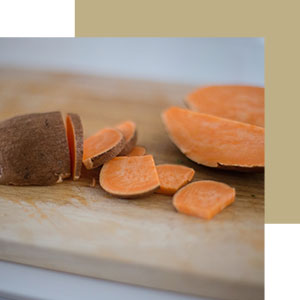 8. Sweet Potatoes
Sweet potatoes are another starchy root vegetable that is popular worldwide. They come in a variety of colours and provide many health benefits as they are a high source of vitamins, minerals, antioxidants, and fiber. Despite their name, sweet potatoes can be both a sweet and savory dish. They are very versatile to cook with and can be baked, boiled, roasted, fried, steamed, or pan cooked. This sweet potato chili dish is the perfect warm comfort food on a cold winter night—plus it is paleo-friendly!
Monthly Feature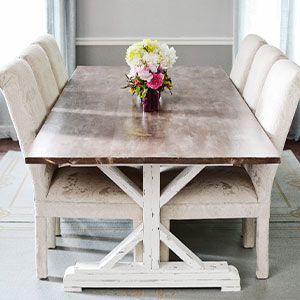 DIY Project: How to Paint, Stain, Whitewash & Distress a Farmhouse Table
Create the perfect farmhouse table to enjoy your delicious meals with your family and friends.
Get DIY Project Here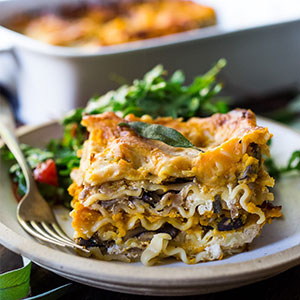 Recipe: Butternut Lasagna with Mushrooms and Sage
This cozy vegetarian meal can be made ahead, making it the perfect dish for busy winter nights or holiday dinners.
Get Recipe Here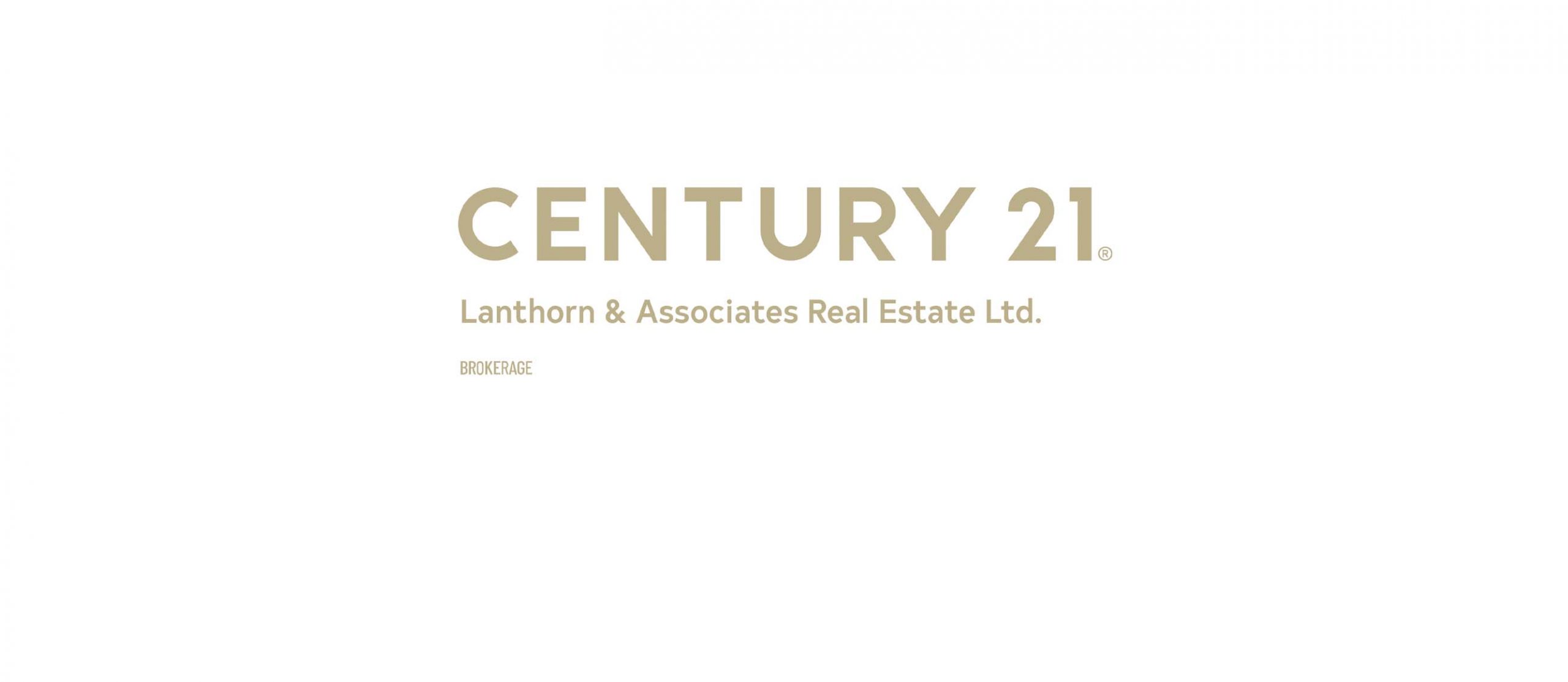 Century 21 Lanthorn Real Estate announced that the brokerage's Belleville, Ont. office will soon transition to an expanded ownership group – Century 21 Lanthorn & Associates. The new ownership team includes industry veteran broker and owner of C21 Lanthorn Real Estate Bill Rorabeck, real estate coach and mentor Joelle Briggs and broker and leader of The Royle Group Travis Royle.
"C21 Lanthorn has become an incredible force in Southeastern Ontario," says Rorabeck. "With client and market expectations changing, it's time to introduce new leadership of the Belleville office, and I'm confident in the opportunity that Joelle and Travis bring as expanded owners."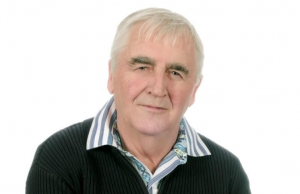 Rorabeck has more than 40 years of experience in the industry. In addition to his work at C21 Lanthorn & Associates, he will continue to work with C21 Lanthorn's offices in Picton, Trenton, Madoc and Napanee.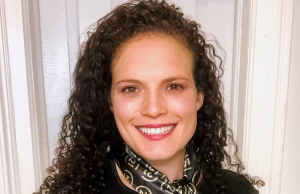 Briggs is a real estate coach and mentor and she currently leads C21 Lanthorn's business operations across all the brokerage's offices. "At C21 Lanthorn, our mission has always been to deliver extraordinary experiences," says Briggs. "Together with our amazing team of agents, we are ready to make bold moves to best serve those in the community."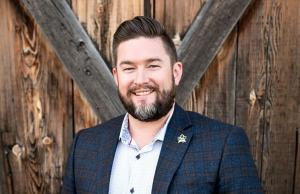 Royle is the broker of record for C21 Lanthorn & Associates, currently leading The Royle Group.
"With our talented team and unique skill set, we are excited about the opportunity to influence positive change and help the office grow in numbers and market share," says Royle.
Read more at Real Estate Magazine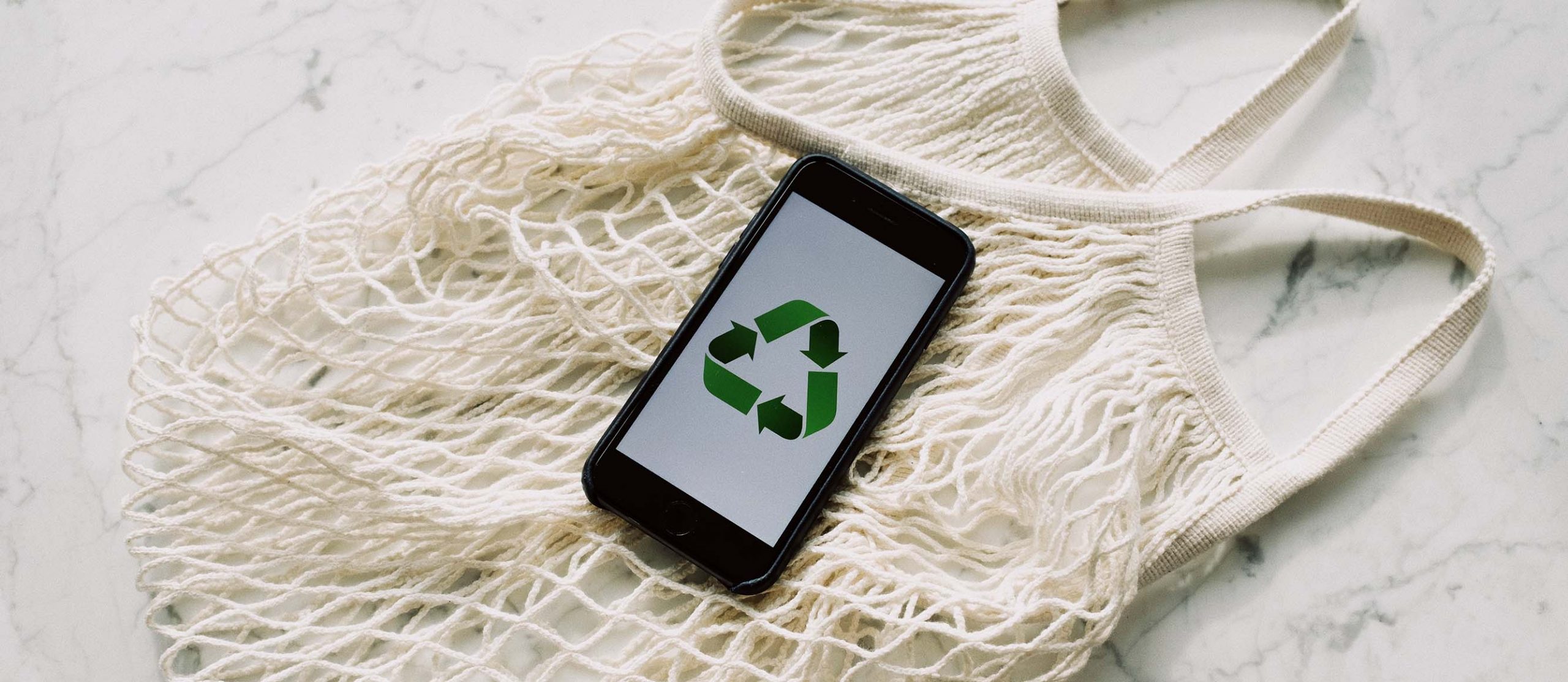 Life@Home – September 2021
Many people struggle with where to begin when it comes to being more environmentally conscious. With everyone spending more time at home, why not start there? You don't have to buy new energy-efficient appliances or install solar panels, but small changes in your home can go a long way in helping reduce your carbon footprint. Here are some simple ways to make your home eco-friendlier, so you can contribute to a sustainable environment while saving money!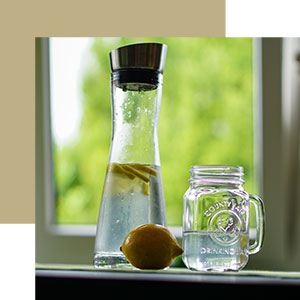 1. Avoid Wasting Water
One of the simplest ways to make your home more eco-friendly is to cut down on your water waste. Simply turn off the tap when brushing your teeth, take shorter showers, and check for leaks. Conserving water will not only help the environment but your bills will see a considerable decrease. While we are on the topic of water, switch to a water filter or a reusable water bottle to cut down on single-use plastic bottles.

2. Natural Cleaning Products
It is time to embrace natural cleaning products because they are equally effective, don't contain any harmful chemicals, and are far better for your health. You may see the price tag on natural cleaning products and be scared off this tip, but many of your daily cleaners can be made at home. Check out this list of homemade cleaners you can make with ingredients you already have.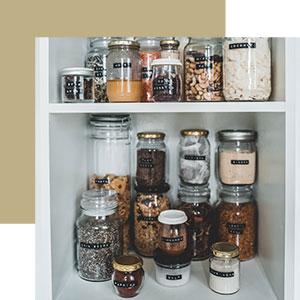 3. Repurpose Jars
Upcycle your glass jars into many uses throughout your home to start living a zero-waste lifestyle. Many of your favourite grocery items come in glass jars – pasta sauce, pickles, jams – and they make the perfect reusable container once you have finished off the delicious food. These are far better for the environment than plastic containers and will save you cleaning time and money. You can use glass jars in the kitchen for fermenting, storing food, or as shakers. Plus, they can be used all around your house for gardening, storage containers, and fun crafts. The creative opportunities are endless.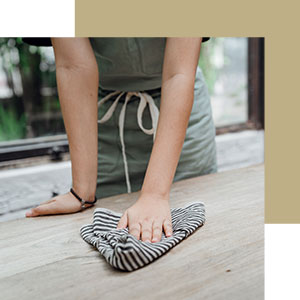 4. Eliminate Paper Towels
Paper towels and napkins are an easy go-to in a busy kitchen but switching to cloth towels or rags will save you money and help you live a sustainable lifestyle. These can be re-used many times and easily washed once they get too dirty. Try making your own rags by cutting old shirts or towels into smaller pieces.

5. Reconsider Your Laundry
Start washing your clothes in cold water. Washing with cold water will help cut down your energy consumption as a lot of power goes towards heating the water. Cold water will also help preserve your clothes' condition and colour. If you want to make your clothes last even longer, hang-dry them! Get an outdoor line or collapsible rack to make hand drying a breeze and let you skip the dryer. But if the dryer is a must, switch single-use dryer sheets or use a reusable wool dryer ball for fewer wrinkles, softer clothes, and less drying time.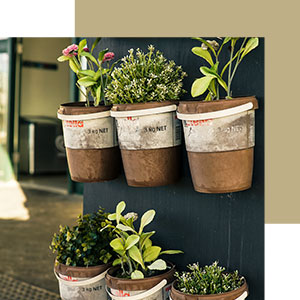 6. Plant a Garden
Plants and edible gardens help contribute to a sustainable environment and make a fun hobby! Adding greenery around your home will help produce more oxygen and reduce CO2, making your air cleaner and your décor more beautiful. As well, try adding an herb or vegetable garden to add homegrown flavour to your meals. Edible gardens can be held in any space, big or small, and will save you time and money on trips to the grocery stores. Plus, a backyard garden reduces the use of produce plastic containers. When watering your plants, use collected rainwater to reduce water consumption.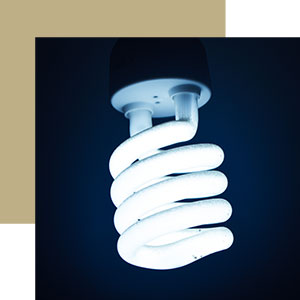 7. Switch to LED Bulbs
Invest in LED light bulbs to help make your home more eco-friendly. These energy-efficient bulbs may have a higher price tag, but they will save you money in the long run by using less energy and lasting longer than incandescent bulbs. With so many LED bulbs to choose from, check out this guide to help your pick your perfect match.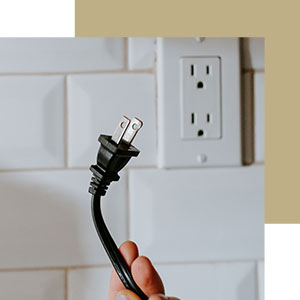 8. Unplug Electronics
This tip is as simple as it sounds– unplug not-in-use electronics. Chargers, TVs, and other electronics use energy even when they are powered down, so unplug them to lower electricity consumption. Try plugging electronics into a power bar to easily power down with no hidden energy consumption. Plus, the power bar's 'on' light makes it obvious when electronics are draining power and makes turning off accessible and painless.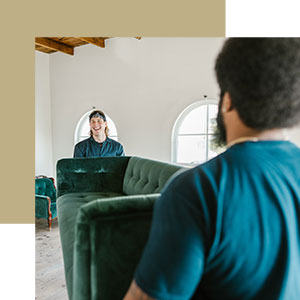 9. Reuse Instead of Buying New
Moving or redecorating? Instead of buying new or throwing away unwanted pieces, try online marketplaces or thrift stores. This is a great, eco-friendly way to easily get rid of or find home pieces while saving money. You can also try refurbishing old items for a fun and creative DIY project that the whole family can participate in.
Monthly Feature

DIY Project: Reusable Oilcloth Bowl Covers
This eco-friendly DIY oilcloth bowl cover will keep food fresh and eliminate wasteful, plastic saran wrap.
Get DIY Project Here

Recipe: Heirloom Tomato and Zucchini Galette with Honey + Thyme
This extraordinary and savoury galette uses ingredients you can grab at your local farmer's market and will be your new go-to sustainable dish.
Image Credits: Image 1, Image 2, Image 3, Image 4, Image 5, Image 6, Image 7, Image 8, Image 9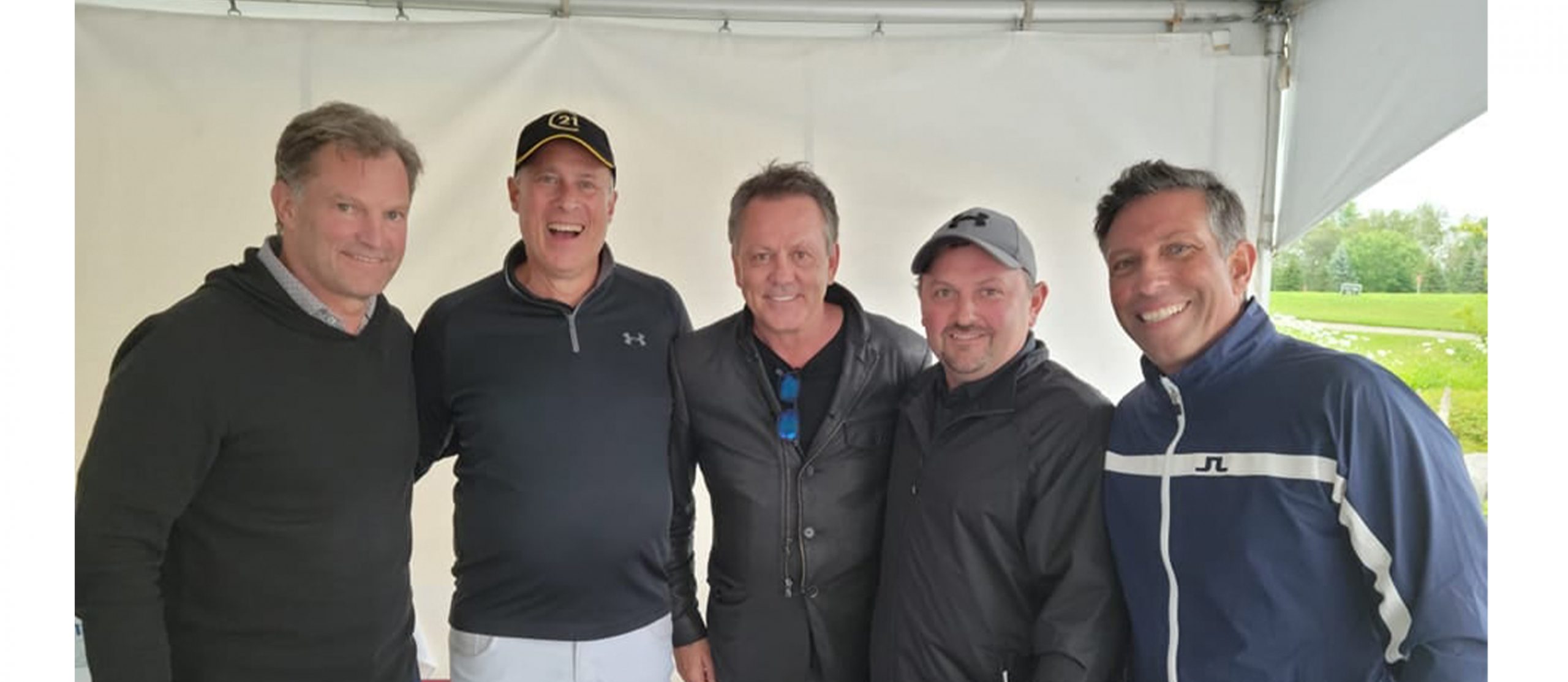 August 12, 2021 – The 16th Annual Showcase of Celebrities Golf Tournament raised a record-breaking $60,000 last month in Barrie. Despite a rainy day for golf, supporters and a team for CENTURY 21 B.J. Roth Realty hosted an incredible event with an even more exciting result.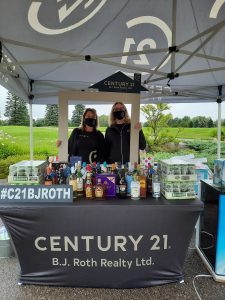 The tournament took place in early July at Bear Creek Golf Club in Barrie, ON with 180 golfers over 3 shotgun times. Part of the remarkable amount raised at the event will purchase 4 pieces of mobility equipment that kids in their community have been desperately waiting for. The remainder of the generous donations will help support children living with disabilities and get them access to essential specialized equipment.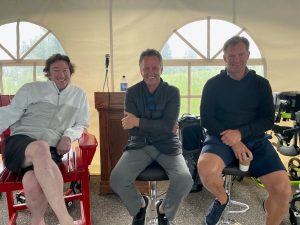 After the rainy game, the players enjoyed a social event with hockey celebrities Doug Gilmour & Kirk Muller, plus TSN broadcaster Ken Reid. The three hockey greats shared stories from their NHL playing, coaching, and refereeing days. Attendees also heard from guest speaker, Daniella Altieri, the 17-year-old Easter Seals Ontario Ambassador. She gave a heart-warming speech about the need for inclusiveness among people with disabilities and how Easter Seals has had an incredible impact on her life. Altieri's passionate speech left attendees emotional and was met with a standing ovation.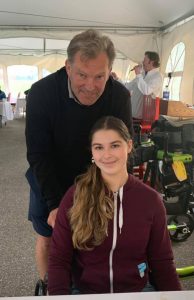 "Hearing from Altieri and other Easter Seals children in our community gives us the motivation to continue our relentless fundraising efforts," says Theresa Kerr with CENTURY 21 B.J. Roth Realty in Barrie "A big thank you to our team, organizers, volunteers, and attendees for their support in helping create a more inclusive and accessible society that includes and honours the contributions and potential of Canadians of all abilities."
CENTURY 21 B.J. Roth Realty's determined effort in supporting Easter Seals and creative fundraising events throughout the years has earned them the #1 C21 Easter Seals fundraising company for 7 consecutive years.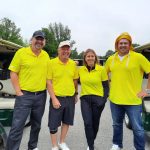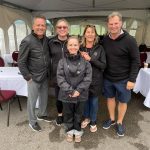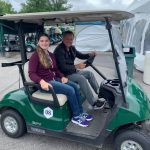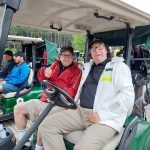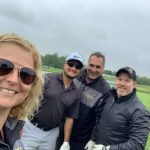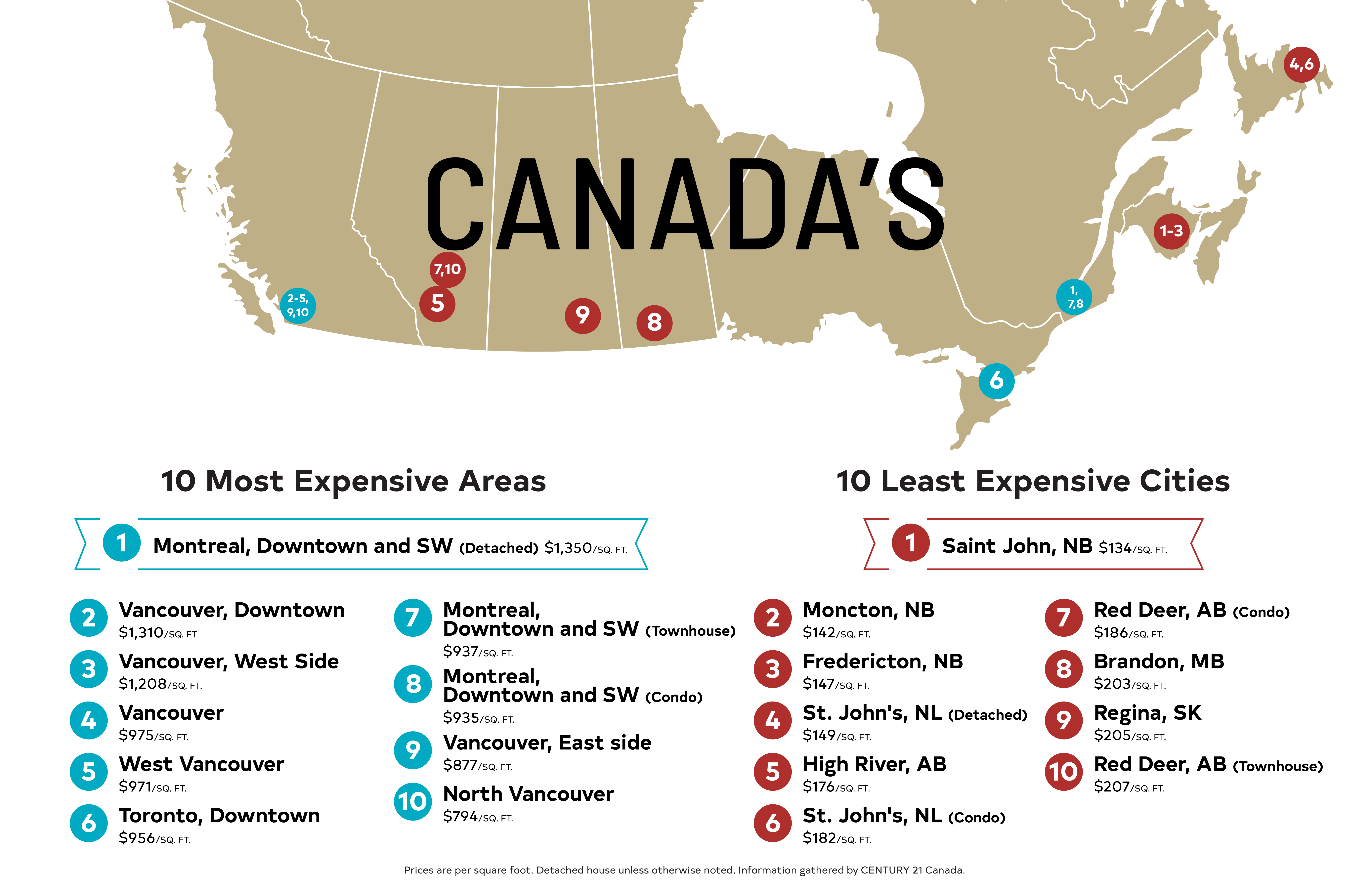 Vancouver (August 11, 2021) – House prices across Canada have grown significantly over the past year, particularly in Atlantic Canada and more recreational locations, despite the COVID-19 pandemic. The fifth annual Price per Square Foot survey is being released by CENTURY 21 Canada and shows that real estate continues to be an excellent investment for Canadians. While real estate is most often dependent on the local market, the past year has seen widespread increases in prices from coast to coast.
In its annual, nationwide study, CENTURY 21 Canada compared the price per square foot of properties sold between January 1 and June 30 this year, compared to the same period last year.
"Looking at the prices across Canada, there isn't one region that hasn't seen price growth in the past year," says Brian Rushton, Executive Vice-President of CENTURY 21 Canada. "When the pandemic began in 2020, the market became unchartered territory. But because of low inventory and high demand from buyers looking for a larger space, prices have steadily climbed for the past year, particularly detached homes. Over the past couple of months, that growth has slowed and condo prices have started increasing again– it's still a seller's market from Victoria to St. John's."
When COVID-19 began to take hold in spring 2020, the belief was that the market would struggle. However, after an initial dip, pent up demand for housing, particularly detached homes, increased prices throughout last fall and earlier this year, in part due to a lack of supply. As evidenced in the data, prices in central major metros have been softer than those in traditionally less expensive markets like Owen Sound and Atlantic Canada.
Rushton says prices have moderated over the past couple of months. "This is typical of what we see through the summer months, but all signs are pointing to another busy fall as inventory across the country continues to be low with plenty of buyers waiting to make a move as soon as they can."
Regional highlights: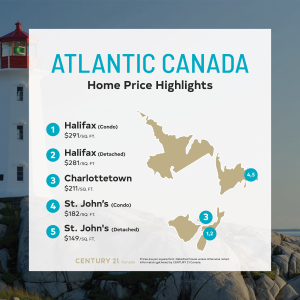 Atlantic
Atlantic Canada has long been seen as the most affordable region in Canada for housing. But over the past year, prices have consistently increased with work from home becoming a viable option for many workers. Halifax has seen the biggest increase in prices, but Charlottetown, Fredericton, Moncton, and St. John's are all seeing double-digit increases.
"Because we are still affordable, people are flocking here," says Paul Burns, Manager at CENTURY 21 A&T Countryside Realty. "Between people from Ontario finding that they can afford a home in Atlantic Canada, newcomers increasingly locating here, and locals who want to stay, this region is seeing prices we've never seen before."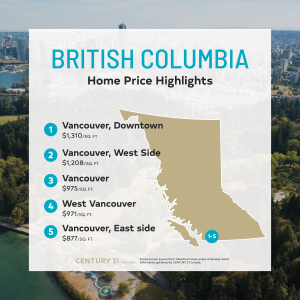 British Columbia
BC real estate is the most expensive in the country and remains so again this year. Prices in the outskirts of the city saw the largest increase with Chilliwack prices up over 40 percent to $406 per square foot, Delta up 38 percent to $50 per square foot and White Rock/South Surrey up 44 percent to $625 per square foot. Kelowna also saw solid increases with prices up anywhere between 20 and 30 percent, depending on what home type the consumer is choosing.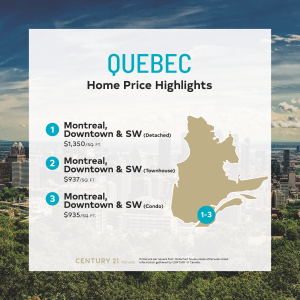 Quebec
Real estate in Quebec has been strong for several years now. Yet again, prices increased significantly since last year, with the price of a detached house in Montreal's downtown and southwest rising 41 percent to $1350 per square foot while townhouses increased 22 percent to $937 per square foot and condos 16 percent to $935. Over the past five years prices in Montreal have essentially caught up to those in Vancouver and Toronto. "Montreal saw affordable prices for many years, but people saw the value in this city and the cost of a home is now on par with other major cities in the country," says Mohamad Al-Hajj, owner of CENTURY 21 Immo-Plus in Montreal.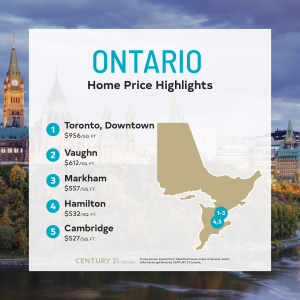 Ontario
2019 to 2020 saw modest growth in Ontario, and the past year has seen even bigger increases. Most notably, the prices in Owen Sound and Grey Bruce are up more than 80 percent. "Demand has been off the charts," says Mike Seiler, owner of CENTURY 21 In Studio Realty. "Our clients are moving up from Toronto now that they can work from home. People are also realizing how much more space you can get once you get out of the metro area."
Suburbs have all seen double-digit increases in prices, with the highest in those communities that are just a little outside a regular commute. "Now that people are commuting a few times a week rather than every day, they're willing to be a bit further from their jobs in order to secure a bigger home at a more affordable price," says Eryn Richardson of CENTURY 21 Heritage Group.
Prices in downtown Toronto condos were actually slightly down for the first six months of the year, but are coming back strong. 2021 started with lower prices than we saw in the initial pandemic, but have increased as the year went on. Ottawa condos were also down year over year but, they too are rebounding as 2021 continues.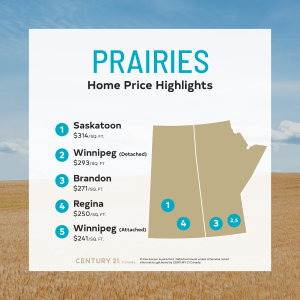 Prairies
Prairie house prices have seen some growth, although they are the slowest growing areas of the province. Saskatoon homes are up nearly twenty percent to $314 per square foot although condo prices remained flat and Regina properties only saw minor increases in prices. Winnipeg saw the biggest gains with homes up as much as twenty percent to $293 per square foot for a house and $241 per square foot for a condo.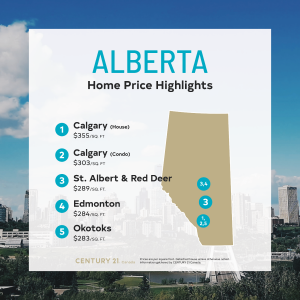 Alberta
Many markets in Alberta saw decreases in previous surveys but are up anywhere from three to fifteen percent depending on the city and home type. Like many markets around the country, detached homes have seen the largest increases compared to other home types. Red Deer and High River saw the highest house increases, with prices at $289 per square foot and $271 respectively. Condos in St. Albert are the other standout in Alberta real estate with a nearly 19 per cent increase to $251 per square foot, which is still among the most affordable in the country.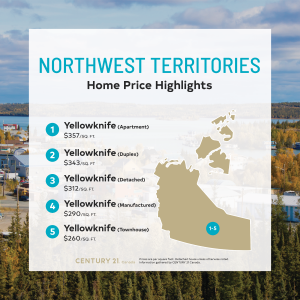 Even Yellowknife properties have seen an increase in prices. Both houses and duplexes have seen double digit increases while other house types have seen more subtle changes.
"This is the fifth consecutive year we have done this survey and, while previous years showed that real estate is a local story, we have seen widespread increases across the country this year," says Mr. Rushton. "Real estate is security—both emotional and physical—and after the pandemic people continue to want to invest in the places they want to spend the most time."
CENTURY 21 Canada's annual survey of data on the price per square foot (PPSF) of properties gathers and compares sales data from its franchises across Canada from January 1 to June 30 of each year. By looking at the price per square foot at the same time each year the firm is able to get a good idea of how prices have changed over time for similar properties. This year's survey compares 2020 prices with this year's results.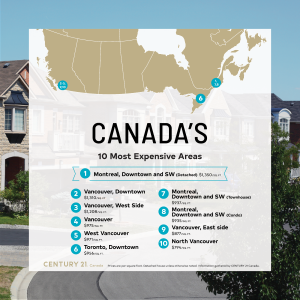 .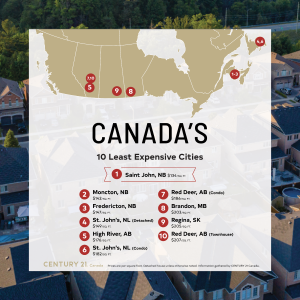 See full PPSF study results below:
ATLANTIC

CITY

HOUSE TYPE

2020 PPSF

2021 PPSF

% CHANGE 2020-2021

Halifax
Condo
$223
$291
30.49%
Halifax
Detached House
$225
$281
24.89%
Charlottetown
Detached House
$178
$211
18.54%
St. John's
Condo
$162
$182
12.35%
St. John's
Detached House
$135
$149
10.01%
Fredericton
Detached House
$123
$147
19.62%
Moncton
Detached House
$124
$142
14.78%
Saint John
Detached House
$123
$134
8.63%
---
BRITISH COLUMBIA

CITY

HOUSE TYPE

2020 PPSF

2021 PPSF

% CHANGE 2020-2021

Vancouver, Downtown
Condo
$1,192
$1,310
9.90%
Vancouver, West Side
Detached House
$1,004
$1,208
20.30%
Vancouver
Detached House
$816
$975
19.57%
West Van
Detached House
$734
$971
32.25%
Vancouver, East side
Detached House
$672
$877
30.48%
North Vancouver
Detached House
$690
$794
14.97%
Vancouver, Richmond
Detached House
$608
$722
18.69%
Burnaby
Detached House
$579
$688
18.76%
Victoria
Condo
$615
$659
7.15%
White Rock/South Surrey
Detached House
$435
$625
43.64%
Delta North
Detached House
$413
$570
37.88%
Victoria
Detached House
$488
$558
14.34%
Victoria
Townhouse
$418
$457
9.33%
Kelowna
Apartment
$334
$411
22.95%
Chilliwack
Detached House
$288
$406
40.72%
Kelowna
Detached House
$280
$368
31.41%
Kelowna
Townhouse
$302
$365
20.59%
Chilliwack
Condo/ Apartment
$270
$351
29.84%
Kelowna
Half Duplex
$263
$320
21.54%
Chilliwack
Townhouse
$250
$318
27.00%
---
QUEBEC

CITY

HOUSE TYPE

2020 PPSF

2021 PPSF

% CHANGE 2020-2021

Montreal, Downtown and SW
Detached House
$958
$1,350
40.92%
Montreal, Downtown and SW
Townhouse
$768
$937
22.01%
Montreal, Downtown and SW
Condo
$805
$935
16.15%
---
ONTARIO

CITY

HOUSE TYPE

2020 PPSF

2021 PPSF

% CHANGE 2020-2021

Toronto, Downtown
Condo
$1,033
$956
-7.45%
Vaughn
Detached House
$548
$612
11.75%
Markham
Detached House
$485
$557
14.96%
Hamilton
Detached House
$406
$532
30.94%
Cambridge
Duplex
$377
$527
39.79%
Richmond Hill
Detached House
$522
$520
-0.43%
St. Catharines
Bungalow
$425
$520
22.35%
Guelph
Condo
$423
$511
20.80%
Newmarket
Detached House
$510
$505
-1.04%
Waterloo
Condo
$411
$503
22.38%
Guelph
Detached House
$443
$483
9.03%
Kitchener
Condo
$399
$483
21.05%
Ottawa
Condo
$577
$479
-16.98%
Niagara Falls
Bungalow
$395
$475
20.25%
Cambridge
Townhouse
$341
$474
39.00%
Kitchener
Semi-Detached
$399
$460
15.29%
Hamilton
Townhouse
$343
$453
32.13%
Hamilton
Apartment/ Condo
$370
$453
22.39%
Guelph
Duplex
$400
$451
12.75%
Cambridge
Detached House
$388
$450
15.98%
Waterloo
Semi-detached
$399
$439
10.03%
Cambridge
Condo
$367
$435
18.53%
Kitchener
Townhouse
$342
$435
27.19%
Guelph
Townhouse
$364
$433
18.96%
Kitchener
Detached House
$400
$430
7.50%
Ottawa
Detached House
$313
$429
37.06%
Waterloo
Detached House
$407
$421
3.44%
Bradford
Detached House
$358
$410
14.45%
Waterloo
Townhouse
$344
$408
18.60%
St. Catharines
Detached House
$330
$400
21.21%
Ottawa
Townhouse
$392
N/A
Niagara Falls
Detached House
$300
$390
30.00%
Barrie
Detached House
$350
$378
8.00%
London
Detached House
$250
$362
44.80%
Grey Bruce
Detached House
$195
$357
82.87%
Owen Sound
Detached House
$167
$312
86.77%
Windsor
Detached House
$210
$295
40.48%
---
PRAIRIES

CITY

HOUSE TYPE

2020 PPSF

2021 PPSF

% CHANGE 2020-2021

Saskatoon
Detached House
$263
$314
19.39%
Winnipeg
Detached House
$244
$293
20.18%
Brandon
Detached House
$248
$271
9.01%
Regina
Detached House
$237
$250
5.35%
Winnipeg
Attached
$210
$241
14.53%
Winnipeg
Condo
$223
$234
4.79%
Saskatoon
Condo
$217
$216
-0.58%
Regina
Condo
$205
$205
0.18%
Brandon
Condo
$204
$203
-0.30%
---
ALBERTA

CITY

HOUSE TYPE

2020 PPSF

2021 PPSF

% CHANGE 2020-2021

Calgary
House
$320
$355
10.94%
Calgary
Condo
$296
$303
2.36%
St. Albert
Detached House
$269
$289
7.56%
Red Deer
Detached House
$252
$289
14.65%
Edmonton
Detached House
$268
$284
6.17%
Okotoks
Detached House
$254
$283
11.44%
St. Albert
Duplex
$278
$280
0.89%
High River
Detached House
$237
$271
14.34%
Edmonton
Duplex
$250
$270
7.70%
St. Albert
Condo
$211
$251
18.92%
Okotoks
Condo
$211
$219
3.57%
Edmonton
Condo
$206
$217
5.19%
Red Deer
Townhouse
$207
N/A
Red Deer
Condo
$186
N/A
High River
Condo
$173
$176
1.80%
---
NORTHWEST TERRITORIES

CITY

HOUSE TYPE

2020 PPSF

2021 PPSF

% CHANGE 2020-2021

Yellowknife
Apartment
$347.00
$357.00
2.88%
Yellowknife
Duplex
$306.00
$343.00
12.09%
Yellowknife
Detached House
$277.00
$312.00
12.64%
Yellowknife
Manufactured
$267.00
$290.00
8.61%
Yellowknife
Townhouse
$265.00
$260.00
-1.89%
For more information please contact:

Shawn Hall, Peak Communicators
(604) 619-7913
shawn@peakco.com
Leigh Kjekstad, Director of Brand Engagement, CENTURY 21 Canada
604-606-2139
Leigh.Kjekstad@century21.ca
Read more: