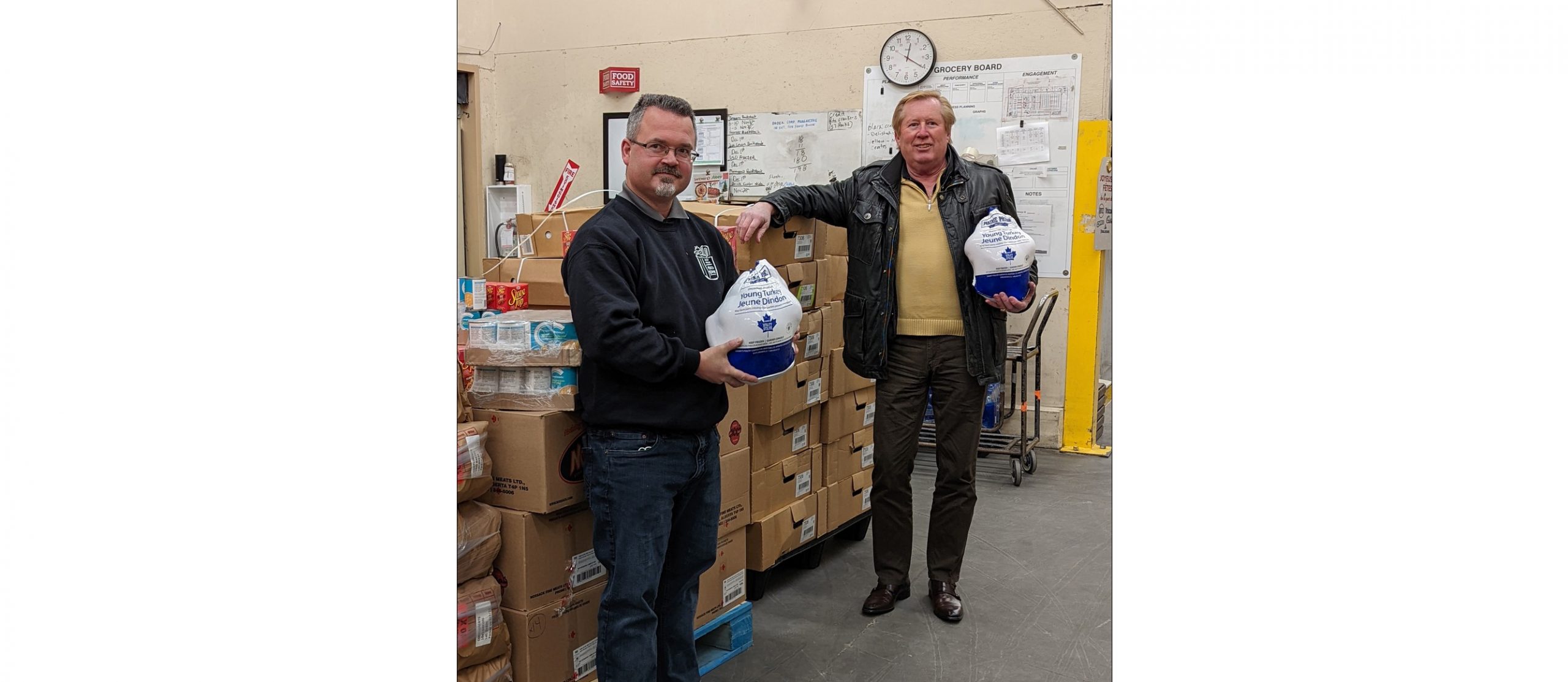 December 16, 2021 – Dale Devereaux, Broker and Owner of Century 21 Maximum in Red Deer, AB, wrapped up the 24th annual 'Feed a Family' campaign. 247 turkey and ham dinners (with all the trimmings) were donated to the Red Deer District Food Bank which will feed about 1,000 people and help central Albertans enjoy the holiday season.
24 years ago, Dale started this campaign by donating over 100 turkeys to the food bank based on the number of houses he sold that year. With the need for donations continuously growing, they invited customers and friends to help and now they have fed 27,500 people.
Due to increased food prices, low product stock and COVID benefits running out, the food bank has seen an increased demand for help this year. "The food bank has averaged 40% more clients month over month since April," says Mitch Thomson, Executive Director of Red Deer District Food Bank. "Normally 25-59 families a day come in for emergency food hampers. That has climbed to 68-75 hampers."
"With our community in need, I am happy to be able to able to give back," Dale says. "I think it's a very special moment to have a traditional Christmas meal for a lot of families." Dale plans to make the 25th annual 'Feed A Family' drive, next year, the biggest one yet to help even more central Albertans during the holiday season.
Thank you to Dale, the CENTURY 21 Maximum team, and all the donators who helped provide a Christmas meal to those in need and continue to make a difference in their community.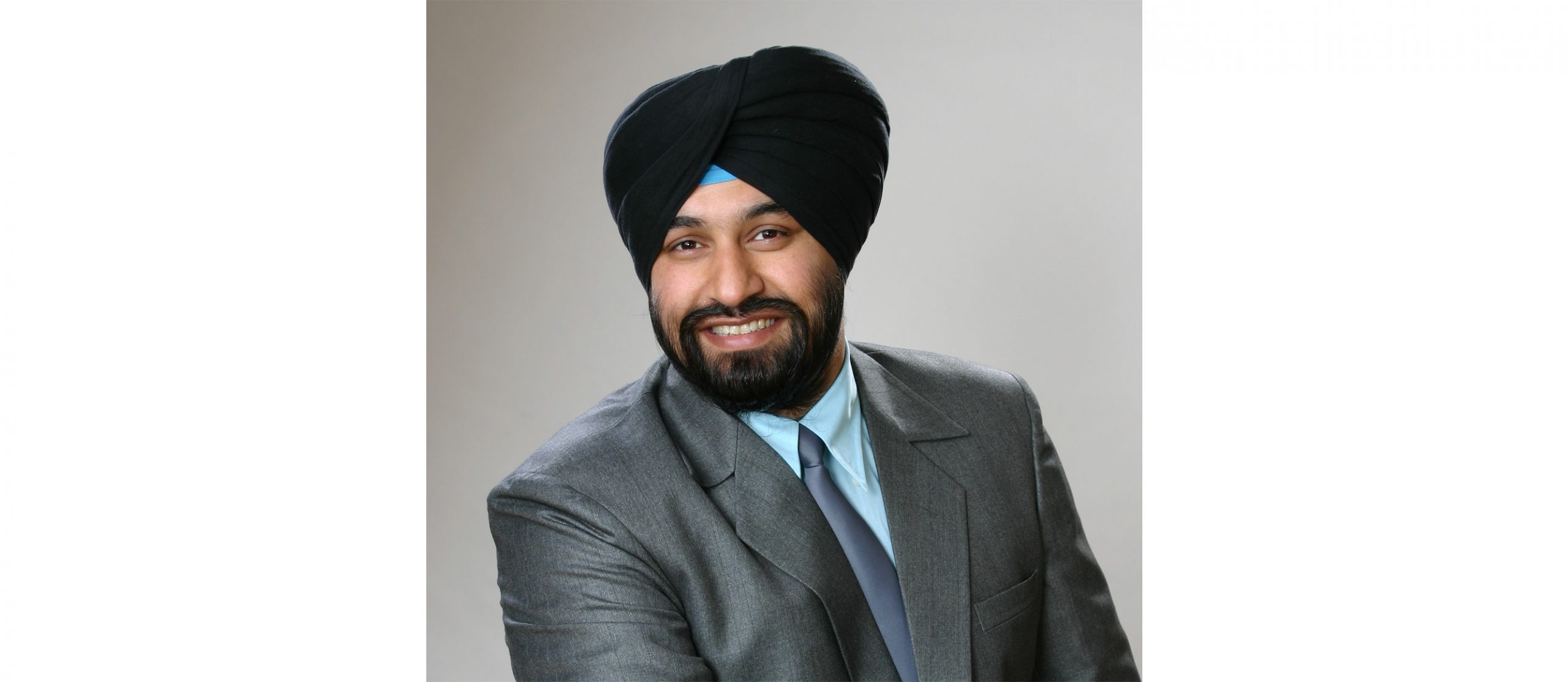 December 9, 2021 – D. Pal Singh is a new franchisee of CENTURY 21 Realty Heroes Inc. Brokerage, in Brampton, ON. He started as an independent brokerage owner in 2019 and with quick-growing success, D. Pal decided to join CENTURY 21 Canada for their support and tech tools to continue to build upon their achievements. D. Pal has been in the real estate industry for almost 20 years, working as a sales representative for over six years with CENTURY 21 Canada, and it has always been his passion.
After coming to Canada in the late '90s, D. Pal decided to combine his entrepreneurial spirit and experience from his family's real estate business in India and pursue a real estate career. During a brainstorming session with a creative friend, they came up with "Realty Heroes" as D. Pal was a superhero when it came to helping his clients buy or sell their homes. His Superman marketing became iconic in Brampton with people doing his signature hero pose anytime they would see him or his branded car. Because of the brand's success within his market, D. Pal decided to use the name when he opened his independent brokerage in 2019.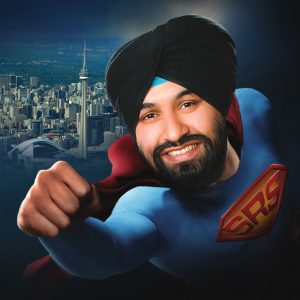 In only two years, the Realty Heroes team became very successful but found they were starting to hit a ceiling and planned their move to CENTURY 21 Canada. "We wanted to create an office which has the best technology as that is one of the most important things in today's real estate market. We want to allow our agents to be successful, so we joined CENTURY 21 which has the best-in-class technology," says D. Pal.
CENTURY 21 Realty Heroes Inc. Brokerage opens its doors in the first week of January 2022. They currently have 14 agents and intend to grow with a revamped business plan, new partnerships and much more. This brokerage will have the leading technology, marketing, and support tools, and the office is designed to help motivate agents to improve their production and reach their goals. "Each wall features a motivational quote and helps contribute to our culture." D. Pal adds, "Our atmosphere is not like any other real estate office. We have a great group of like-minded individuals who all help and push each other to be successful."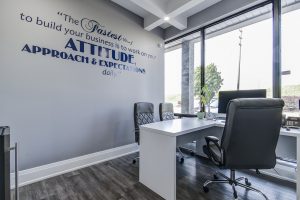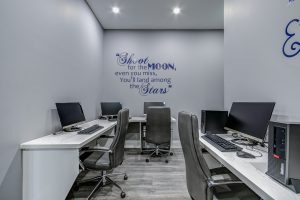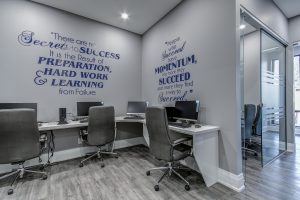 "Welcome D. Pal and the Realty Heroes team to CENTURY 21 Canada," says Brian Rushton, Executive Vice-President of CENTURY 21 Canada. "With his passion for real estate and extensive experience in the industry, we know D. Pal will continue to build upon their success and provide the gold standard level of service to the Brampton area."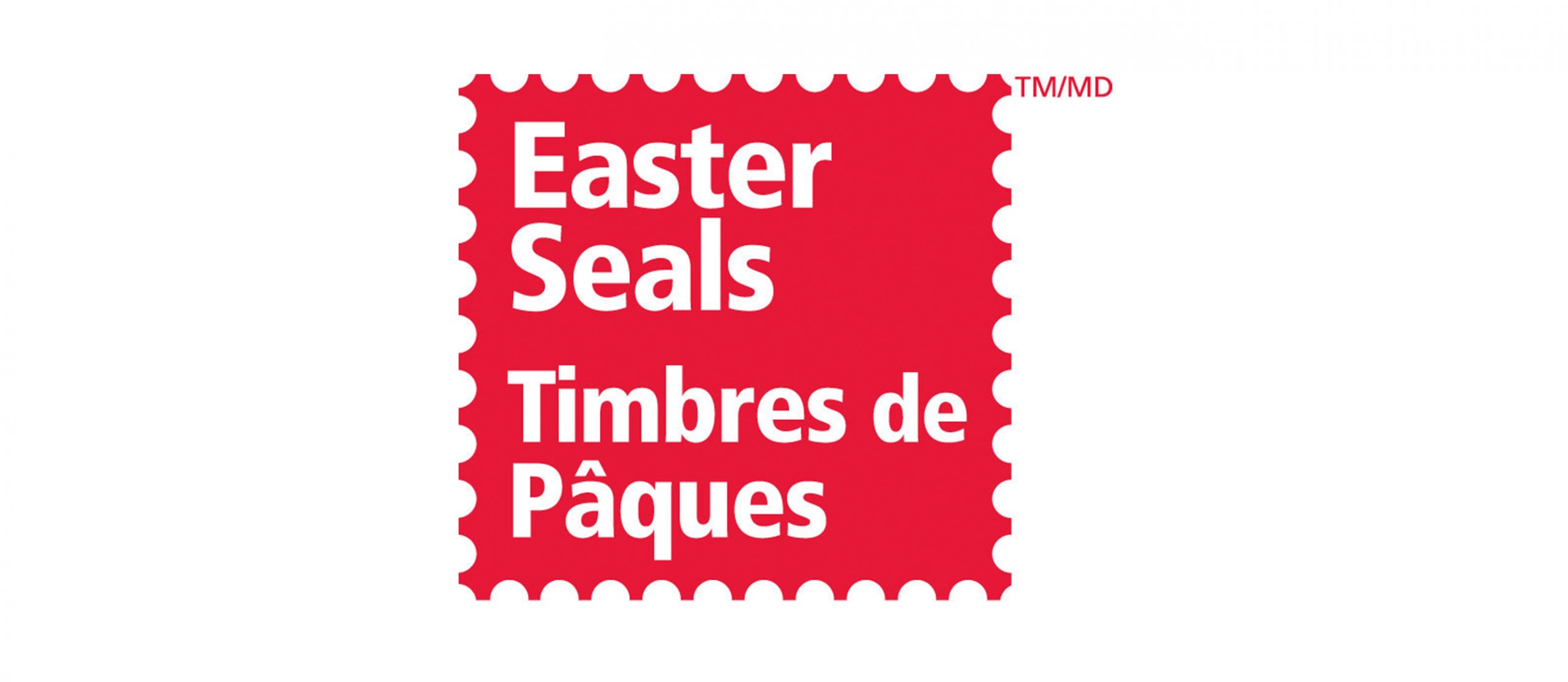 If you ever want to see how far C21-ers will go to raise money for Easter Seals, all you have to do is look up! Every year in cities across the country, C21 members take part in DropZone, the rare opportunity to rappel down a skyscraper. It's not for the faint of heart, but for dedicated fundraisers like Mir Khan, CENTURY 21 AAA Realty Inc., it's a unique way to give back. 
"Being a proud member of CENTURY 21 Canada, giving back to our community is absolutely necessary!" says Mir, who participates in Drop Zone every year, rappelling down the 28-floor Metrotown Tower in Burnaby, BC. "I was ecstatic to raise my goal. Years ago, I had the privilege to hang out with the Kids at the Squamish Easter Seals campsite and I will never forget how much Camp meant to those kids. At the site they have a memorial to campers who have unfortunately passed away, and for those kids, their time at camp was the best time of their lives. I'm always going to strive to help this cause, just to be a tiny part of that." 
How you can help
If you prefer to keep your feet firmly on the ground, there are still dozens of ways to get out in your community and raise funds. From Battles of the Bands to Date Auctions to Wine Tastings, there is no shortage of events to bring folks together (in-person and virtually!) and contribute to a great cause. CENTURY 21 B.J. Roth broke records when they raised $60,000 at the Annual Showcase of Celebrities Golf Tournament at the Bear Creek Golf Club in Barrie, ON, where the 180 golfers who participated all helped Easter Seals purchase mobility equipment for kids in their community and support kids living with disabilities. 
If the deadlines for Easter Seals donations are fast approaching, it's never too late to organize holiday events, gift drives or participate in the Closing Gifts for Kids Program, where for every purchase or sale of a property, Network members commit to donating $21 to Easter Seals in their client's name. You can check out our list below for fundraising event suggestions:
Fundraising Event ideas: 
Auction

 

Benefit Dinner

Bowling Tournament

Amazing Race

Bingo Night

Casino Night

Arts and Crafts Sale/Show

Book Sale

Cocktail for a Cause

Battle of the Bands

Birthday Parties

Car Wash

Concert/Play

Tournament Loonie/Toonie Drives

T-Shirt Challenge

Craft Sale

Pet Wash

Tailgate Party

Date Auction

Pledged Events

Talent Show

Dinner Party

Poker Tournament

Ticketed Event

Donations in Lieu of Gifts

Proceeds from Sales

Traditional Gala

Face Painting

Rummage Sale

Trivia Tournament

Fashion Show

Run/Walk/Ride

Wii Tournament

Fitness Contest

Scavenger Hunt

Wine Tasting

Flower Sale

Spin Class

Work Department

Golf Tournament

Sporting Events

Work Event
Want to know more?
For over 40 years, CENTURY 21 Canada has chosen to give back to the community by supporting the mission of Easter Seals Canada, to give kids and teens with disabilities the support they need to make unforgettable memories at Easter Seals adventure camps across the country. Throughout our long partnership, $12.5 million dollars have been raised by C21-ers, and every year our network comes through to help hundreds of children living with disabilities and their families.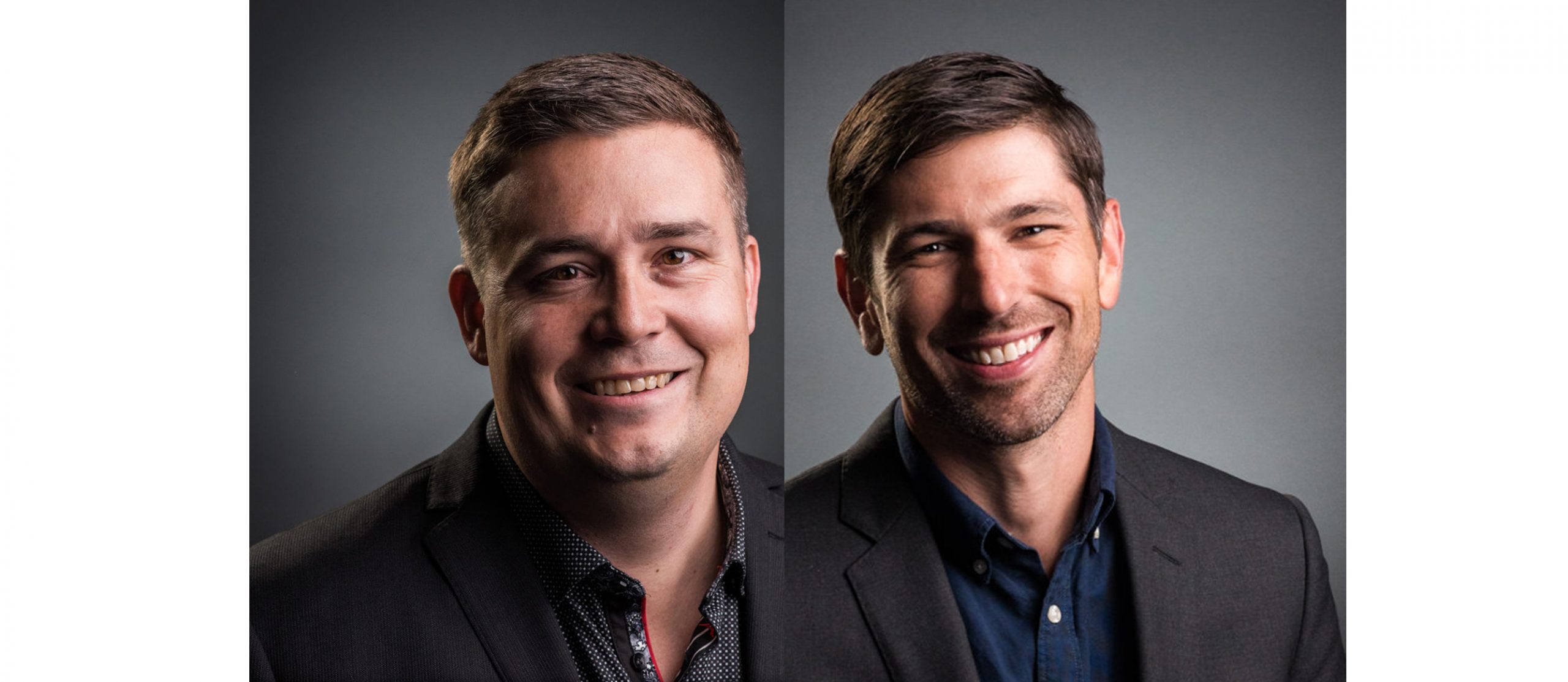 October 6, 2021– CENTURY 21 Heritage House is pleased to announce that Redline Properties in Brantford, Ontario has come aboard to join their team as of October 1, 2021. Since 2017, Redline properties has focused on high-end service, digital marketing and fostered a culture of collaboration which they are excited to bring to the CENTURY 21 family.
"A combination of their social media and marketing platforms will provide our agents with a lot of new opportunities moving forward," says Anthony Montanaro, Chief Operating Officer of CENTURY 21 Heritage House. "When we add all of that on to our existing footprint and market share, CENTURY 21 Heritage House will be set apart from the competition."
All agents will now have access to a marketing assistance to help them create professional pieces to market properties and promote their business. CENTURY 21 Heritage House uses HUB21, the C21 Canada tech platform that provides websites, a CRM, Marketing Centre, Presentation Builder, and social media promotion tool which will now be made available to all the Redline agents, along with the training opportunities for all C21 agents.
"Training is a really important part of our culture," says Jeff Thibodeau, co-owner of Redline Properties. "I'm used to running several training sessions a week for our team and I'm excited that we'll now be able to offer much more under the C21 umbrella."
CENTURY 21 Heritage House has been in business for 40 years in Woodstock, and recently expanded into Brantford in August 2020. They are welcoming 55 realtors who have sold more than 2,000 homes over the past four years.
"We never expected to grow this big, or this fast," says Mike Brown, co-owner of Redline Properties. "We are so excited to combine the best parts of our companies, and our customers can expect the same boutique vibe, now backed by the most recognized name in real estate. We want to invest in our clients and keep pushing and growing into the future."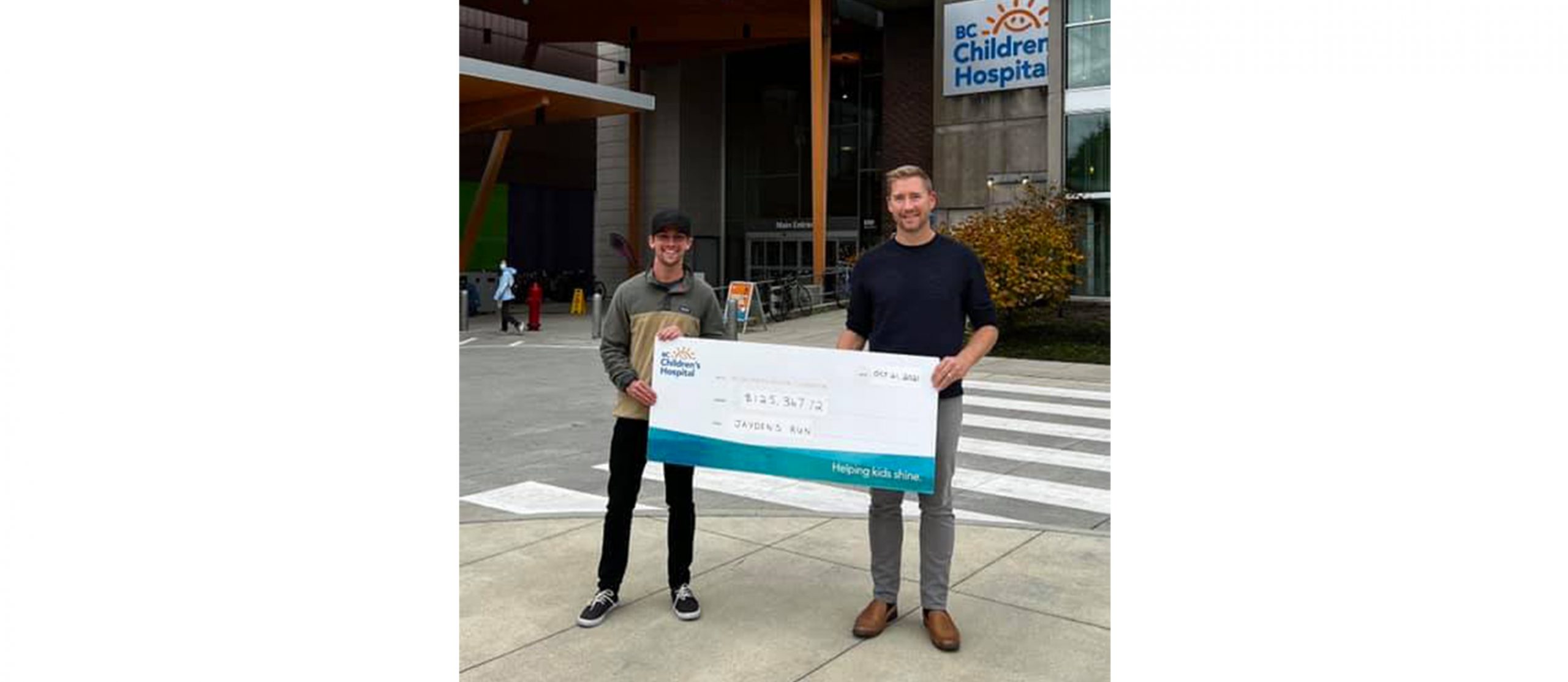 October 13, 2021 – Two members of CENTURY 21 Creekside Realty Ltd. ran in support of B.C. Children's Hospital. Sales rep Jayden Lee and C21 Creekside Realty owner Cameron Van Klei started at the C21 office in Chilliwack at midnight on October 2 and ran 103km to B.C. Children's Hospital. Their endurance was put to the test, but they were able to complete the run in 11.5 hours, excluding break times, and beat their fundraising goal and raised $125,367.72 while lifting patients' spirits along the way.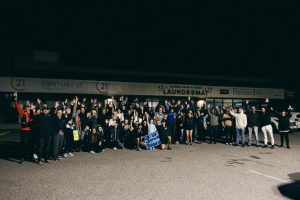 The effort has a personal connection for Lee. Jayden was diagnosed with Acute Lymphoblastic Leukemia in 2015, when he was 15 years old, and completed his chemotherapy in 2018. "I wanted to give back to the hospital that helped me through the difficult three and half years of treatment," he says. During a late-night brainstorm, Cameron mentioned the idea of running to the hospital, and they both laughed it off as Jayden knew how long the trek was from the numerous drives from Chilliwack to Vancouver during his time as a patient. The next morning Jayden tried a 10km run and was sold on his friend's crazy idea.
Cameron and Jayden first met at a CENTURY 21 Creekside Realty Ltd. career night and quickly become good friends. Although Jayden originally wanted to pursue a career in nursing after seeing first-hand all the amazing work they do, he didn't have enough volunteer hours due to his time in the hospital. While working towards completing it, Jayden's father mentioned the C21 Creekside careers night, knowing his son had always been interested in real estate. Jayden attended and quickly realized helping people find their forever homes was his true calling. He completed the REALTORS® course right out of high school and joined the CENTURY 21 Creekside Realty Ltd. Team in 2018.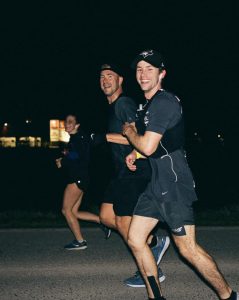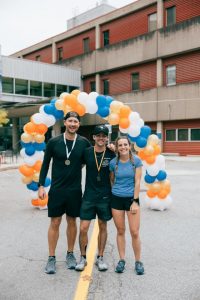 Training for the journey was essential as neither of the men were long-distance runners. Starting January 2nd, they followed a strict training guideline that Jayden's grandmother, a Boston marathon runner, had created specifically for them. Their preparation had many setbacks, including Jayden being out for about two and half months due to a knee injury. But that did not stop him, once he was healed, he completed a 31km, 42km, and 60km run in three consecutive weeks. Cameron also suffered a knee injury and after 72km, had to bike a portion of the 103km run to give the injury some rest.
Although the training and run were both physically and mentally demanding, Jayden and Cameron both had plenty of motivation to keep them going. "Being able to say that I spent three and half years at Children's and was able to run from Chilliwack to Vancouver was just one of the things that motivated me," says Jayden. On the day of the event, family, friends, supports, and patients created signs and cheered the runners on in their last kilometers. Children who couldn't go outside supported from their hospital windows and lined the route with their pictures and treatment stories to help motivate Jayden and Cameron through the finish line. Cameron shares, "I really underestimated how much hope Jayden's story brought to a bunch of the kids."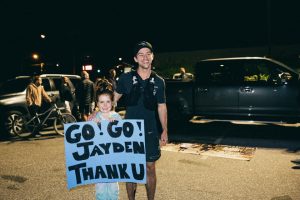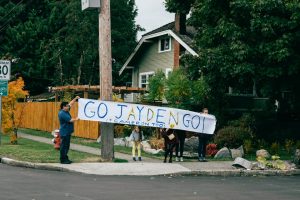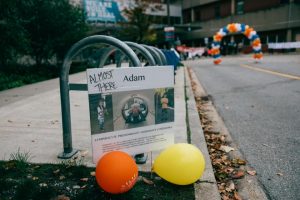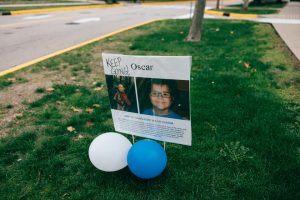 "'Make everyday count' has been CENTURY 21 Creekside's motto for years and that's really what this whole run was about." Jayden adds, "I think it's important in life to do things that are out of your comfort zone and scare you because that's how you grow. I never knew I was capable of running over 100km, but I do now, and I grew a lot as a person along the way. I feel like I was given a second chance on this earth to use my story to help others and show these kids that you can do anything you put your mind to."
The money raised will go toward life-saving medical equipment and research for childhood illnesses at BC Children's Hospital.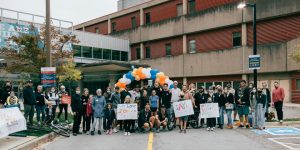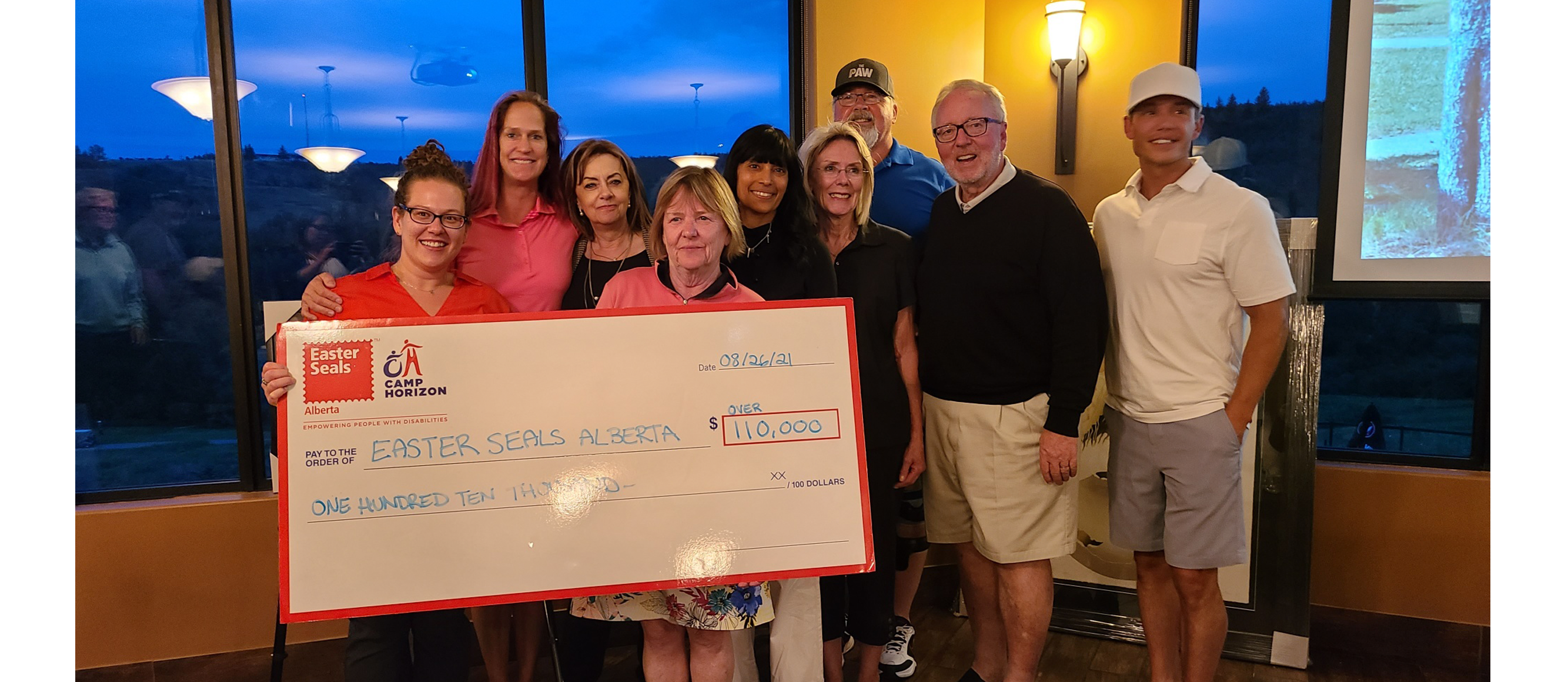 September 20, 2021 – CENTURY 21 Foothills Real Estate hosted the JC Anderson Memorial Golf Tournament in Foothills, AB. This annual event proved to be another successful fundraiser, raising $110,000 for Easter Seals Alberta, helping many children living with disabilities and medical conditions.
The 78 golfers started the day at the Sirocco Golf and Country Club, a local course with unique challenges and unparalleled beauty that winds its way through the Pine Creek Valley. After the tournament, the golfers, family, friends, and supporters enjoyed dinner and an auction hosted by Tiffany Gordon, daughter of CENTURY 21 Foothills Real Estate owner and manager, Blair and Beverly Gordon. Tiffany is a CPGA golf professional and was very instrumental in the success of this event.
The ≈ was founded in support of the late JC's vision to ensure kids with disabilities had a place to play and belong, no matter what their diagnosis. This annual fundraiser provides an opportunity for them to attend Easter Seals Camp Horizon, a one-of-a-kind magical place that empowers them to reach their full potential. "Even though the camp is not open for the second year in a row because of COVID-19, we managed to raise awareness for this important cause and attract people that gave generously," says Blair.
CENTURY 21 Foothills has been a big supporter of Easter Seals Alberta over the years. Their numerous successful fundraising events and the majority of their over 50 agents across six offices in the Foothills area donating $21 per deal, earned them the #2 C21 Easter Seals fundraising company in 2019.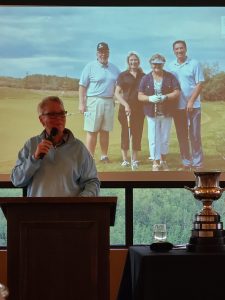 Tiffany Gordon – Emcee of the event
September 30, 2021 – Michelle Zhou and Sharon Yu are new franchisees of CENTURY 21 The One Realty, based out of Markham, Ontario. They have been a highly productive team for 7 years, with 20 plus years combined of real estate experience and decided to expand their success with CENTURY 21 Canada.
Over the past 6 years, this duo has closed 700M transactions, and has already closed 100 deals in 2021. Michelle Zhou started her real estate career over 14 years ago. After graduating with a Master's in Economics, she started her career at IBM while working part-time as a REALTOR®.  She fell in love with helping people find their forever homes and decided to continue her passion full-time.
Sharon Yu, who has always been interested in the industry, started her career 8 years ago. Shortly after joining, she and Michelle created 'The One' team, and they found success quickly. In their previous brokerage of over 500 agents, they earned the #3 spot in their second year. In their third year, they were named #1 and have been in the top spot for the past few years.
"We are a strong, high producing team with just the two of us, and now we are so excited to be able to grow with CENTURY 21 and share our experience with others on how they can build their business just like we did," says Michelle. The team already has a training plan to teach new and experienced agents their successful strategies to help them develop their business. "That is one of the main reasons we became franchisees, we want to help others grow their real estate career so they can help more clients," adds Sharon.
Michelle and Sharon are also eager to combine their reputable "The One" brand with CENTURY 21's powerful branding. "We have had the same brand since day one. People know our name and they know our distinctive red and black colours. Adding CENTURY 21's unmistakable relentless gold will show clients we have a big franchise behind us," says Sharon. The new franchisees were also drawn to CENTURY 21 because of the advanced technology, marketing support, and the welcoming family feel. "We found our home with CENTURY 21," they add.
"The two owners bring an abundance of knowledge and expertise to CENTURY 21 Canada," says Brian Rushton, Executive Vice President at CENTURY 21 Canada. "Their passion to help others grow their business as they have successfully done over the past years is second to none. We are delighted to welcome these new franchisees to C21, and we look forward to supporting their growth."
CENTURY 21 The One Realty group has a strong presence with their local community and is excited to grow their multicultural office and deliver the gold standard to the Markham area with CENTURY 21 Canada.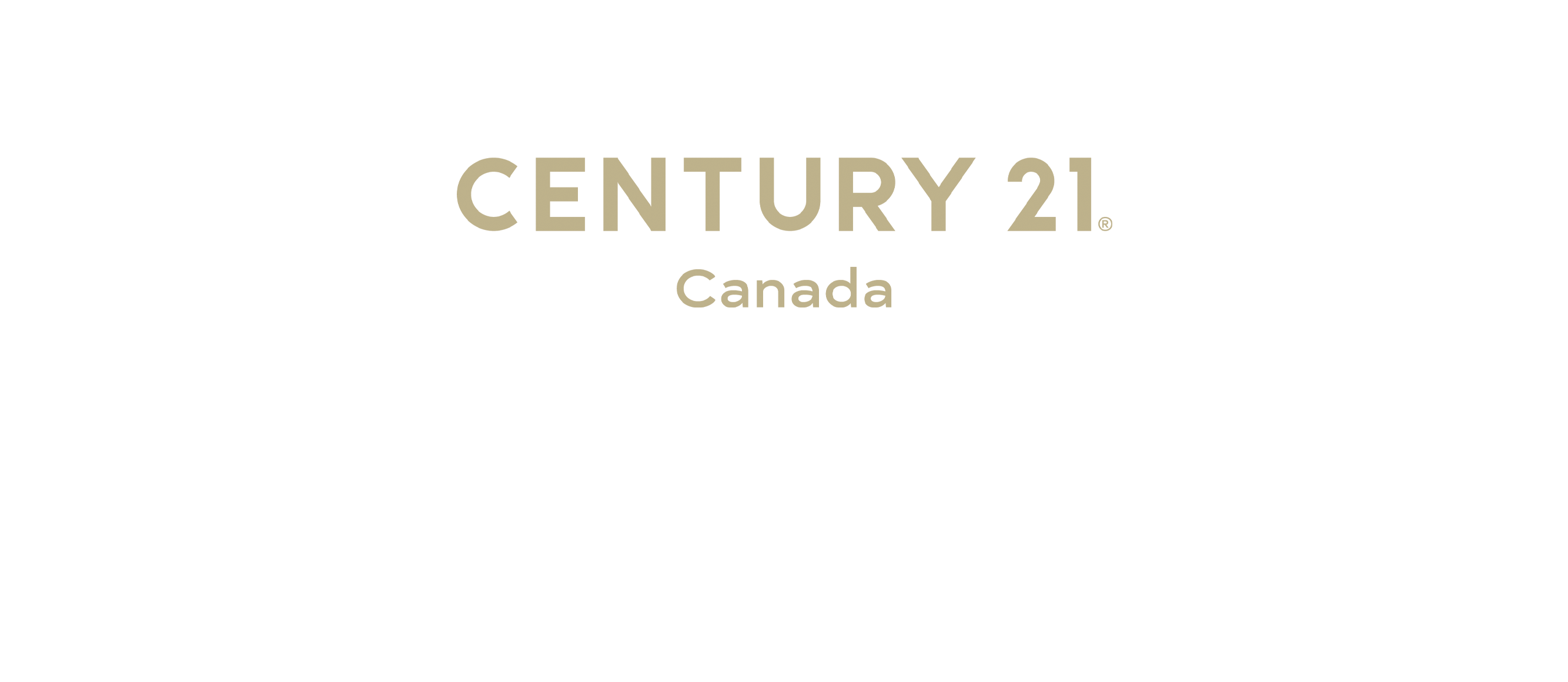 October 1, 2021 – CENTURY 21 Canada has reorganized its leadership team to best meet the needs of its current franchisees and is setting its sights on growth in the coming years. The change comes after the company successfully launched the Moxiworks platform to its agents earlier this year, providing first class websites, marketing, and customer relationship management tools that work together seamlessly in the HUB21 platform.
"We've spent the past few years focusing on our technology and providing our agents with the best tools in the industry," says U. Gary Charlwood, Founder and Executive Chairman of Century 21 Canada. "We're now ready to showcase our value to an expanded audience from coast to coast. The experienced team we've organized is very driven and ready to get started."
Martin Charlwood, previously Vice Chairman, assumes the leadership role as President and CEO by taking a more active role in the organization.
Brian Rushton remains Executive Vice President operations reporting directly to Martin.
Tracy Bartram remains Executive Vice President and Chief Financial Officer for the Charlwood Pacific Group as well as Century 21 Canada.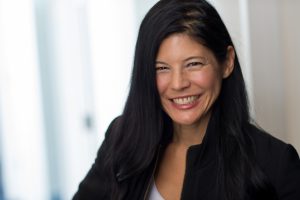 Chiyoko Kakino— Vice President, Brand Expansion, Western Canada. Chiyoko is taking her passion for the brand and sharing it across Western Canada which has been identified as an important region for the brand to continue to grow. Chiyoko has been one of the chief architects of the brand relaunch as Vice President of Marketing for the past six years and will and continue to influence marketing projects throughout the organization.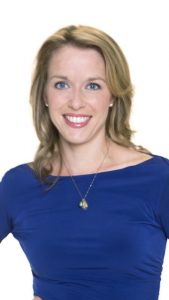 Leigh Kjekstad—Senior Director of Marketing, Communication and Events. Leigh has been with CENTURY 21 Canada for more than four years and has specialized in public relations, marketing, and events. In this new role, she will oversee marketing and communications as well as organize our annual conference and awards events.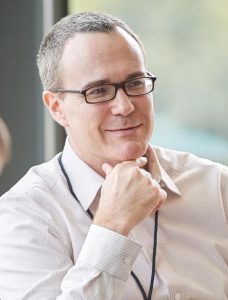 Jack Miller— Virtual Chief Technology Officer. Over the past several years Jack has guided CENTURY 21 Canada through its technology changes. He will remain with the company in the CTO role as well as continue his role as President of the real estate management consulting and analytics firm T3 Sixty.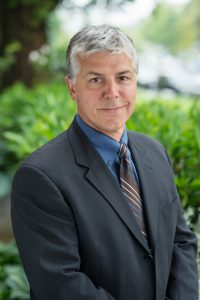 Todd Shyiak—Vice-President, National Network Development. Todd has been with CENTURY 21 Canada since 2013 heading up the Operations department and will continue to help current franchisees with their recruiting and retention strategies. In addition to that, he will be identifying strategic merger and acquisition opportunities within the existing network and continuing to report Brian.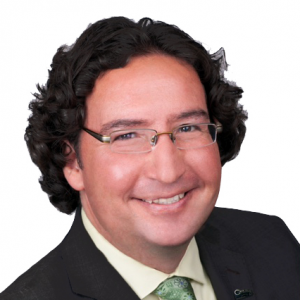 Gary Zalepa- Vice President, Brand Expansion, Eastern Canada. Gary has long been a source of information and advice for our brokers and he will now share his knowledge with a new generation of potential franchisees from Ontario to Newfoundland. Gary's background is of a realtor and broker, so he is well positioned to set up future franchisees for success.  Gary will report to EVP, Brian Rushton.
The timing of the restructuring is, in part, due to the retirement of long-serving members of the C21 staff. Director of Meeting and Events, Carol Hughes, chose to take early retirement at the beginning of the COVID-19 pandemic. More recently, Vice-President of Corporate Services Barbara Fromm also decided to retire after being with the company for more than 40 years.
Tracy Bartram, Executive Vice-President and Chief Financial Officer of CENTURY 21 Canada, says the groundwork that Barb and Carol laid throughout their tenure is already allowing the transition to a new chapter for the company to go smoothly. "Barb and Carol both made sure our day-day business and events ran smoothly. Our awards program, corporate events, and  continued support of Easter Seals wouldn't be what they are without them and we thank them for their service."
Corporate changes over the past few months are also set to better serve existing franchisees. While the Moxiworks platform provides excellent tech support for its product, C21 has invested in enhanced tech support with other tools such as Back At You Media, Google Workplace, and Zillow. There is also a renewed focus on the company's concierge program which is designed to have a "superuser" in each office to ensure everyone knows the tools available to them and understands how to maximize each one for their business.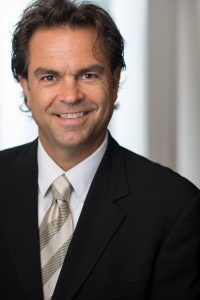 President and CEO Martin Charlwood adds, "Starting in 1975 my father laid the foundation of real estate franchising in Canada in the real estate brokerage industry and we have spent the past almost 50 years continuing to make our mark.  My leadership team will continue to be the gold standard in the industry and our value package remains the best, bar none".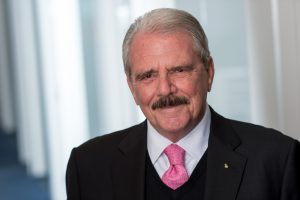 Company founder U. Gary Charlwood adds, "We are the pioneers of real estate franchising in Canada and have spent the past 40 years setting the gold standard for what to offer agents to make them stand out in their local market. The next chapter of our organization is to expand our footprint across the country."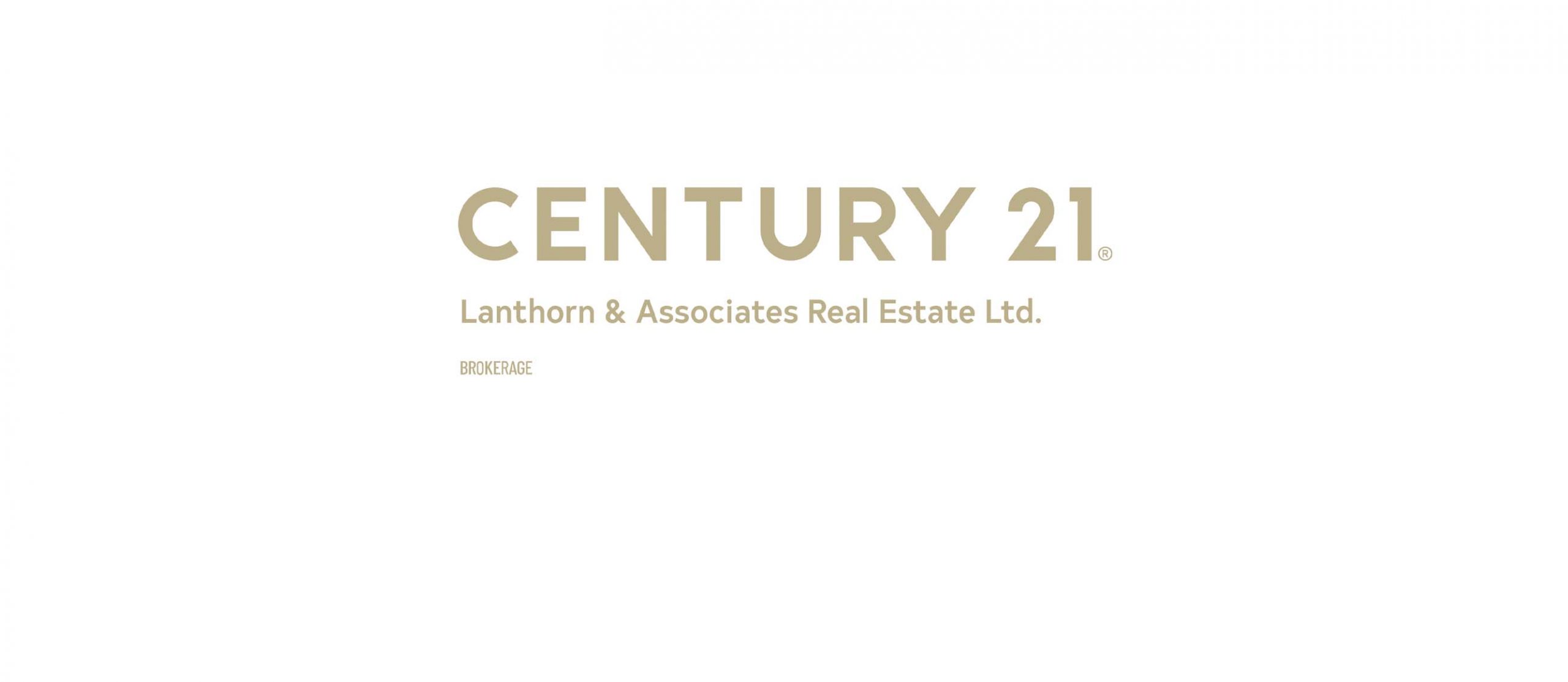 Century 21 Lanthorn Real Estate announced that the brokerage's Belleville, Ont. office will soon transition to an expanded ownership group – Century 21 Lanthorn & Associates. The new ownership team includes industry veteran broker and owner of C21 Lanthorn Real Estate Bill Rorabeck, real estate coach and mentor Joelle Briggs and broker and leader of The Royle Group Travis Royle.
"C21 Lanthorn has become an incredible force in Southeastern Ontario," says Rorabeck. "With client and market expectations changing, it's time to introduce new leadership of the Belleville office, and I'm confident in the opportunity that Joelle and Travis bring as expanded owners."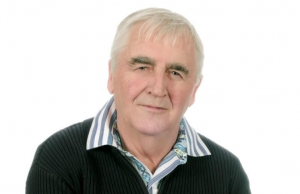 Rorabeck has more than 40 years of experience in the industry. In addition to his work at C21 Lanthorn & Associates, he will continue to work with C21 Lanthorn's offices in Picton, Trenton, Madoc and Napanee.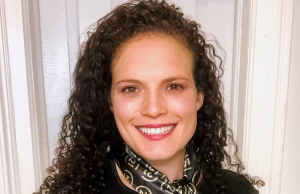 Briggs is a real estate coach and mentor and she currently leads C21 Lanthorn's business operations across all the brokerage's offices. "At C21 Lanthorn, our mission has always been to deliver extraordinary experiences," says Briggs. "Together with our amazing team of agents, we are ready to make bold moves to best serve those in the community."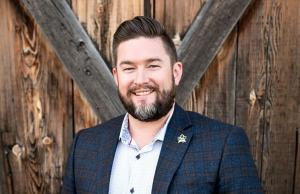 Royle is the broker of record for C21 Lanthorn & Associates, currently leading The Royle Group.
"With our talented team and unique skill set, we are excited about the opportunity to influence positive change and help the office grow in numbers and market share," says Royle.
Read more at Real Estate Magazine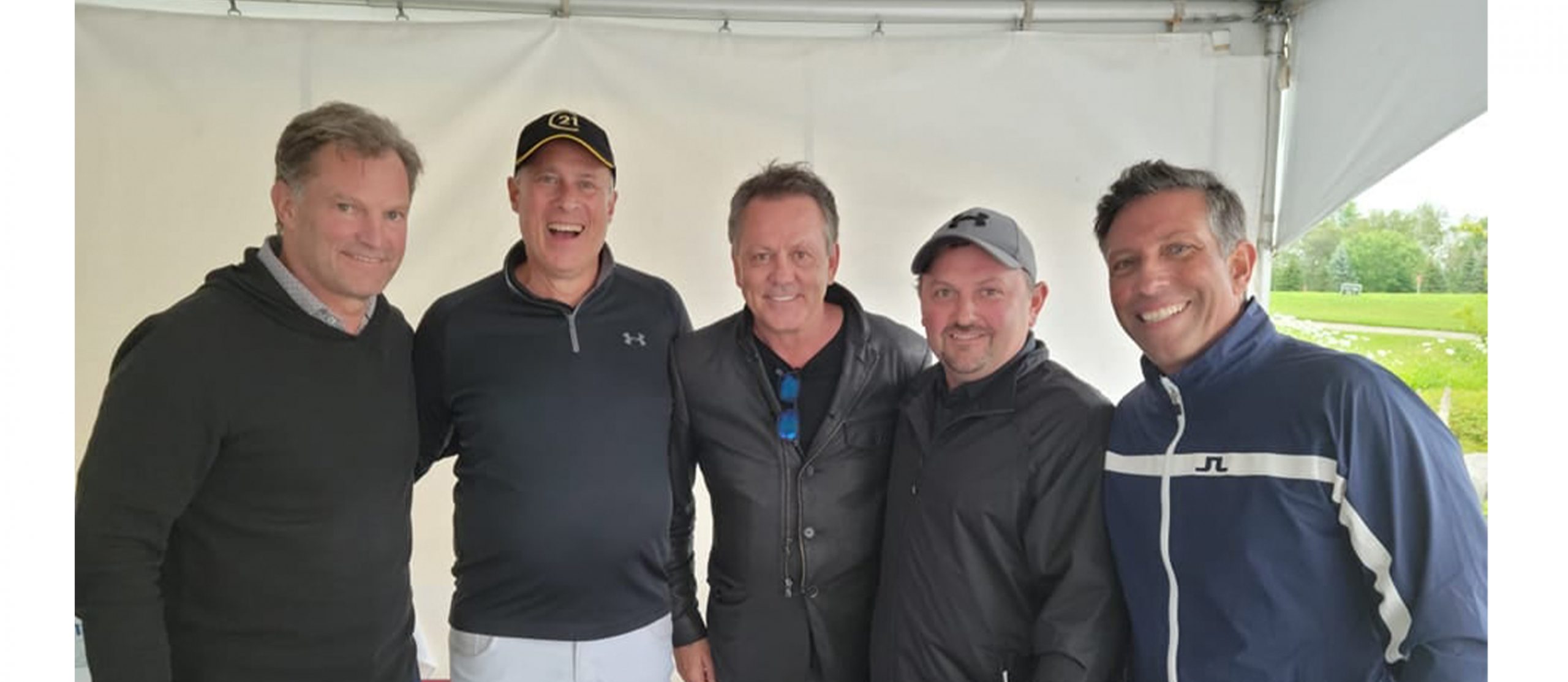 August 12, 2021 – The 16th Annual Showcase of Celebrities Golf Tournament raised a record-breaking $60,000 last month in Barrie. Despite a rainy day for golf, supporters and a team for CENTURY 21 B.J. Roth Realty hosted an incredible event with an even more exciting result.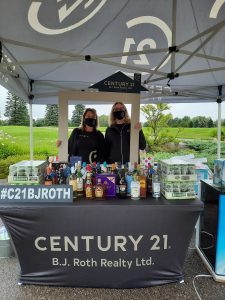 The tournament took place in early July at Bear Creek Golf Club in Barrie, ON with 180 golfers over 3 shotgun times. Part of the remarkable amount raised at the event will purchase 4 pieces of mobility equipment that kids in their community have been desperately waiting for. The remainder of the generous donations will help support children living with disabilities and get them access to essential specialized equipment.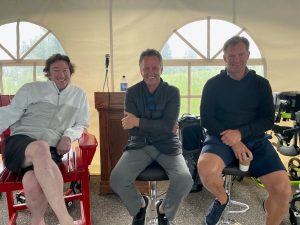 After the rainy game, the players enjoyed a social event with hockey celebrities Doug Gilmour & Kirk Muller, plus TSN broadcaster Ken Reid. The three hockey greats shared stories from their NHL playing, coaching, and refereeing days. Attendees also heard from guest speaker, Daniella Altieri, the 17-year-old Easter Seals Ontario Ambassador. She gave a heart-warming speech about the need for inclusiveness among people with disabilities and how Easter Seals has had an incredible impact on her life. Altieri's passionate speech left attendees emotional and was met with a standing ovation.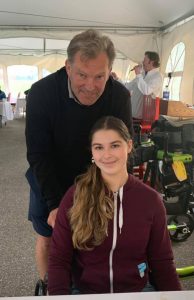 "Hearing from Altieri and other Easter Seals children in our community gives us the motivation to continue our relentless fundraising efforts," says Theresa Kerr with CENTURY 21 B.J. Roth Realty in Barrie "A big thank you to our team, organizers, volunteers, and attendees for their support in helping create a more inclusive and accessible society that includes and honours the contributions and potential of Canadians of all abilities."
CENTURY 21 B.J. Roth Realty's determined effort in supporting Easter Seals and creative fundraising events throughout the years has earned them the #1 C21 Easter Seals fundraising company for 7 consecutive years.