Vancouver (July 27, 2022) – While interest rates have been on the rise for the past few months, the Canadian housing landscape continued to see pricing growth during the first six months of this year. Prices were up particularly in suburbs and smaller communities outside metropolitan centres as more condo owners seek homes outside of the expensive Greater Toronto Area and Vancouver centres.
The sixth annual Price Per Square Foot survey released today by CENTURY 21 Canada shows that real estate continued to be a strong market for the first half of the year, with long-term growth continuing despite higher interest rates and concerns about what that will mean for the industry in the immediate future. While some markets have cooled after the boom that occurred during the COVID-19 pandemic, prices overall have continued to remain elevated for the start of the year.
In its annual, nationwide study, CENTURY 21 Canada compared the price per square foot of properties sold between January 1 and June 30 this year to the same period last year and in previous years.
"We recognize the concerns that some might have because of interest rates, but the first half of 2022 showed growth in nearly every regional market in the country," says Brian Rushton, Chief Operating Officer of CENTURY 21 Canada. "The highest point of the boom may have passed, but the trend is still towards higher prices, especially in suburbs where younger and first-time home buyers are looking to escape competitive metropolitan areas now that remote work has become more common. What will be interesting is to compare the data we've received from the first half of this year with the data we gather in 2023 to see how the rising rates impact the market for the next six months."
After high prices in January across the board, prices saw market-typical fluctuations throughout the spring, with most markets experiencing slight downturns in June when the rate hikes came into effect. However, that has not stopped the demand for housing, particularly in the communities of Hamilton, Kitchener and Cambridge in Ontario and communities such as Chilliwack and Kelowna in BC. Atlantic Canada has also continued a sharp upward trend, with Halifax condos seeing a 54 per cent price increase in the first half of the year. Though the market may see a downturn across the board in the next six months, prices in these fast-growing smaller cities will still likely see double-digit growth in 2023, continuing the upward pressure seen over the past five years.
Rushton says that market trends are evolving rapidly as the full effect of the rate changes will come into effect in the latter half of 2022. "We don't want to get ahead of ourselves, we're going to keep seeing how the market performs and whether or not it cools down after the frenzy of the past year. With inflation on the rise, folks may be less able to purchase but even a slight dip would only take us to the level of a few years back, possibly the 2018-2019 period. Ultimately, there are still buyers who have been waiting for a cool down period so that they can enter the market at the best time."
Regional highlights:
Alberta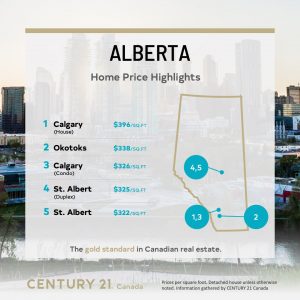 Moderate increases can be seen across regions in Alberta as investors from the GTA take advantage of growing smaller markets. While larger cities saw incremental growth, Okotoks and High River experienced double-digit increases, especially in their condo markets. The only decrease in this province can be found in St. Albert condos, though an increased PPSF in detached homes and duplexes indicate more families looking to grow in the suburbs.
Atlantic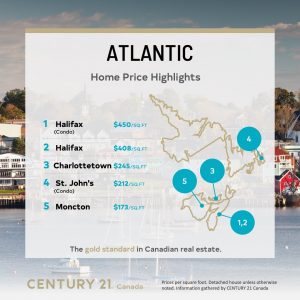 Atlantic Canada was again a hot market this year for young and first-time buyers who have been unable to purchase in other, larger metros. Halifax condo prices continued their meteoric rise, with a heavy demand for detached homes not that far behind. Double-digit increases are seen throughout the region.
"Everyone is eager to find a place where they can put down roots, and once the remote work mandates from the pandemic became permanent, we haven't seen any signs of this market slowing down in the first half of the year," says David Yetman, Owner of CENTURY 21 All Points. "The biggest question for the next year will be if the supply can keep up with the demand. While prime interest rates have had a slowing effect, it is temporary, the current BoC rate is still extremely low and it bodes well for a healthy Halifax Regional Municipality (HRM) market going forward."
British Columbia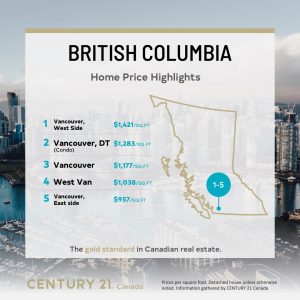 Once again, BC real estate takes the top place as the most expensive market in the country, particularly in detached homes in Vancouver's West Side. However, the high prices may see buyers moving away from the downtown core as condo prices have only seen a slight increase this year (though remains the second highest local market, with a PPSF of $1,283) while prices rose sharply in communities such as Kelowna and Chilliwack, where condos saw a 28 per cent and 35 per cent increase in price respectively in the first half of the year.
Quebec
The Montreal condo market has held steady over the past year, with no increase to their PPSF of $935/sf. With the change in interest rates, there is the possibility of younger buyers who have been looking east in the recent years choosing to remain in their home province should prices trend down.
"The next six months will be watched very carefully to see how buyers, especially younger buyers, react to the changing interest rates," says Mohamad Al-Hajj, owner of CENTURY 21 Immo-Plus. "While some may wait to see if there are any more changes, other buyers may see an opportunity to not have to move away from their communities."
Ontario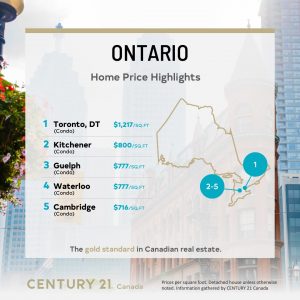 More buyers are leaving the Greater Toronto Area to seek homes in the communities such as Waterloo, Guelph and Hamilton. Guelph now stands at $777/sq ft, and Cambridge condos aren't far behind at $716/sq ft.
Communities farther outside the GTA also saw substantial increases. Barrie saw a double digit increase in its detached home prices, as did Grey Bruce. As for the city of Toronto, after a slight downturn this time last year, prices have once agent risen to be the second highest in the country.
Prairies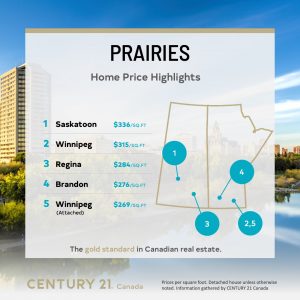 The Prairies have seen a more modest growth in pricing than the rest of the country, but there have been rises across Manitoba and Saskatchewan. While Regina condo prices took a slight dip, the region's detached homes are up by 13 per cent in the first six months of 2022. Winnipeg follows the trend, though at a lower growth rate of 11 per cent, and Saskatoon at seven per cent. Brandon may be an emerging market for younger buyers – while detached homes only saw a very slight single digit increase condos are up by nearly 20 per cent to $243/sq ft. Overall, prices in Prairie provinces have remained the steadiest over the past several years.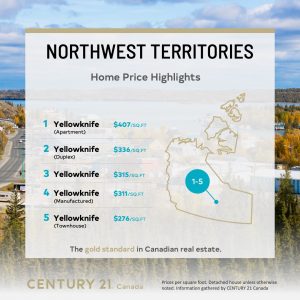 The upward trend of condos was even seen in Yellowknife, where a 14 per cent increase now sees the average apartment selling for $407/sq ft. More modest changes were seen across detached homes and townhouses, and only duplexes saw a small decrease.
CENTURY 21 Canada's annual survey of data on the price per square foot (PPSF) of properties gathers and compares sales data from its franchises across Canada from January 1 to June 30 of each year. By looking at the price per square foot at the same time each year the firm is able to get a good idea of how prices have changed over time for similar properties. This year's survey compares 2021 prices with this year's results.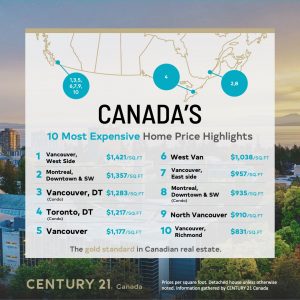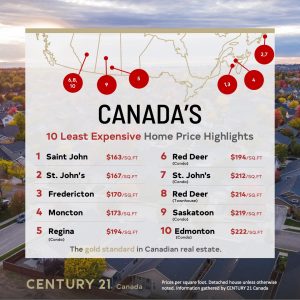 See full PPSF study results below:
ALBERTA

CITY
HOUSE TYPE
2018
2019
2020
2021
2022
% Change from 2021
Calgary
House
$341
$325
$320
$355
$396
11.55%
Calgary
Condo
$329
$317
$296
$303
$326
7.59%
Edmonton
Detached House
$288
$272
$268
$284
$297
4.58%
Edmonton
Duplex
$275
$256
$250
$270
$287
6.30%
Edmonton
Condo
$231
$220
$206
$217
$222
2.30%
High River
Detached House
$193
$215
$237
$271
$307
13.28%
High River
Condo
N/A
$241
$173
$176
$223
26.70%
Okotoks
Detached House
N/A
$238
$254
$283
$338
19.43%
Okotoks
Condo
N/A
$254
$211
$219
$251
14.61%
Red Deer
Detached House
$276
$262
$252
$289
$293
1.38%
Red Deer
Townhouse
N/A
N/A
N/A
$207
$214
3.38%
Red Deer
Condo
N/A
N/A
N/A
$186
$194
4.30%
Red Deer
Duplex
N/A
N/A
N/A
N/A
$269
N/A
St. Albert
Detached House
$287
$271
$269
$289
$322
11.42%
St. Albert
Condo
$239
$223
$211
$251
$238
-5.18%
St. Albert
Duplex
$262
$272
$278
$280
$325
16.07%
BRITISH COLUMBIA

CITY
HOUSE TYPE
2018
2019
2020
2021
2022
% Change from 2021
Chilliwack
Detached House
$297
$294
$288
$406
$515
26.85%
Chilliwack
Townhouse
$267
$249
$250
$318
$425
33.65%
Chilliwack
Condo/ Apartment
$283
$290
$270
$351
$473
34.76%
Kelowna
Detached House
$283
$274
$280
$368
$463
25.82%
Kelowna
Half Duplex
$247
$260
$263
$320
$402
25.63%
Kelowna
Townhouse
$292
$287
$302
$365
$452
23.84%
Kelowna
Apartment
$345
$348
$334
$411
$526
27.98%
Vancouver
Detached House
$856
$769
$816
$975
$1,177
20.72%
Vancouver, Downtown
Condo
$856
$769
$816
$1,208
$1,283
6.21%
Vancouver, East side
Detached House
$721
$647
$672
$877
$957
9.12%
Vancouver, West Side
Detached House
$1,147
$990
$1,004
$1,208
$1,421
17.63%
Burnaby
Detached House
$599
$551
$579
$688
$795
15.55%
West Van
Detached House
$899
$738
$734
$971
$1,038
6.90%
Vancouver, Richmond
Detached House
$677
$598
$608
$722
$831
15.10%
Delta North
Detached House
$423
$400
$413
$570
$716
25.61%
North Vancouver
Detached House
$681
$613
$690
$794
$910
14.61%
White Rock/South Surrey
Detached House
$506
$472
$435
$625
$795
27.20%
Victoria
Detached House
N/A
N/A
N/A
$558
$592
6.09%
Victoria
Townhouse
N/A
N/A
N/A
$457
$583
27.57%
Victoria
Condo
N/A
N/A
N/A
$659
$676
2.58%
ATLANTIC

CITY
HOUSE TYPE
2018
2019
2020
2021
2022
% Change from 2021
Charlottetown
Detached House
$147
$165
$178
$211
$245
16.11%
Fredericton
Detached House
N/A
$99
$123
$147
$170
15.65%
Halifax
Detached House
$155
$162
$170
$281
$408
45.20%
Halifax
Condo
$228
$239
$270
$291
$450
54.64%
Moncton
Detached House
$101
$106
$124
$142
$173
21.83%
Saint John
Detached House
N/A
$111
$123
$134
$163
21.64%
St. John's
Detached House
N/A
$132
$135
$149
$167
12.08%
St. John's
Condo
N/A
$174
$116
$182
$212
16.48%
PRAIRIES

CITY
HOUSE TYPE
2018
2019
2020
2021
2022
% Change from 2021
Regina
Detached House
$254
$246
$237
$250
$284
13.60%
Regina
Condo
$236
$213
$205
$205
$194
-5.37%
Saskatoon
Detached House
$270
$263
$263
$314
$336
7.01%
Saskatoon
Condo
$208
$213
$217
$216
$219
1.39%
Winnipeg
Detached House
$282
$243
$244
$293
$315
7.51%
Winnipeg
Condo
$261
$220
$223
$234
$254
8.55%
Winnipeg
Attached
N/A
$202
$210
$241
$269
11.62%
Brandon
Detached House
$248
$246
$248
$271
$276
1.85%
Brandon
Condo
$196
$204
$204
$203
$243
19.70%
ONTARIO

CITY
HOUSE TYPE
2018
2019
2020
2021
2022
% Change from 2021
Barrie
Detached House
$283
$350
$350
$378
$503
33.07%
Bradford
Detached House
$286
$345
$358
$410
$580
41.46%
Cambridge
Detached House
$332
$355
$388
$450
$625
38.89%
Cambridge
Duplex
$311
$331
$377
$527
$656
24.48%
Cambridge
Condo
$344
$347
$367
$435
$716
64.60%
Cambridge
Townhouse
$282
$317
$341
$474
$616
29.96%
Grey Bruce
Detached House
$175
$182
$195
$357
$455
27.45%
Guelph
Detached House
$397
$409
$443
$483
$690
42.86%
Guelph
Condo
$374
$402
$423
$511
$777
52.05%
Guelph
Duplex
$348
$362
$400
$451
$648
43.68%
Guelph
Townhouse
$311
$335
$364
$433
$641
48.04%
Hamilton
Detached House
$362
$378
$406
$532
$553
3.95%
Hamilton
Townhouse
$257
$350
$343
$453
$538
18.76%
Kitchener
Detached House
$339
$359
$400
$430
$618
43.72%
Kitchener
Semi-Detached
N/A
$341
$399
$460
$623
35.43%
Kitchener
Townhouse
N/A
$323
$342
$435
$576
32.41%
Kitchener
Condo
$328
$362
$399
$483
$800
65.63%
London
Detached House
$191
$237
$250
$362
$466
28.73%
Markham
Detached House
N/A
N/A
$485
$557
$685
22.98%
Niagara Falls
Bungalow
N/A
$336
$395
$475
$630
32.63%
Niagara Falls
Detached House
N/A
$275
$300
$390
$531
36.15%
Newmarket
Detached House
N/A
$372
$510
$505
$516
2.18%
Ottawa
Detached House
$225
$258
$313
$429
$465
8.39%
Ottawa
Townhouse
N/A
N/A
N/A
$392
$451
15.05%
Ottawa
Condo
$442
$485
$577
$479
$583
21.71%
Owen Sound
Detached House
$145
$158
$167
$312
$380
21.79%
Richmond Hill
Detached House
$445
$465
$522
$520
$665
27.88%
St. Catharines
Bungalow
$385
$367
$425
$520
$589
13.27%
St. Catharines
Detached House
$310
$290
$330
$400
$612
53.00%
Toronto, Downtown
Condo
$903
$994
$1,083
$956
$1,217
27.30%
Vaughn
Detached House
$434
$503
$548
$612
$695
13.56%
Waterloo
Detached House
N/A
$372
$407
$421
$613
45.61%
Waterloo
Semi-detached
N/A
$357
$399
$439
$648
47.61%
Waterloo
Townhouse
N/A
$324
$344
$408
$641
57.11%
Waterloo
Condo
N/A
$402
$411
$503
$777
54.47%
Windsor
Detached House
N/A
$372
$407
$295
$306
3.73%
QUEBEC

CITY
HOUSE TYPE
2018
2019
2020
2021
2022
% Change from 2021
Montreal, Downtown and SW
Condo
$567
$709
$805
$935
$935
0.00%
Montreal, Downtown and SW
Detached House
$603
$674
$958
$1,350
$1,357
0.52%
NORTHWEST TERRITORIES

CITY
HOUSE TYPE
2018
2019
2020
2021
2022
% Change from 2021
Yellowknife
Detached House
N/A
N/A
$277
$312
$315
0.96%
Townhouse
N/A
N/A
$265
$260
$276
6.15%
Manufactured
N/A
N/A
$267
$290
$311
7.24%
Apartment
N/A
N/A
$347
$357
$407
14.01%
Duplex
N/A
N/A
$306
$343
$336
-2.04%
View Pirce Per Square Foot 2021 and Price Per Square Foot 2020
How the information was gathered by CENTURY 21 Canada
CENTURY 21 franchisees were asked to help come up with the average price-per-square-foot in their market. However, calculating a precise number is not an exact science as every office and province tracks statistics slightly differently. As a result, most have used the median price and square footage in their market in sales from January 1 – June 30, 2022. Each franchisee has confirmed that the numbers provided are an accurate representation of the trends market.
For more information please contact:
Peak Communicators
Shawn Hall
Phone: (604) 619-7913
Email: shawn@apogeepr.ca
No Gold Jacket Required
New Attitude
Global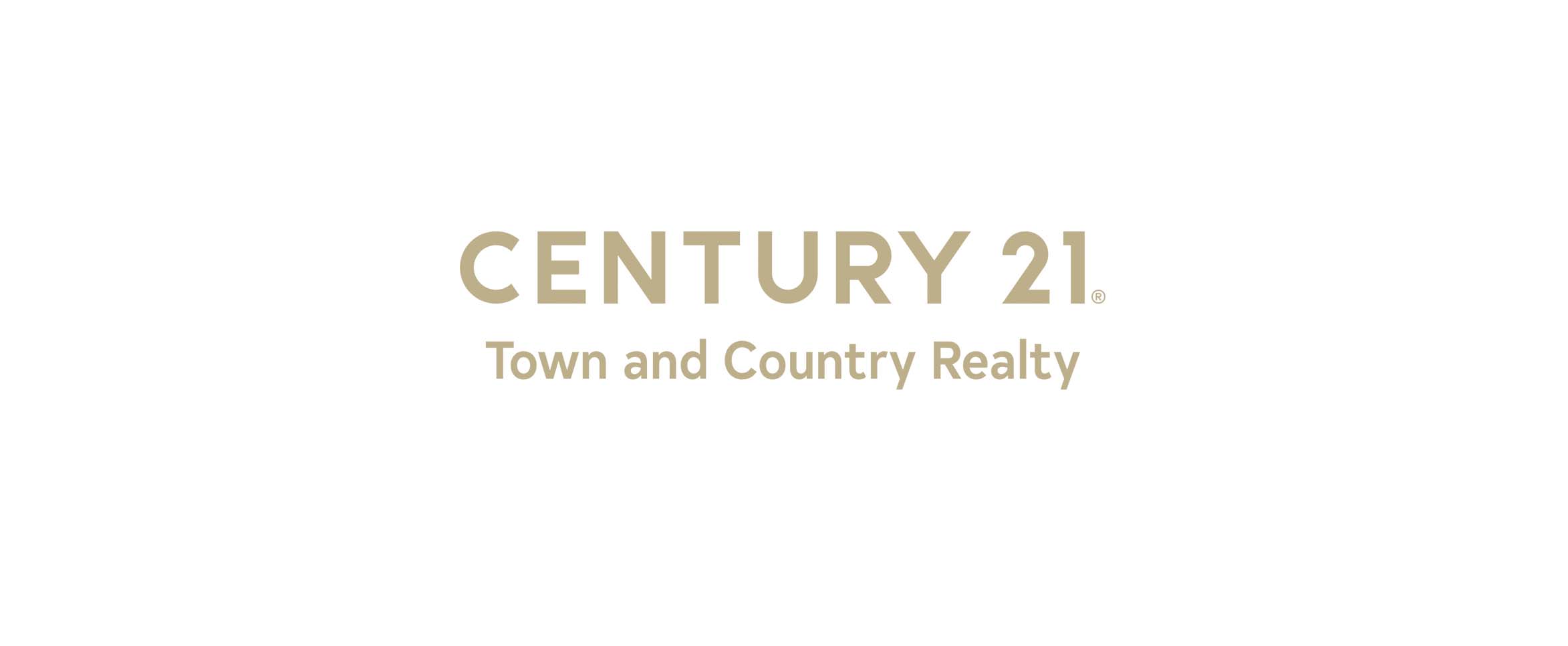 Peace River, A.B. (Month, Year) – CENTURY 21 Canada now has a presence in the picturesque community of Peace River with the opening of CENTURY 21 Town & Country Realty. The new addition to the legacy brand will be helmed by Andy Gauvreau who, after ten years as an independent broker, decided to join the brand when looking forward to the future of his brokerage.
"I was looking to supplement the technology I had, which I wasn't able to do if I continued as an independent brokerage," says Gauvreau. "I had looked into third-party technology but was really impressed by what I found on the CENTURY 21 Canada website and I decided it would be more cost-effective to pursue a franchise."
Among the technology offered is the new suite of HUB21 tools powered by Moxiworks, which rolled out to CENTURY 21 Canada offices last year. "When I saw the presentation on the technology and investigated the websites of other CENTURY 21 Canada companies, it seemed like it would be a seamless transition from what I was doing and C21 was the best fit."
Now settled in as part of the brand, Gauvreau will turn his attention to the next ten years as he plans the future of his brokerage. "The end goal of this ten-year contract is to find someone who is a good fit for the brokerage, and who can take over and grow it. I will continue on in some manner in real estate and the recruitment will happen when I get the company name out there and find someone who has the right mindset."
In the short term, Gauvreau will be monitoring how his company performs after the transition and as Peace River starts to see a market pickup. "Peace River is a little different because we are oil field, agriculture and government-oriented area," explains Gauvreau. "As productivity increases, so does the housing market. We had dips in 2017 and 2018, and the cancellation of a Shell Canada plant really didn't help in 2016. We generally follow the trend of Alberta with a bit of delay, and we are seeing an increase in housing activity now, just an ever-evolving market that you need to be paying attention to and accommodate accordingly."
"We're thrilled to continue growing in smaller communities across Western Canada," says Brian Rushton, Chief Operating Officer with CENTURY 21 Canada. "Our investment in our cutting-edge technology is clear, and people are responding to that, wanting to join us and have the best tools in the business. And apart from that, we're going to continue providing personal support to our brokers so that they always know we're willing to go the extra mile to help them succeed."
For his part, Gauvreau is settling into being part of such a large brand after years as an independent broker. "It's interesting seeing how CENTURY 21 Canada operates, they have a standard and it's obviously worked very well so it's just a matter of adapting. And there are so many people to fall back on, there's a lot of support."
CENTURY 21 Town & Country opens on July 1, 2022.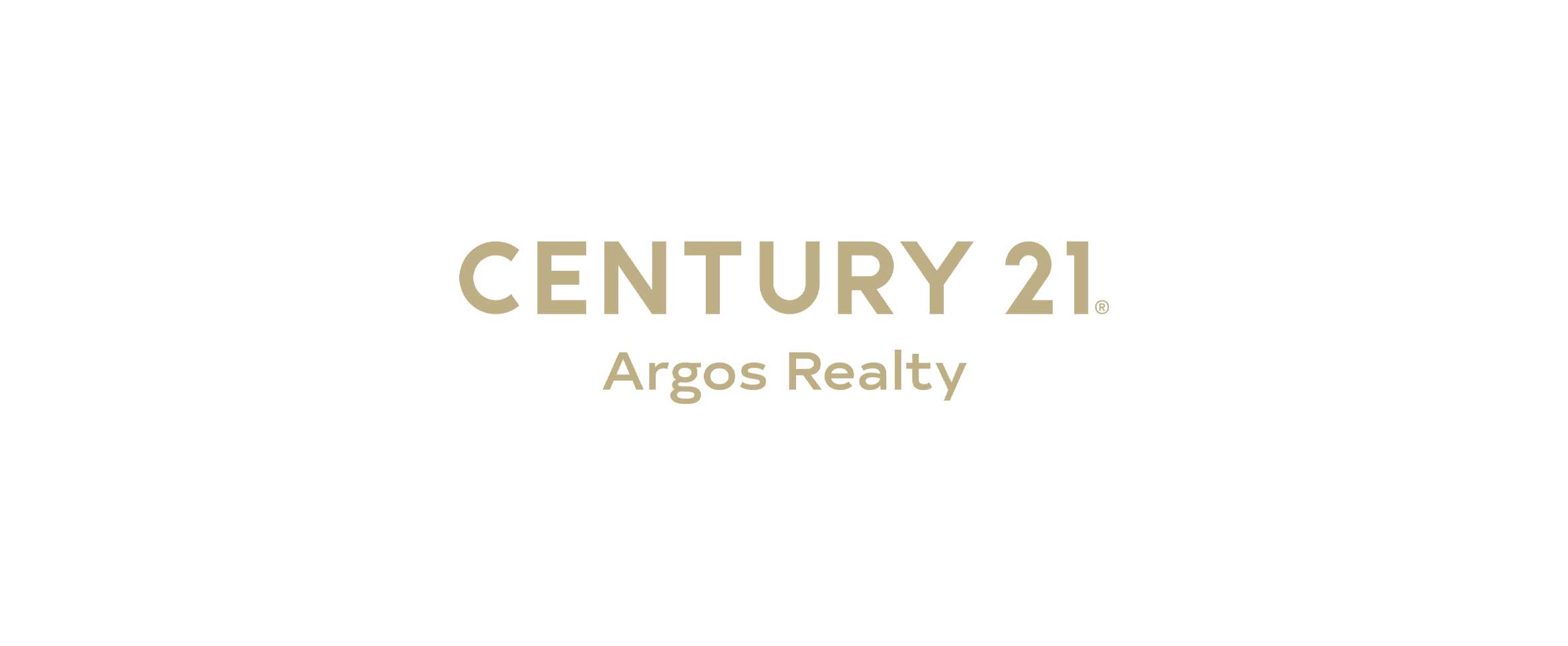 Calgary, A.B. (June, 2022) – The newest addition to the CENTURY 21 Canada family, CENTURY 21 Argos Realty, is set to open this summer with Karen Luu as broker, who is adding real estate to the brokerage services after five successful years as Real Property Management Renfrew.
"It is remarkable to look back at when we first started in 2017 and to see what we have managed to accomplish in these five years," says Luu. "Though I have always been involved in the real estate industry with family and friends, owning and operating Renfrew with Real Property Management afforded me to experience the real estate industry profoundly in so many ways"
Carla Browne, President of Real Property Management, knows the synergy between property management and real estate, having started in real estate herself at CENTURY 21 Dome before growing into her current role. By offering the services of both real estate and property management Karen is able to assist her clients through every step of their housing journey. Karen has a great amount of experience to draw from," says Browne. "After having worked in the market from a different perspective, she has the local expertise and now represents two national brands to create a client experience like no other. We are very excited to see her brokerage grow with the addition of the CENTURY 21 Brand to her existing Real Property Management office."
For Luu, working with CENTURY 21 Canada was the natural evolution of her own career. "CENTURY 21 Canada provides a lot of resources and support, and that allows for a lot of future planning and growth," Luu says. "The technology that they provide is just what we need; all the resources are there to grow our office and our team."
Luu has a lot of goals for CENTURY 21 Argos Realty's growth, and in the immediate future, she plans to fully learn the programs and tech that CENTURY 21 Canada has to offer and share that knowledge with new agents. While she does have a goal of recruiting 15-20 new agents before the end of next year, her priority is quality over quantity. "We have a minimum number of agents in mind, but we also want to bring in agents who share our core values, and we'd rather go by fit than just trying to reach a certain number."
"We're so happy that Karen and her team have come on board, and we know that she has the perfect experience to helm her own brokerage," says Brian Rushton, Chief Operating Officer of CENTURY 21 Canada. "She has clear goals and a clear path forward and we are committed to providing all the support she needs to succeed, alongside the best technology programs in the business."
Planning for future growth, Luu is considering the possibilities of new offices and locations in areas that align with the C21 Argos vision and values but for the more immediate term, her focus will be on continuing to service her core client base in Calgary and the surrounding areas. "When deciding on a name, I was inspired by the story of the diligent watcher giant with 100 eyes, Argos, in Greek Mythology. We connected with that. We want to be the ever-watching, oversized guardians for our clients, our owners, our buyers and our investors. We, at C21 Argos, will be those eyes ever watching the market and ever guarding our clients' best interests"
CENTURY 21 Argos Realty opens in Calgary on July 1, 2021.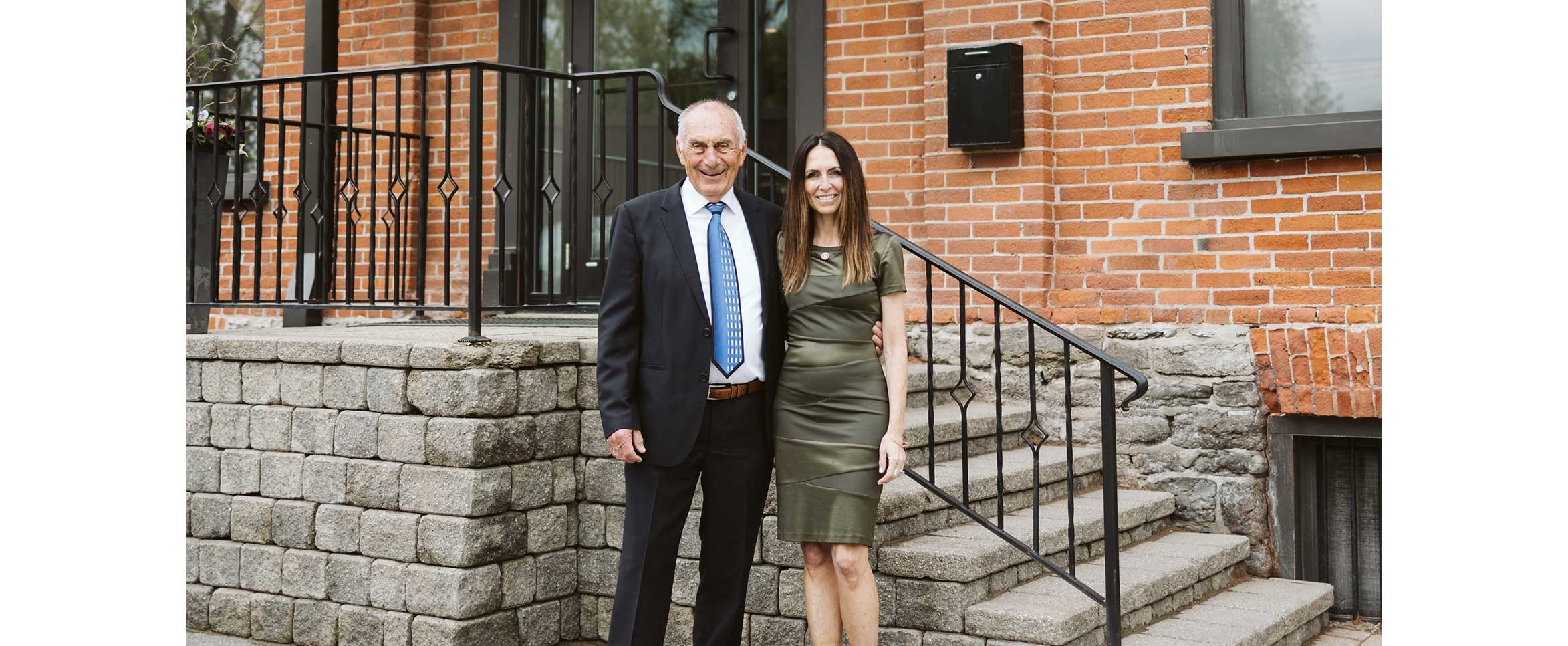 Peterborough, O.N. (June 2022) – CENTURY 21 United Realty Inc. owner Vanessa Oake Hogan was named to the 2022 Junior Achievement Hall of Fame of Northern and Eastern Ontario Business. The 7th annual ceremony recognized Peterborough's exceptional business leaders, and with many successful years as a Broker under her belt, Oake Hogan is the perfect addition.
"When I was attending University I would come home to Peterborough for the summer months and work at the office doing reception.  I always loved coming to the office.  I enjoyed learning about the business, working with dad and meeting all of the agents.  It was such a fun group of people." Oake Hogan says. Carl Oake began the brokerage (which was one of the first CENTURY 21 Canada franchises) in 1977, and in 2016 he began the process of passing the torch to his eldest daughter. Vanessa Oake Hogan acquired her real estate license in 2013, and after waiting a few years for the timing to be right for her family, she felt ready to follow in his footsteps
"Once my kids were a little more independent, the time was right and it was an opportunity I just couldn't pass up," Oake Hogan says of her decision to take the reigns of CENTURY 21 United Realty Inc. "This was my father's business that I grew up around, I was really attached to it. I wanted to carry on what he already started." Oake Hogan says her father passed on his drive to succeed and she has continued a legacy of excellence, consistently placing on annual rankings within the Century 21 Global system, most recently as the #14 Office in Canada by production, and the #20 Office on the GLOBAL 21 list by the same metrics for 2021. Additionally, Carl Oake was inducted into the Junior Achievement Hall of Fame in 2018, and with Oake Hogan joining him, it marks the first time a father-daughter duo has received the distinction.
But it's not just her business's accolades that have earned Oake Hogan a spot in the Hall of Fame, community initiatives are also a large focus. The Carl Oake Rotary Swim is an annual fixture at the Peterborough YMCA, a day when teams and individuals dress in their wildest costumes and swim laps in support of CENTURY 21 Canada's charitable partner Easter Seals, as well as other local causes. Oake Hogan currently co-chair's the event and brought it back to the YMCA this year, surpassing their initial fundraising goal for a grand total of $50,000.
Not one to rest on her laurels, Oake Hogan is looking to the future of her company and its agents. "Providing valuable services and support to our agents is our first priority.  We are also working on growing our team with both new and experienced agents.  The official awards ceremony for the Junior Achievement of Northern and Eastern Ontario Hall of Fame took place on May 26th.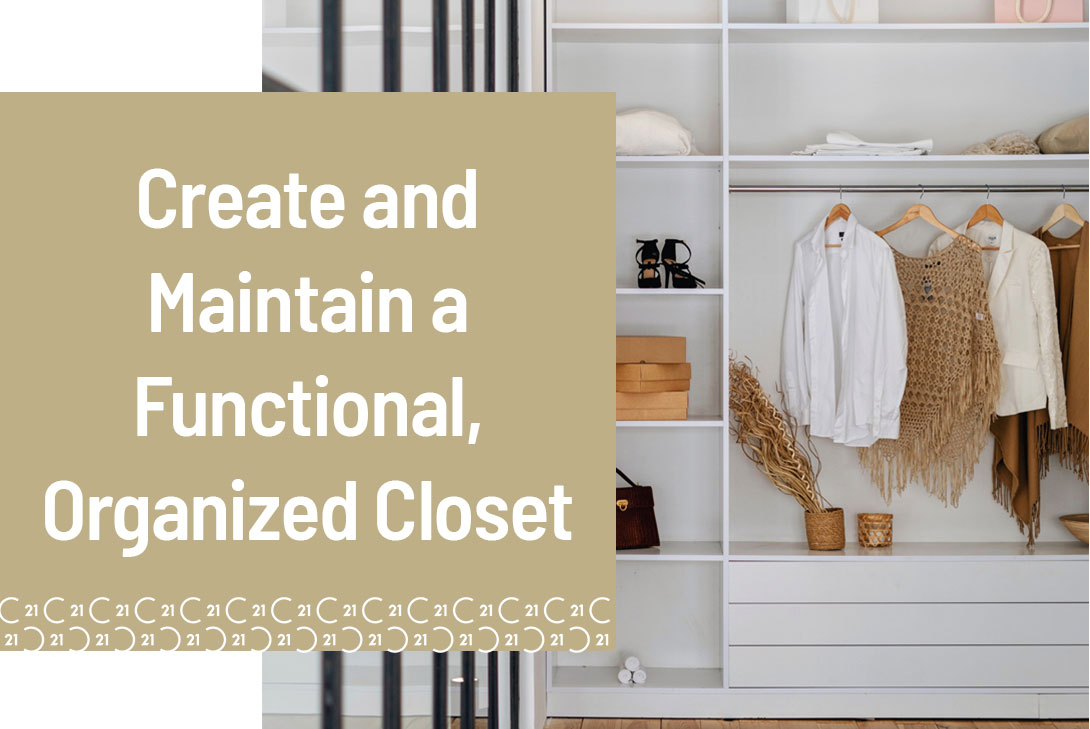 If your closet is overflowing with clothing and accessories, then it's time to arrange your space so that it is functional and organized. Whether your closet is small or a spacious walk-in, this organizational guide will help you create and maintain a coordinated closet that will save you time and help eliminate stress.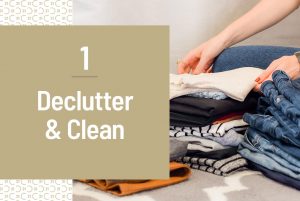 1. Declutter & Clean
The first step to getting an organized closet is to get rid of unused items. Take the time to sort through all your clothing, bags, jewelry, and other accessories and donate the items you no longer use. Depending on your closet size this may seem like an unbearable task, but if you declutter by section, it will help break up the job, making it effortless. Next, temporally remove all the items from your closet, then clean the entire closet. Starting with a blank canvas will help you better visualize your space and make organizing a breeze.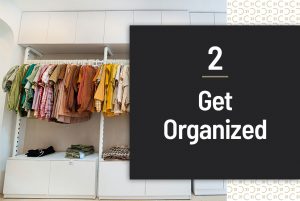 2.Get Organized
Now that your closet is decluttered and clean it's time to start organizing! Sort all your closet pieces into categories (shirts, pants, sweaters, etc.) so that you can measure how much space each category will take. Then come up with a plan of where each category will live in your space, keep in mind the size, preferred storage method, and frequency of use when planning. Remember, successful closet organization depends on your personal style, so there is no right or wrong way to arrange.
Once your plan is set, start hanging up your pieces. To help save time on your busy mornings, colour-code your wardrobe so you can quickly scan through your items. If you are tight on space, be sure to choose space-saving hangers and try double hanging less-used items. Don't know if a piece should be hung or folded? Here's the best way to store all your clothes.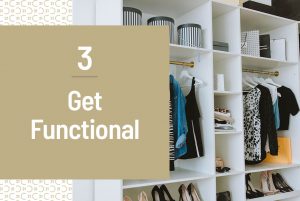 3. Get Functional
After you have organized and sorted all your clothing, make sure that the closet is functional. Use dividers to separate clothing categories and to help keep your folded clothing upright. Repurpose magazine holders to store purses and clutches. And add baskets to store loose or eyesore items.
You can even make your closet even more functional with task lighting. These lights will improve the visibility of your items, plus it elevates your closet with an elegant look.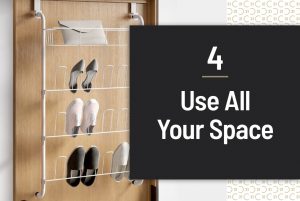 4. Use All Your Space
One of the biggest problems when it comes to organizing a closet is a limited amount of space. Maximize your area by:
Placing a dresser below your hanging items. The once wasted space now brings additional storage for folded clothing or items you want out of sight.
Use the back of the closet door for a shoe rack.
Don't forget about your vertical space! Walls are often passed over but can make for great storage spaces. Add hooks to hang jackets, scarfs, hats, and more. Display wall mounts are perfect for hanging jewelry and accessories like sunglasses.
If you are still limited on space, place a clothing rack in your room to display favourite pieces, frequently used items, or upcoming outfits. Finally, don't forget to use additional storage spaces in your home for out-of-season items.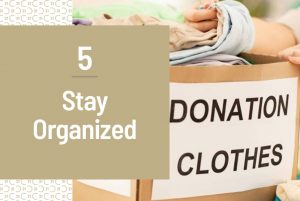 5. Stay Organized
Now that you created an organized and functional closet, you must maintain the order. Set aside 5 minutes each day to do a quick clean of the space to preserve its form. Additionally, try reorganizing seasonally, this includes swapping out seasonal clothing and removing any unused items. To help make this quarterly process smooth, add a donation bin to your closet so when you find something that doesn't fit, or you don't like anymore, you can place it in the bin to readily remove when it comes time to declutter.
Finally, consider turning your hangers backwards to mark frequently worn clothing. This will help you see which clothes you rarely wear so you can donate.
Monthly Features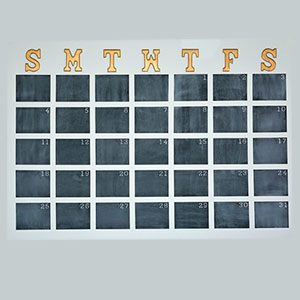 DIY Project: Chalkboard Wall
Keep your whole family organized with this easy DIY chalkboard wall.
Get DIY Project here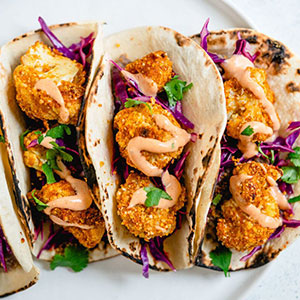 Recipe: Cauliflower Tacos with Yum Yum Sauce
Looking for a creative way to use vegetables in your meals? Try these crispy cauliflower tacos the whole family will love!
Get Recipe here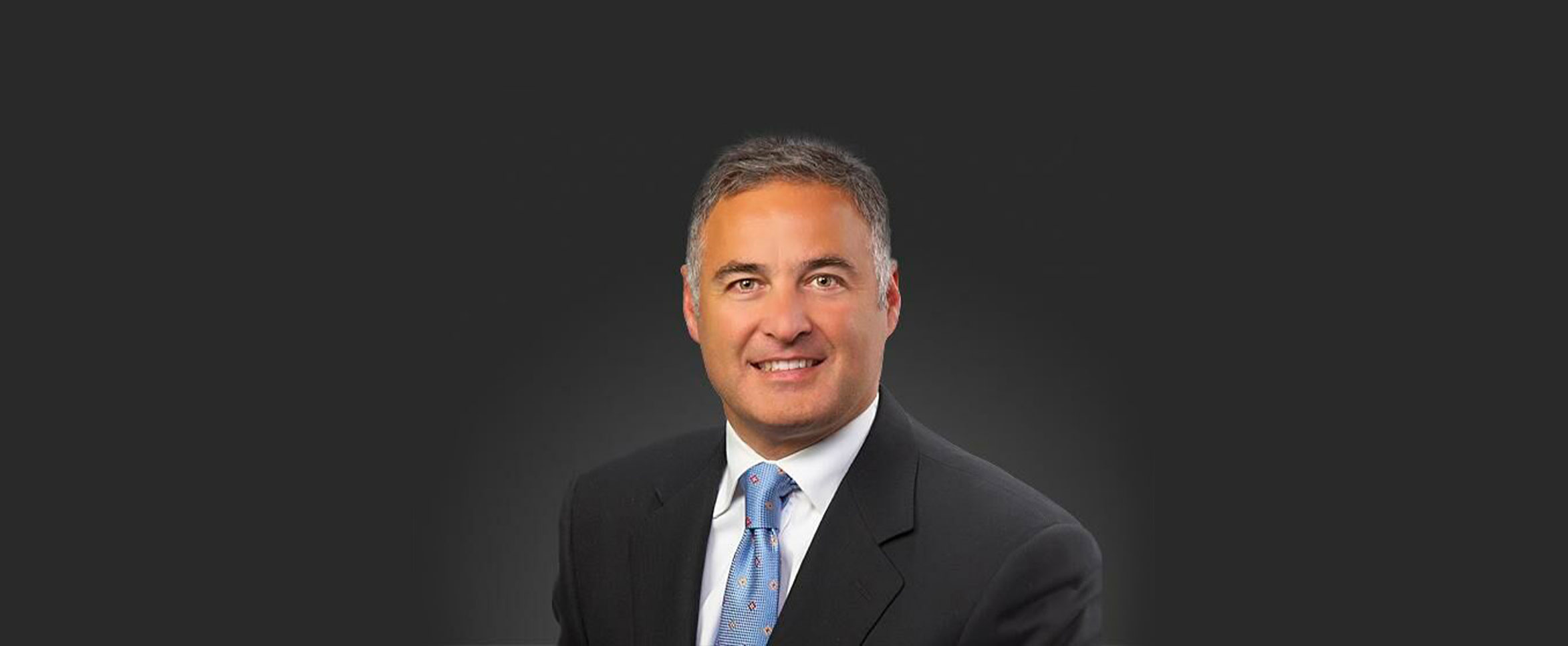 George Bamber has seen the highs and lows during his 35-year career
In 35-plus years in Calgary's real estate industry, George Bamber has witnessed market highs, market lows … and everything in between.
With three decades of business experience and customer trust, George Bamber, the owner/broker of Century 21 Bamber Realty, is confident in the continued strength of Calgary and Alberta's economy. "Calgary real estate has been undervalued for so long and while we may see a bit of a dip in momentum after coming off a record sales year, the strength of Alberta — especially in oil and gas and with continued diversification — is going to mean net in-migration. Alberta is going to be the place to be."
Bamber expects his real estate company — the largest Century 21 office in Alberta and one of Canada's largest in overall volume — to continue to grow substantially in 2022. In the first three months of this year, his office had 1,000 sales throughout the Calgary region, including Springbank, Bragg Creek, Okotoks and Airdrie, for homes from $130,000 to $8 million. In 2021, Bamber Realty had 2,800 sales with a value of $1.6 billion.
While increasing interest rates may take some potential homebuyers out of the market to save more money before buying a home or to look for a potential dip in prices, Bamber says Calgary continues to be an affordable place to buy, especially in the apartment condo realm where prices in many cases are below replacement value. He is hoping this year for a more balanced market that will be good for both buyers and sellers as opposed to 2021, where there were often multiple bids on a limited amount of inventory.
"Hopefully it will be a year when buyers don't have to purchase the first home they see," says Bamber. "Buyers are doing their research online and through various social media tools prior to engaging with a professional realtor," says Bamber. "At that point, it gets down to our expert knowledge and professionalism from start to finish." It's important to have an experienced agent who can move as quickly as the market by using all their professional tools, from on-the-spot market evaluations to constant communication, negotiating competing offers and taking a buyer or seller to agreement completion, he adds. 
In more than three decades, Bamber Realty has grown while retaining its community roots. It's still at its original 17th Avenue S.W. location — even with the same phone number. And that community connection sees individual real estate agents supporting multiple local charities while Bamber Realty's major initiative involves Century 21's commitment to Easter Seals, helping Calgary children with disabilities attend Camp Horizon. 
To learn more about Bamber Realty, check out bamberrealty.c21.ca.
Posted on the Calgary Herald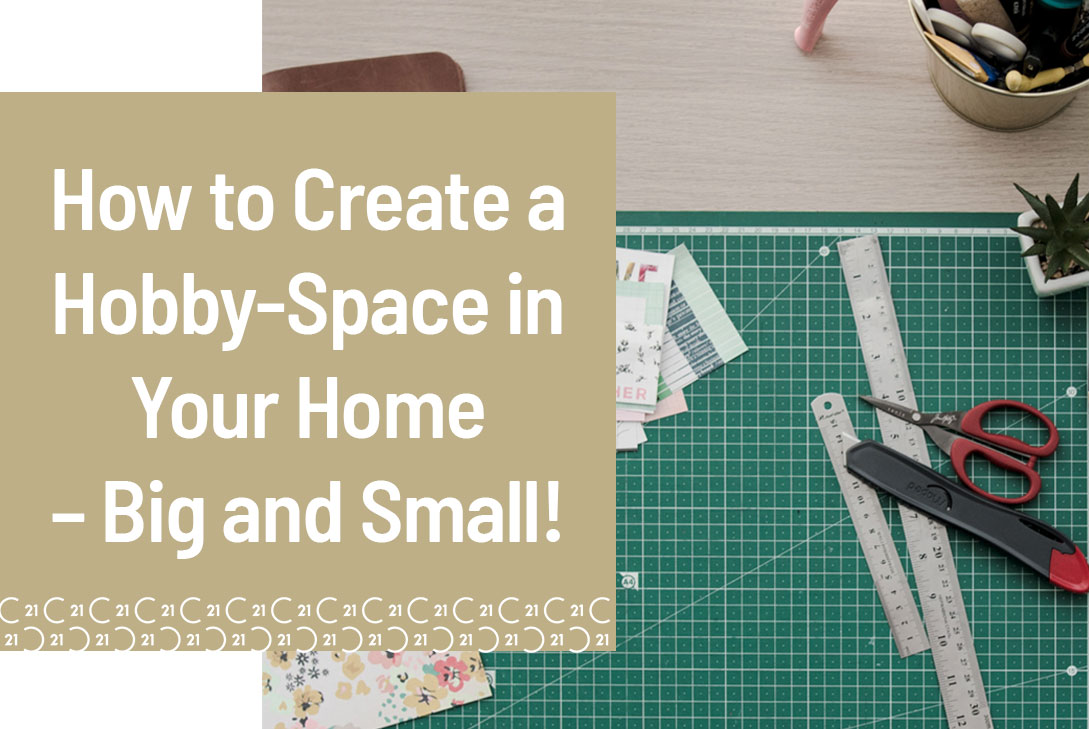 Hobbies are a great way to relax, hone your skills, and unwind after a long day. Having a dedicated space in your home for your hobby can keep supplies organized and give you a place to enjoy your favourite pastime. Whether it's a whole room or just a corner, here's how you can carve out some space for your hobbies.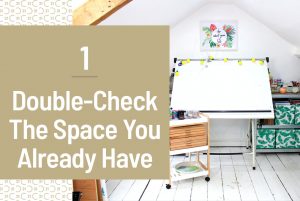 Double-check the space you already have
Do you use each room in your home every day? Take a moment to consider whether a storage room can be cleared out if it's full of junk, or if a corner is being occupied by a side table that could be a small desk instead. Maybe consider changing up one of the larger rooms if it's not used often – do you often use your dining room, or eat in the kitchen?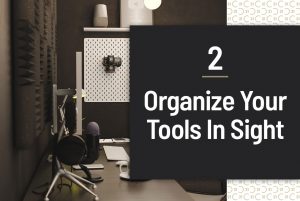 Organize your tools insight
If you have a lot of tools and not a lot of space to store them, consider using a pegboard to keep them up and on the walls. You'll be able to see where everything is, and if you have smaller odds and ends, mason jars will allow you to keep them together and even show them off as unique decorations.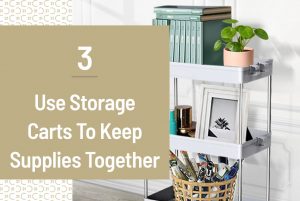 Use storage carts to keep supplies together
Artists of all kinds can find themselves collecting supplies that end up all over the place, so keep things together using a wheeled storage cart. These are great if you don't have a big desk and want to maximize the surface area to create your work. Storage carts can sit next to your work area and hold your supplies at the ready.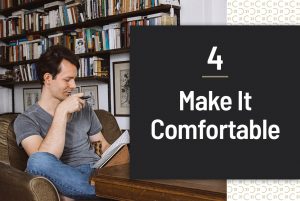 Make it comfortable
If you're a reader, a crafter, a gamer, or any kind of hobbyist that sits down a lot, make sure you're comfortable! Look for a cushion that offers good back support, or a throw blanket to curl up under. Ask yourself if your hobby would be easier if your chair has arms, or better off without.
Add some decor!
Show off your skills! Make a piece of art or create a sign for your hobby space to show off your passion. If you're not crafty, consider a related piece of artwork or a print, or maybe an old tool you have lying around that can be displayed. These can serve as little pieces of inspiration when you want to settle into your space and unwind.
Monthly Features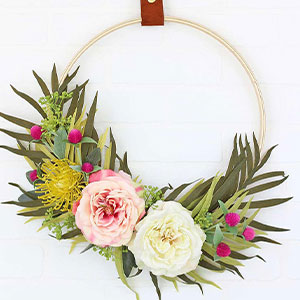 DIY Project: Modern Spring Wreath
Celebrate the sunnier weather with a vibrant wreath! This simple DIY project is fun, elegant, and will give you a great décor piece for your door.
Get DIY project here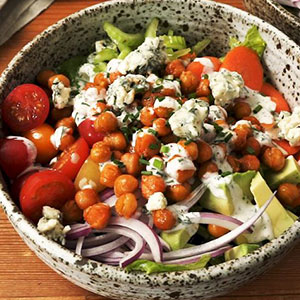 Recipe: Best Buffalo Chickpea Salad
Take some Buffalo Chicken and turn it into a hearty salad. For an extra homemade touch, make the ranch dressing from scratch!
Get recipe here
Image Credits: Image 1, Image 2, Image 3, Image 4​​​, Image 5​​​​​​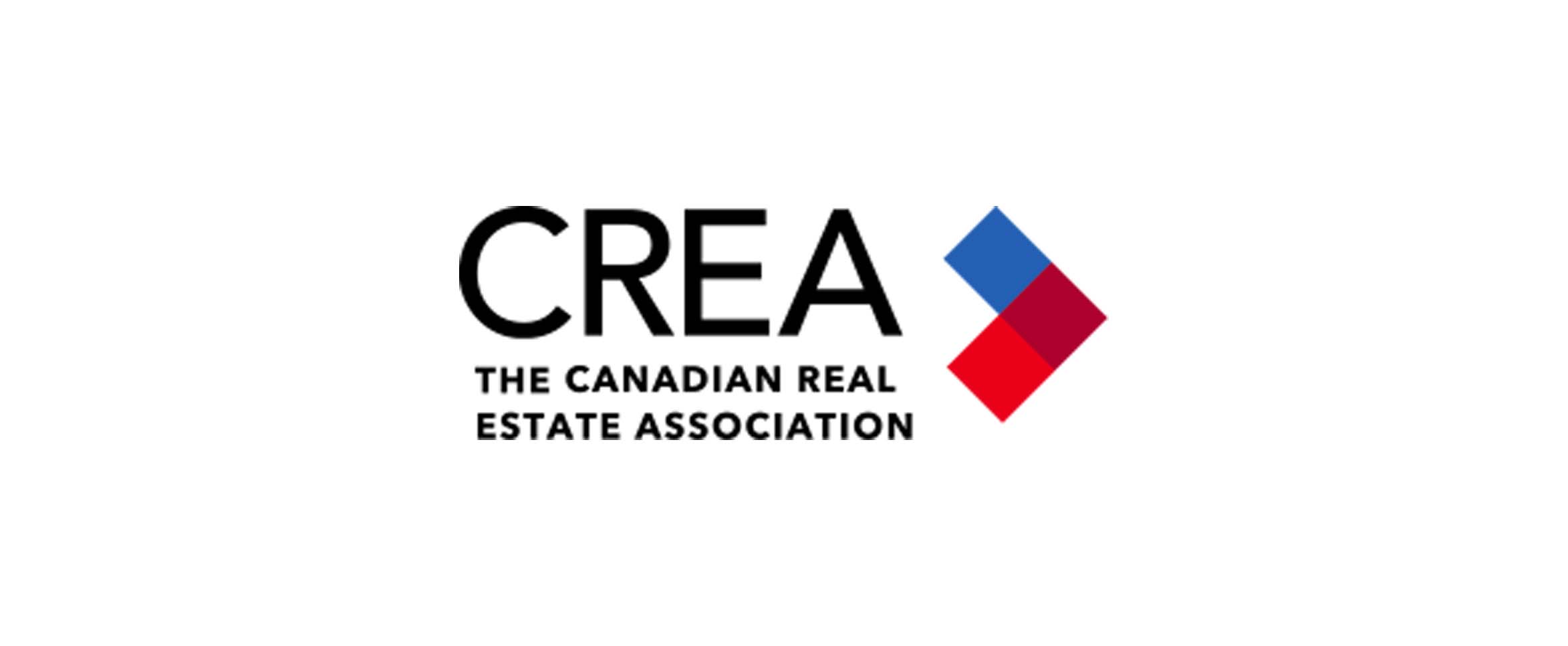 Congratulations to James Mabey and Gurcharan Garry Bhaura who were both elected to the Canadian Real Estate Association's (CREA) Board of Directors in early April 2022. CREA is one of Canada's largest single-industry Associations. With more than 150,000 real estate brokers, agents, and salespeople, working through 78 real estate Boards and Associations across Canada. Both elected C21-ers will help represents the interests of their CREA members to the federal government and their agencies on existing or proposed legislation that will affect those members, and/or impact homeownership and enhances member professionalism.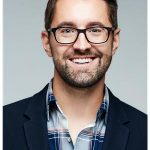 James Mabey, the owner of CENTURY 21 Masters, was named Vice Chair of CREA. He previously served as CREA's Regional Director – Alberta, Chair of the CREA Marketing and Communications Committee, and Chair of the Board for the REALTORS® Association of Edmonton. Mabey has been in the real estate industry since 2005 and now manages over 100 agents across four offices in the Edmonton area. He is also an avid supporter of his community, volunteering and fundraising for many local causes.
"I am feeling incredibly grateful! Yesterday I was elected as the Vice Chair of the Canadian Real Estate Association. I am so proud that once again I have been given the opportunity to volunteer on behalf of over 150,000 REALTORS® across Canada," says Mabey. "Very thankful for the support of my husband Dylan, my mentors, and the CREA Board of Directors. I am so excited to carry on learning from my peers on this leadership journey."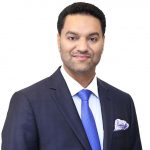 Gurcharan Garry Bhaura, the owner of CENTURY 21 President Realty Inc. Brokerage in Brampton, ON, was chosen as a Director-at-Large of CREA. Being in the industry for over 22 years and with the continued success of his #21 GLOBAL21 ranked office of almost 200 agents, Bhaura will use his skills and knowledge to help serve the 150,000 nationwide realtor community. Bhaura was the former President of the Toronto Regional Real Estate Board and has also previously sat on four different non-profit boards, including the Toronto Regional Real Estate Board, where he served as President with over 65,000 members. Bhaura has also chaired numerous committees.
"We are in very fluid times, the world is changing, technology is evolving very rapidly, and it is very important that the REALTOR® brand continues to be front and centre. I want to make a difference and leave the industry better than we found it," said Bhaura in a news release. Bhaura adds, "It would be an honour to serve the members of CREA across the country."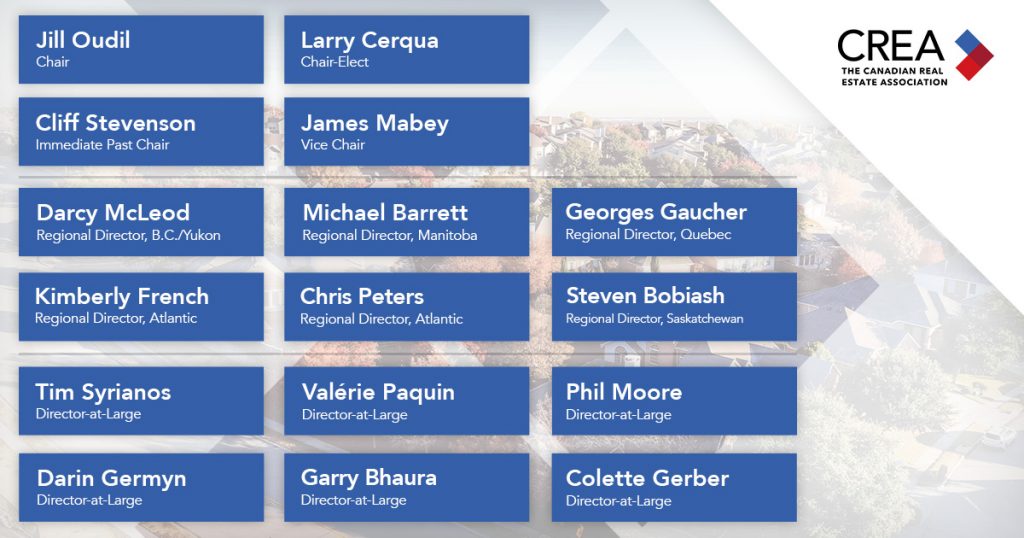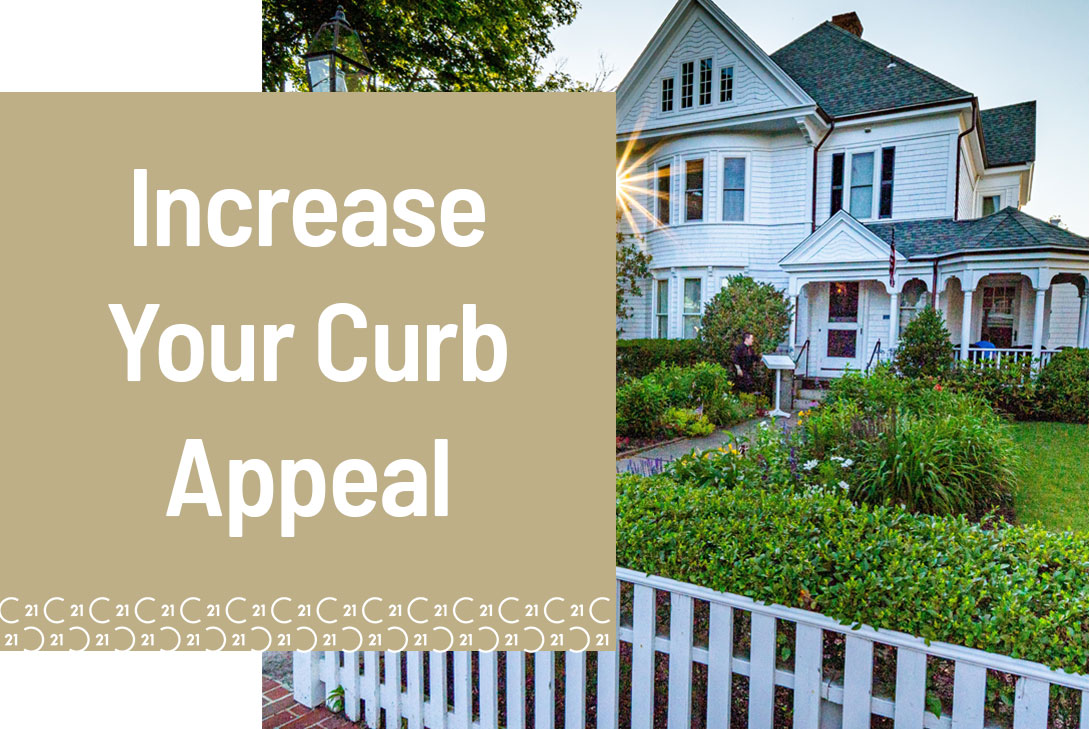 First impressions are everything and can make or break any opportunity, so what impression is the exterior of your home giving? Whether you are putting your house on the market or just want to give your home a nice and finished look, these simple upgrades will boost your home's curb appeal and make an exceptional first impression.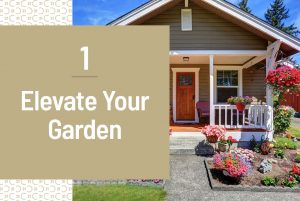 1. Elevate Your Garden
There is no quicker way to upgrade your curb appeal than with a lush, vibrant garden and plants. Here are some of the many ways you can add eye-catching greenery to your front yard.
First, include potted plants on the front porch to bring colour to your home. Create your own arrangements with your favourite plants or flowers, or if you don't have a green thumb opt for ready-made containers from your local garden center.
Second, installing window boxes is another great way to boost your home's curb appeal. Mix and match flowers and plants to pair with your colour scheme and try this DIY window box for a fun weekend project.
Finally, adding a garden bed in the front of your home is a sure way to make a great first impression. Trees, shrubs, flowers, and more can be combined to add vibrance and dimension to your front yard. When creating your garden bed, be sure to choose plants that will frame your home rather than obscure it. Any greenery will increase your home's welcoming feel, but you must be sure to keep up its maintenance. To keep your garden in tip-top shape, water regularly, prune overgrowth, remove weeds, and trim the lawn.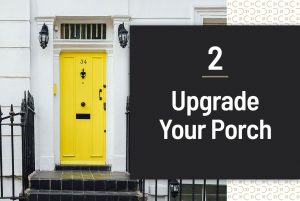 2. Upgrade Your Porch
Small upgrades to your front porch can instantly improve your curb appeal and create a warm, welcoming home. Paint your front door to add contrast and brightness. A fresh coat of paint or a brand-new bold colour will help revive the look of your front porch and attract loads of attention. Bright, loud coloured doors have been a popular trend, but you can never go wrong with a classic red door.
Next upgrade your hardware. Your door handles, house number, mailbox, and lanterns probably haven't seen an update since before you moved in. Now is the time to replace these for a matching, modern look.
To finish off your front porch look, add a seasonal wreath and lighthearted welcome mat. This simple touch makes your home approachable and keeps the season's dirt outside. When making your porch upgrades keep symmetry in mind as a balanced appearance will attract more viewers with its calm, reliable feel.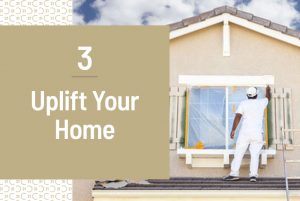 3. Uplift Your Home
Improving your home's curb appeal does not require a full exterior renovation. Simple outdoor maintenance tips can do wonders in making your home look brand-new. Start at the top of your home – the roof. Rather than replacing your roof, give it a good clean. Removing dirt, stains, and discolouration will make your roof look pristine and help it last longer. While you are up cleaning your roof, take the time to thoroughly wash your gutters. Remove any clogged debris and built-up dirt to impress neighbours and guests.
Cleaning your windows is another simple way to boost your home's curb appeal. Dirty windows can be a serious eyesore, plus they hinder beautiful views. A quick, consistent wipe-down (especially after the winter season) will help keep your exterior tidy. To really make your windows pop, try adding window shutters. Depending on the style of your home, natural wood or energetic coloured shutters bring dimension and contrast to your home's exterior. These DIY cedar shutters are a quick and cost-effect project to up your home's look.
An additional home maintenance tip to boost your curb appeal is painting your exterior. A fresh coat of paint or a new modern colour will immediately upgrade your home's appearance, making it feel brand-new. Although this may be no simple or cheap task, it shows you take care of your property and gives off a memorable first impression.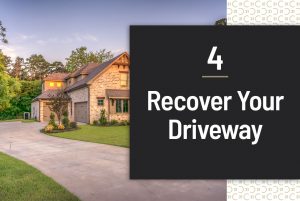 4. Recover Your Driveway
Your driveway sees a lot of wear and tear over the years and growing damage can be deteriorating your home's curb appeal. A full redo is not necessary to upgrade your home's appearance, some minor repairs will get your driveway looking as good as new.
First wash the whole driveway to remove any stains, debris, or unwanted weed growth. If you have access to a power washer this will save you time and scrubbing effort. Then repair and fill in cracks with the proper solution for your surface. These small fixes will make a drastic improvement to your home's curb appeal and give neighbours, visitors, and passerby an exceptional first impression.
Monthly Feature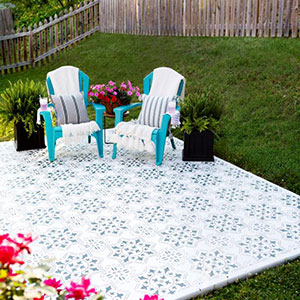 DIY Project: Stain & Stencil a Concrete Patio
Get your patio spring-ready with this DIY stain and stencil a concrete patio project.
Get DIY Project Here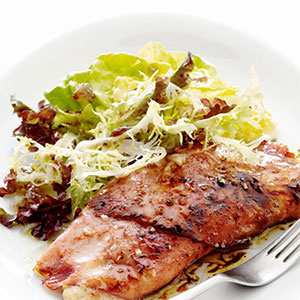 Recipe: Inside-Out Chicken Cordon Blue
This quick and easy inside-out chicken cordon blue will be your go-to meal on busy nights.
Get Recipe Here