Warmer weather and longer days means you're spending more time outside, so spend some time making your backyard into your dream oasis. Since the pandemic, the backyard has been a place to relax, exercise, explore new hobbies, connect with friends and family, and much more. Elevate your space, whether it be a tiny balcony or abundant garden, with these 2021 backyard trends so you can enjoy your private area all summer long.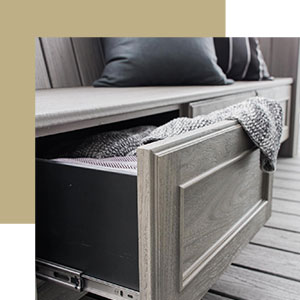 1. Flexible Furnishings
With social gatherings being mainly held outside, multipurpose furniture has been a big trend in 2021. These pieces may have hidden features, such as storage or coolers, or can be converted into another use, like stools transforming into a side table. Multipurpose furniture makes hosting socially distant gatherings easy. You can store commonly used items, drinks and blankets to have ready whenever your guests need them without even needing to get up!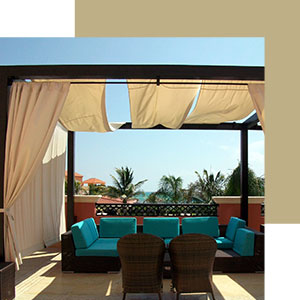 2. Private Retreats
Backyard privacy is an increasing priority in 2021, however, not every home comes with the luxury of built-in seclusion. There are many ways you can add privacy to your outdoor space, from extra greenery to umbrellas, screens or pergolas. Depending on your space any of those covers will help provide privacy from your neighbours, shade you from the hot sun, and shelter you on the colder days.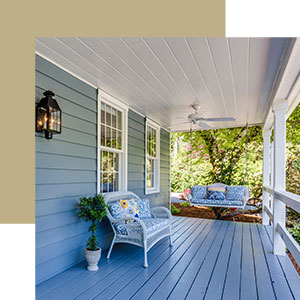 3. Social Curb Appeal
Although this may not be an addition to your outdoor space, 2021 has made front yards the popular hangout spot for social-distanced gatherings and quick hellos. The front area is a perfect space to sustain social connections while staying safe. Try adding a comfortable bench, a bistro set, or a porch swing to make your front yard warm and inviting.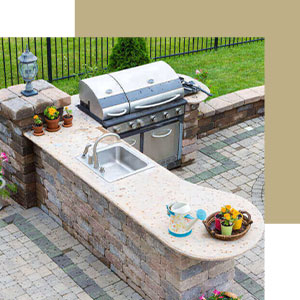 4. Outdoor Cooking
With everyone spending more time outside, outdoor kitchens are also a rising trend. From a portable BBQ to a full independent kitchen, these outdoor cooking facilities increase convenience and allow you to enjoy the sunshine for longer. And don't forget about outdoor dining! Add furniture so you can savor the meal in your outdoor space as well.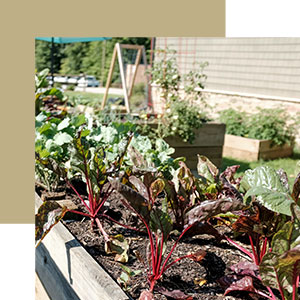 5. Tasty Gardens
Gardening began to be very common last year with people looking for new hobbies and ways to get outside. This year, we see that trend increase with more people who are climate conscious. Edible gardens can come in all shapes and sizes, so they are perfect for any backyard or patio no matter the size. Check out this list of vegetables to plant in the summer.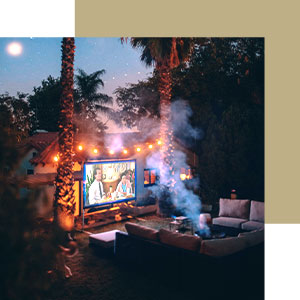 6. Outdoor Entertainment
Incorporating technology into the outdoor living area increases in popularity every year. People continue to find ways to bring the entertainment outdoors with music, tv, and even work from home stations. Try adding portable speakers to play your favourite album and a compact projector to stream the latest movie outside. Be sure to include a Wi-Fi booster so your connection stays strong while entertaining in your backyard.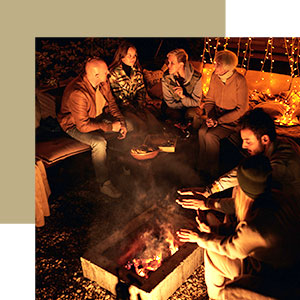 7. Season Extending Solutions
Canadian summers can be very short-lived. Fire pits and heaters are the perfect solution to keeping you and your guests warm even when the sun goes down, or as the days get colder. If you are looking for a less-costly investment, use outdoor rugs and throw blankets to add extra warmth.
8. Ambiance Lighting
Another great way to extend your time outside is through lighting and this is a trend we never want to see go away. It lights up pathways for safety, accents your favourite garden piece, and sets a beautiful ambiance. Adding outdoor lighting will expand your backyard living and entertaining. When choosing your lighting opt for lower-watt, golden bulbs for a peaceful atmosphere.
Monthly Feature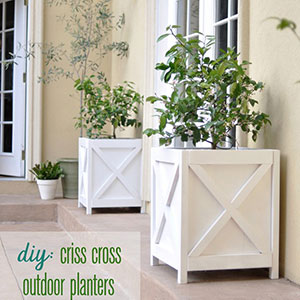 DIY Project: Criss Cross Outdoor Planters
Create these simple criss-cross pattern planters to add elegance to any patio.
Get DIY Project Here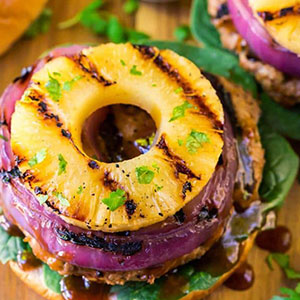 Recipe: Turkey Teriyaki Burgers with Grilled Pineapple
This healthy alternative is filled with mouth-watering flavours and makes the perfect summer night dinner.
Get Recipe Here