March 2021
Do you find you are spending far too much time sorting, washing, and folding laundry? No one wants to be spending their valuable time stuck in their laundry room – no matter how big or small it may be. We are sharing our favourite tips and tricks to make your laundry room more efficient and beautiful, making you look forward to laundry day.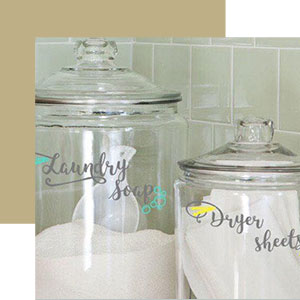 1. Effective & Appealing Storage Solutions
We all know the number of products it takes to get your clothes miraculously clean, but why put these mix-match products on display? Instead hide your cleaning products in matching display boxes, baskets, or crates. For frequently used items, like detergent or dryer sheets, store them in clear jars for a décor piece. Remember to label the boxes and jars for easy access to your needed item!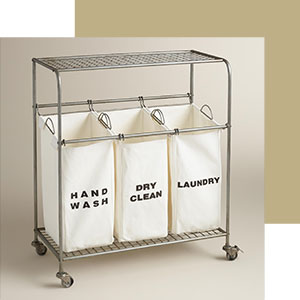 2. Save Time Sorting
Use labelled baskets to pre-sort your laundry to stay organized and save you time. This easy task can be taught to the whole family, so you don't end up with one large pile of dirty clothes. For a bonus, put these sorting baskets on wheels to make transporting effortless!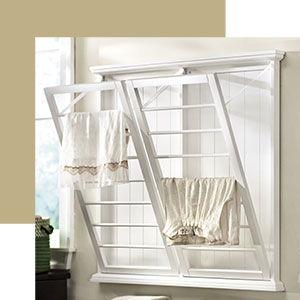 3. Drying Solutions
Hang drying is a must for certain clothes, but not all laundry rooms are equipped for the task. A simple solution is adding tension rods or a fold-down drying rack. Tension rods are a great addition to any sized laundry room, as you can place them practically anywhere. Another solution is a fold-down drying rack – perfect for small spaces as you can hide it when not in use. Check out this DIY drying rack.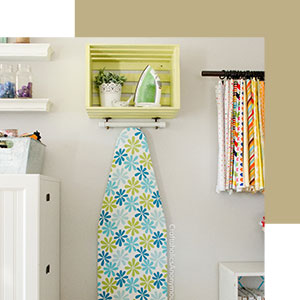 4. Put Your Ironing Station on Display
Wall-mounted ironing boards may be a thing of the past, but that doesn't mean you can't have an ironing station that's stylish and easily accessible. Mount an open shelf to hold your iron, spray bottle, cloths, and other needed materials. Add two small hooks below to hang your ironing board. Make your ironing station into a wall accessory by hiding your iron and other materials in display boxes and updating your ironing board cover to match your décor.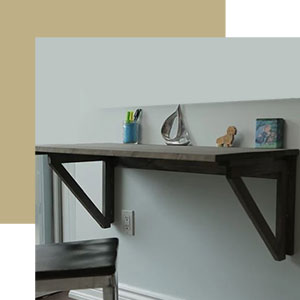 5. Create a Folding Area
No laundry room can be efficient if there is no room to fold the piles of clean clothes. Install a countertop over front loading washing and drying machines to create a spacious folding station. If you have another machine set-up, bring in a desk or table that fits your space. Or, if you are limited on space, try a drop-down wall table. This hidden table is perfect for small spaces as you can tuck it away when not in use. Check out this DIY folding table tutorial.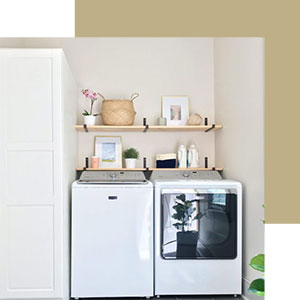 6. Use All Your Space
Make the most of your laundry room – no matter the size – by effectively using the space. Use your vertical space by adding floating shelves or coat hooks to store cleaning products, baskets, or clothing. And don't forget about your door! Mount plastic shelving inserts or over-the-door organizers for smaller items.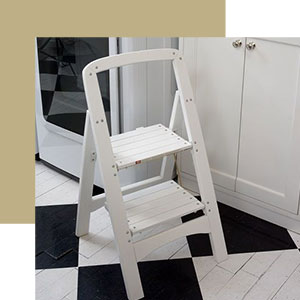 7. Bonus Tip: Keep A Stool Handy
This simple tip will come in handy more times than you could imagine! Having a small stool (or folding step ladder if you are tight on space) will allow you to easily grab those out-of-reach items, saving you time and energy!
Monthly Feature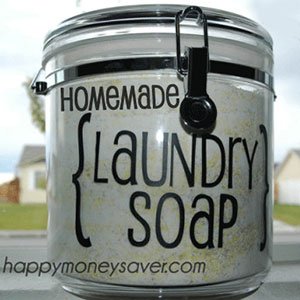 DIY Project: Make Your Own Laundry Detergent
This cost-saving project will leave your clothes clean and fresh with ingredients you can buy at your local supermarket.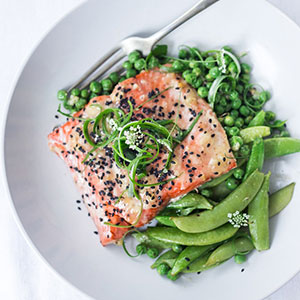 Recipe: Miso Salmon and Peas
This fast and healthy dinner is perfect for a busy night as it can be made in under 25 minutes!
Image Credits: Image 1, Image 2, Image 3, Image 4, Image 5, Image 6, Image 7