First impressions are everything and can make or break any opportunity, so what impression is the exterior of your home giving? Whether you are putting your house on the market or just want to give your home a nice and finished look, these simple upgrades will boost your home's curb appeal and make an exceptional first impression.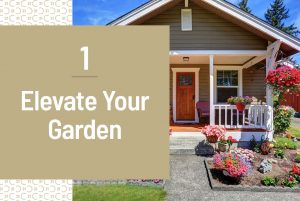 1. Elevate Your Garden
There is no quicker way to upgrade your curb appeal than with a lush, vibrant garden and plants. Here are some of the many ways you can add eye-catching greenery to your front yard.
First, include potted plants on the front porch to bring colour to your home. Create your own arrangements with your favourite plants or flowers, or if you don't have a green thumb opt for ready-made containers from your local garden center.
Second, installing window boxes is another great way to boost your home's curb appeal. Mix and match flowers and plants to pair with your colour scheme and try this DIY window box for a fun weekend project.
Finally, adding a garden bed in the front of your home is a sure way to make a great first impression. Trees, shrubs, flowers, and more can be combined to add vibrance and dimension to your front yard. When creating your garden bed, be sure to choose plants that will frame your home rather than obscure it. Any greenery will increase your home's welcoming feel, but you must be sure to keep up its maintenance. To keep your garden in tip-top shape, water regularly, prune overgrowth, remove weeds, and trim the lawn.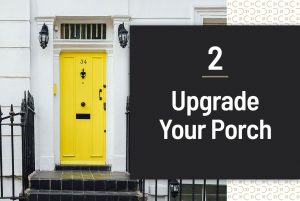 2. Upgrade Your Porch
Small upgrades to your front porch can instantly improve your curb appeal and create a warm, welcoming home. Paint your front door to add contrast and brightness. A fresh coat of paint or a brand-new bold colour will help revive the look of your front porch and attract loads of attention. Bright, loud coloured doors have been a popular trend, but you can never go wrong with a classic red door.
Next upgrade your hardware. Your door handles, house number, mailbox, and lanterns probably haven't seen an update since before you moved in. Now is the time to replace these for a matching, modern look.
To finish off your front porch look, add a seasonal wreath and lighthearted welcome mat. This simple touch makes your home approachable and keeps the season's dirt outside. When making your porch upgrades keep symmetry in mind as a balanced appearance will attract more viewers with its calm, reliable feel.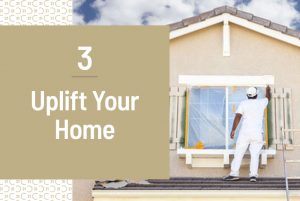 3. Uplift Your Home
Improving your home's curb appeal does not require a full exterior renovation. Simple outdoor maintenance tips can do wonders in making your home look brand-new. Start at the top of your home – the roof. Rather than replacing your roof, give it a good clean. Removing dirt, stains, and discolouration will make your roof look pristine and help it last longer. While you are up cleaning your roof, take the time to thoroughly wash your gutters. Remove any clogged debris and built-up dirt to impress neighbours and guests.
Cleaning your windows is another simple way to boost your home's curb appeal. Dirty windows can be a serious eyesore, plus they hinder beautiful views. A quick, consistent wipe-down (especially after the winter season) will help keep your exterior tidy. To really make your windows pop, try adding window shutters. Depending on the style of your home, natural wood or energetic coloured shutters bring dimension and contrast to your home's exterior. These DIY cedar shutters are a quick and cost-effect project to up your home's look.
An additional home maintenance tip to boost your curb appeal is painting your exterior. A fresh coat of paint or a new modern colour will immediately upgrade your home's appearance, making it feel brand-new. Although this may be no simple or cheap task, it shows you take care of your property and gives off a memorable first impression.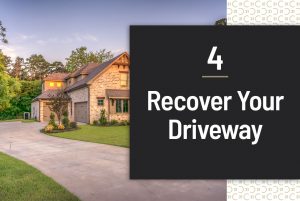 4. Recover Your Driveway
Your driveway sees a lot of wear and tear over the years and growing damage can be deteriorating your home's curb appeal. A full redo is not necessary to upgrade your home's appearance, some minor repairs will get your driveway looking as good as new.
First wash the whole driveway to remove any stains, debris, or unwanted weed growth. If you have access to a power washer this will save you time and scrubbing effort. Then repair and fill in cracks with the proper solution for your surface. These small fixes will make a drastic improvement to your home's curb appeal and give neighbours, visitors, and passerby an exceptional first impression.
Monthly Feature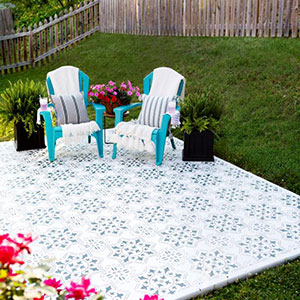 DIY Project: Stain & Stencil a Concrete Patio
Get your patio spring-ready with this DIY stain and stencil a concrete patio project.
Get DIY Project Here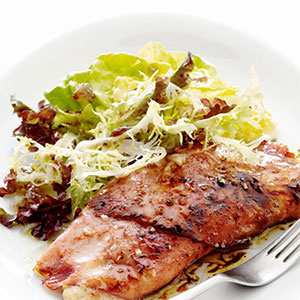 Recipe: Inside-Out Chicken Cordon Blue
This quick and easy inside-out chicken cordon blue will be your go-to meal on busy nights.
Get Recipe Here