September 20, 2021 – CENTURY 21 Foothills Real Estate hosted the JC Anderson Memorial Golf Tournament in Foothills, AB. This annual event proved to be another successful fundraiser, raising $110,000 for Easter Seals Alberta, helping many children living with disabilities and medical conditions.
The 78 golfers started the day at the Sirocco Golf and Country Club, a local course with unique challenges and unparalleled beauty that winds its way through the Pine Creek Valley. After the tournament, the golfers, family, friends, and supporters enjoyed dinner and an auction hosted by Tiffany Gordon, daughter of CENTURY 21 Foothills Real Estate owner and manager, Blair and Beverly Gordon. Tiffany is a CPGA golf professional and was very instrumental in the success of this event.
The ≈ was founded in support of the late JC's vision to ensure kids with disabilities had a place to play and belong, no matter what their diagnosis. This annual fundraiser provides an opportunity for them to attend Easter Seals Camp Horizon, a one-of-a-kind magical place that empowers them to reach their full potential. "Even though the camp is not open for the second year in a row because of COVID-19, we managed to raise awareness for this important cause and attract people that gave generously," says Blair.
CENTURY 21 Foothills has been a big supporter of Easter Seals Alberta over the years. Their numerous successful fundraising events and the majority of their over 50 agents across six offices in the Foothills area donating $21 per deal, earned them the #2 C21 Easter Seals fundraising company in 2019.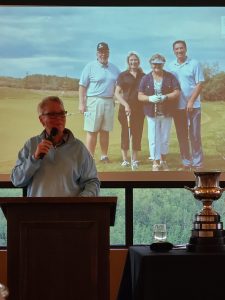 Tiffany Gordon – Emcee of the event