Vancouver (August 11, 2021) – House prices across Canada have grown significantly over the past year, particularly in Atlantic Canada and more recreational locations, despite the COVID-19 pandemic. The fifth annual Price per Square Foot survey is being released by CENTURY 21 Canada and shows that real estate continues to be an excellent investment for Canadians. While real estate is most often dependent on the local market, the past year has seen widespread increases in prices from coast to coast.
In its annual, nationwide study, CENTURY 21 Canada compared the price per square foot of properties sold between January 1 and June 30 this year, compared to the same period last year.
"Looking at the prices across Canada, there isn't one region that hasn't seen price growth in the past year," says Brian Rushton, Executive Vice-President of CENTURY 21 Canada. "When the pandemic began in 2020, the market became unchartered territory. But because of low inventory and high demand from buyers looking for a larger space, prices have steadily climbed for the past year, particularly detached homes. Over the past couple of months, that growth has slowed and condo prices have started increasing again– it's still a seller's market from Victoria to St. John's."
When COVID-19 began to take hold in spring 2020, the belief was that the market would struggle. However, after an initial dip, pent up demand for housing, particularly detached homes, increased prices throughout last fall and earlier this year, in part due to a lack of supply. As evidenced in the data, prices in central major metros have been softer than those in traditionally less expensive markets like Owen Sound and Atlantic Canada.
Rushton says prices have moderated over the past couple of months. "This is typical of what we see through the summer months, but all signs are pointing to another busy fall as inventory across the country continues to be low with plenty of buyers waiting to make a move as soon as they can."
Regional highlights: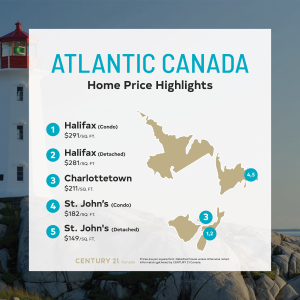 Atlantic
Atlantic Canada has long been seen as the most affordable region in Canada for housing. But over the past year, prices have consistently increased with work from home becoming a viable option for many workers. Halifax has seen the biggest increase in prices, but Charlottetown, Fredericton, Moncton, and St. John's are all seeing double-digit increases.
"Because we are still affordable, people are flocking here," says Paul Burns, Manager at CENTURY 21 A&T Countryside Realty. "Between people from Ontario finding that they can afford a home in Atlantic Canada, newcomers increasingly locating here, and locals who want to stay, this region is seeing prices we've never seen before."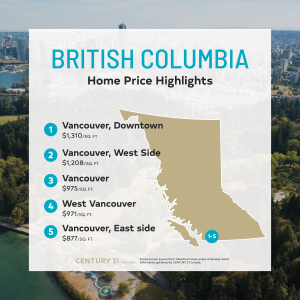 British Columbia
BC real estate is the most expensive in the country and remains so again this year. Prices in the outskirts of the city saw the largest increase with Chilliwack prices up over 40 percent to $406 per square foot, Delta up 38 percent to $50 per square foot and White Rock/South Surrey up 44 percent to $625 per square foot. Kelowna also saw solid increases with prices up anywhere between 20 and 30 percent, depending on what home type the consumer is choosing.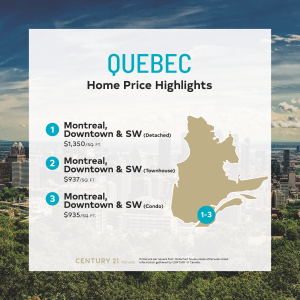 Quebec
Real estate in Quebec has been strong for several years now. Yet again, prices increased significantly since last year, with the price of a detached house in Montreal's downtown and southwest rising 41 percent to $1350 per square foot while townhouses increased 22 percent to $937 per square foot and condos 16 percent to $935. Over the past five years prices in Montreal have essentially caught up to those in Vancouver and Toronto. "Montreal saw affordable prices for many years, but people saw the value in this city and the cost of a home is now on par with other major cities in the country," says Mohamad Al-Hajj, owner of CENTURY 21 Immo-Plus in Montreal.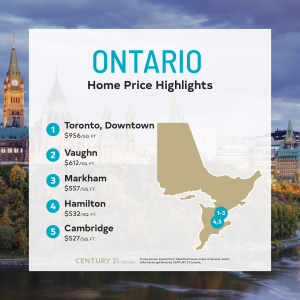 Ontario
2019 to 2020 saw modest growth in Ontario, and the past year has seen even bigger increases. Most notably, the prices in Owen Sound and Grey Bruce are up more than 80 percent. "Demand has been off the charts," says Mike Seiler, owner of CENTURY 21 In Studio Realty. "Our clients are moving up from Toronto now that they can work from home. People are also realizing how much more space you can get once you get out of the metro area."
Suburbs have all seen double-digit increases in prices, with the highest in those communities that are just a little outside a regular commute. "Now that people are commuting a few times a week rather than every day, they're willing to be a bit further from their jobs in order to secure a bigger home at a more affordable price," says Eryn Richardson of CENTURY 21 Heritage Group.
Prices in downtown Toronto condos were actually slightly down for the first six months of the year, but are coming back strong. 2021 started with lower prices than we saw in the initial pandemic, but have increased as the year went on. Ottawa condos were also down year over year but, they too are rebounding as 2021 continues.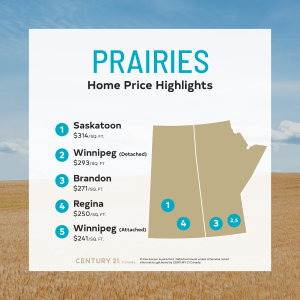 Prairies
Prairie house prices have seen some growth, although they are the slowest growing areas of the province. Saskatoon homes are up nearly twenty percent to $314 per square foot although condo prices remained flat and Regina properties only saw minor increases in prices. Winnipeg saw the biggest gains with homes up as much as twenty percent to $293 per square foot for a house and $241 per square foot for a condo.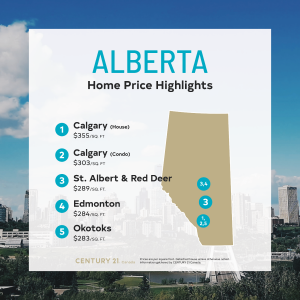 Alberta
Many markets in Alberta saw decreases in previous surveys but are up anywhere from three to fifteen percent depending on the city and home type. Like many markets around the country, detached homes have seen the largest increases compared to other home types. Red Deer and High River saw the highest house increases, with prices at $289 per square foot and $271 respectively. Condos in St. Albert are the other standout in Alberta real estate with a nearly 19 per cent increase to $251 per square foot, which is still among the most affordable in the country.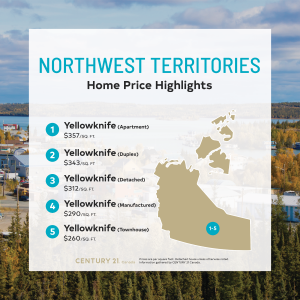 Even Yellowknife properties have seen an increase in prices. Both houses and duplexes have seen double digit increases while other house types have seen more subtle changes.
"This is the fifth consecutive year we have done this survey and, while previous years showed that real estate is a local story, we have seen widespread increases across the country this year," says Mr. Rushton. "Real estate is security—both emotional and physical—and after the pandemic people continue to want to invest in the places they want to spend the most time."
CENTURY 21 Canada's annual survey of data on the price per square foot (PPSF) of properties gathers and compares sales data from its franchises across Canada from January 1 to June 30 of each year. By looking at the price per square foot at the same time each year the firm is able to get a good idea of how prices have changed over time for similar properties. This year's survey compares 2020 prices with this year's results.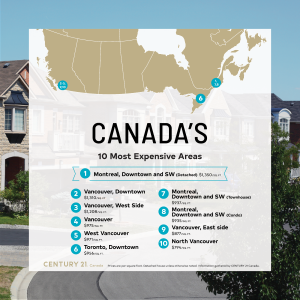 .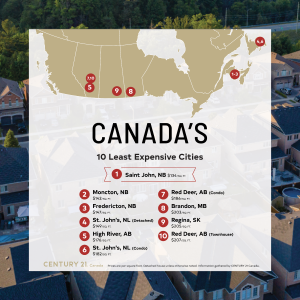 See full PPSF study results below:
ATLANTIC

CITY

HOUSE TYPE

2020 PPSF

2021 PPSF

% CHANGE 2020-2021

Halifax
Condo
$223
$291
30.49%
Halifax
Detached House
$225
$281
24.89%
Charlottetown
Detached House
$178
$211
18.54%
St. John's
Condo
$162
$182
12.35%
St. John's
Detached House
$135
$149
10.01%
Fredericton
Detached House
$123
$147
19.62%
Moncton
Detached House
$124
$142
14.78%
Saint John
Detached House
$123
$134
8.63%
---
BRITISH COLUMBIA

CITY

HOUSE TYPE

2020 PPSF

2021 PPSF

% CHANGE 2020-2021

Vancouver, Downtown
Condo
$1,192
$1,310
9.90%
Vancouver, West Side
Detached House
$1,004
$1,208
20.30%
Vancouver
Detached House
$816
$975
19.57%
West Van
Detached House
$734
$971
32.25%
Vancouver, East side
Detached House
$672
$877
30.48%
North Vancouver
Detached House
$690
$794
14.97%
Vancouver, Richmond
Detached House
$608
$722
18.69%
Burnaby
Detached House
$579
$688
18.76%
Victoria
Condo
$615
$659
7.15%
White Rock/South Surrey
Detached House
$435
$625
43.64%
Delta North
Detached House
$413
$570
37.88%
Victoria
Detached House
$488
$558
14.34%
Victoria
Townhouse
$418
$457
9.33%
Kelowna
Apartment
$334
$411
22.95%
Chilliwack
Detached House
$288
$406
40.72%
Kelowna
Detached House
$280
$368
31.41%
Kelowna
Townhouse
$302
$365
20.59%
Chilliwack
Condo/ Apartment
$270
$351
29.84%
Kelowna
Half Duplex
$263
$320
21.54%
Chilliwack
Townhouse
$250
$318
27.00%
---
QUEBEC

CITY

HOUSE TYPE

2020 PPSF

2021 PPSF

% CHANGE 2020-2021

Montreal, Downtown and SW
Detached House
$958
$1,350
40.92%
Montreal, Downtown and SW
Townhouse
$768
$937
22.01%
Montreal, Downtown and SW
Condo
$805
$935
16.15%
---
ONTARIO

CITY

HOUSE TYPE

2020 PPSF

2021 PPSF

% CHANGE 2020-2021

Toronto, Downtown
Condo
$1,033
$956
-7.45%
Vaughn
Detached House
$548
$612
11.75%
Markham
Detached House
$485
$557
14.96%
Hamilton
Detached House
$406
$532
30.94%
Cambridge
Duplex
$377
$527
39.79%
Richmond Hill
Detached House
$522
$520
-0.43%
St. Catharines
Bungalow
$425
$520
22.35%
Guelph
Condo
$423
$511
20.80%
Newmarket
Detached House
$510
$505
-1.04%
Waterloo
Condo
$411
$503
22.38%
Guelph
Detached House
$443
$483
9.03%
Kitchener
Condo
$399
$483
21.05%
Ottawa
Condo
$577
$479
-16.98%
Niagara Falls
Bungalow
$395
$475
20.25%
Cambridge
Townhouse
$341
$474
39.00%
Kitchener
Semi-Detached
$399
$460
15.29%
Hamilton
Townhouse
$343
$453
32.13%
Hamilton
Apartment/ Condo
$370
$453
22.39%
Guelph
Duplex
$400
$451
12.75%
Cambridge
Detached House
$388
$450
15.98%
Waterloo
Semi-detached
$399
$439
10.03%
Cambridge
Condo
$367
$435
18.53%
Kitchener
Townhouse
$342
$435
27.19%
Guelph
Townhouse
$364
$433
18.96%
Kitchener
Detached House
$400
$430
7.50%
Ottawa
Detached House
$313
$429
37.06%
Waterloo
Detached House
$407
$421
3.44%
Bradford
Detached House
$358
$410
14.45%
Waterloo
Townhouse
$344
$408
18.60%
St. Catharines
Detached House
$330
$400
21.21%
Ottawa
Townhouse
$392
N/A
Niagara Falls
Detached House
$300
$390
30.00%
Barrie
Detached House
$350
$378
8.00%
London
Detached House
$250
$362
44.80%
Grey Bruce
Detached House
$195
$357
82.87%
Owen Sound
Detached House
$167
$312
86.77%
Windsor
Detached House
$210
$295
40.48%
---
PRAIRIES

CITY

HOUSE TYPE

2020 PPSF

2021 PPSF

% CHANGE 2020-2021

Saskatoon
Detached House
$263
$314
19.39%
Winnipeg
Detached House
$244
$293
20.18%
Brandon
Detached House
$248
$271
9.01%
Regina
Detached House
$237
$250
5.35%
Winnipeg
Attached
$210
$241
14.53%
Winnipeg
Condo
$223
$234
4.79%
Saskatoon
Condo
$217
$216
-0.58%
Regina
Condo
$205
$205
0.18%
Brandon
Condo
$204
$203
-0.30%
---
ALBERTA

CITY

HOUSE TYPE

2020 PPSF

2021 PPSF

% CHANGE 2020-2021

Calgary
House
$320
$355
10.94%
Calgary
Condo
$296
$303
2.36%
St. Albert
Detached House
$269
$289
7.56%
Red Deer
Detached House
$252
$289
14.65%
Edmonton
Detached House
$268
$284
6.17%
Okotoks
Detached House
$254
$283
11.44%
St. Albert
Duplex
$278
$280
0.89%
High River
Detached House
$237
$271
14.34%
Edmonton
Duplex
$250
$270
7.70%
St. Albert
Condo
$211
$251
18.92%
Okotoks
Condo
$211
$219
3.57%
Edmonton
Condo
$206
$217
5.19%
Red Deer
Townhouse
$207
N/A
Red Deer
Condo
$186
N/A
High River
Condo
$173
$176
1.80%
---
NORTHWEST TERRITORIES

CITY

HOUSE TYPE

2020 PPSF

2021 PPSF

% CHANGE 2020-2021

Yellowknife
Apartment
$347.00
$357.00
2.88%
Yellowknife
Duplex
$306.00
$343.00
12.09%
Yellowknife
Detached House
$277.00
$312.00
12.64%
Yellowknife
Manufactured
$267.00
$290.00
8.61%
Yellowknife
Townhouse
$265.00
$260.00
-1.89%
For more information please contact:

Shawn Hall, Peak Communicators
(604) 619-7913
shawn@peakco.com
Leigh Kjekstad, Director of Brand Engagement, CENTURY 21 Canada
604-606-2139
Leigh.Kjekstad@century21.ca
Read more: