May 2021
Are you looking to add a pop of colour to your home but don't want the hassle of painting? Whether you are avoiding painting because you live in a rental, you can't have the added costs, or you simply do not have the time, here are 8 simple ways to add colour without painting to leave your home feeling vibrant and refreshed.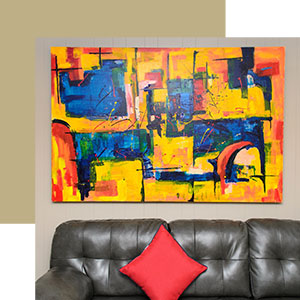 1. Hang a Bold Painting
Add a big bold painting to instantly brighten any room. This pop of colour will become the focal point creating depth and vibrance in your space. When picking your statement piece, remember bigger is better!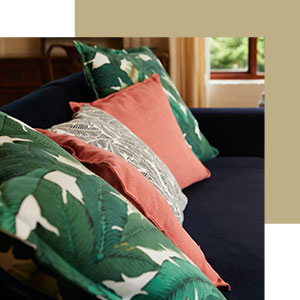 2. Throw in Colour
Throw pillows and blankets are a perfect channel to test out your colour choice as they can be easily moved and are relatively low-cost. Try out your most outrageous colour combinations with these décor pieces. Mix and match colours, patterns, and textures to create an energetic atmosphere within your home.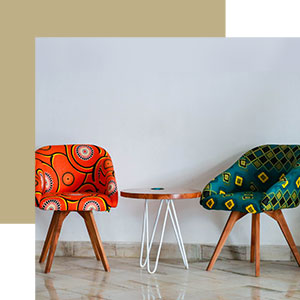 3. Invest in Accent Furniture
Invest in a colourful ottoman, chair, or couch. Bold furniture adds a statement to the dullest of rooms but be sure of your colour choice before making the big purchase. Test colour and texture samples at home with proper lighting so you know this hue is for you.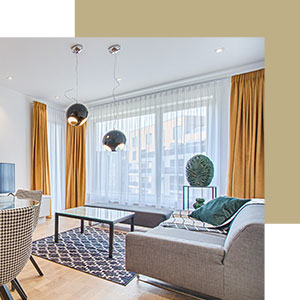 4. Add Vibrant Curtains
Floor to ceiling curtains instantly brighten your room and add a bold, dramatic look. With the natural light shining on the vibrant curtains, these are sure to be the feature of any room. Plus, with the correct placement, they can make your room and windows feel larger than they are. Check out these tips on how to properly hang your curtains.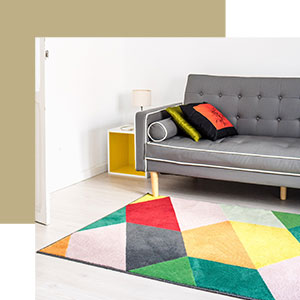 5. Display a Bright Rug
Refresh your room from the ground up with a large, bright rug. A bold coloured or a textured, multi-coloured rug is the perfect piece to anchor your room together while adding a flashy touch. Make sure you choose the right sized rug for your space to make it feel open and balanced. Click here for a rug size guideline.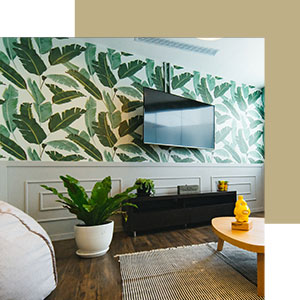 6. Install Lively Wallpaper
You might be staying away from paint, but why not dress up your walls with wallpaper! There is a vast array of bold graphic designs to add colour and style to any wall. Create a feature wall with a funky print or use an elegant textured paper to add depth to your room. For a quick and easy installation try removable wallpaper or wall decals.
7. Pick Flashy Décor Items
Another easy piece to test out your colour choice is décor items. Experiment with colourful lamps, coffee table books, centerpieces, light fixtures, and more. These smaller stylish items can be easily moved throughout the room to keep a balanced, refreshed feel.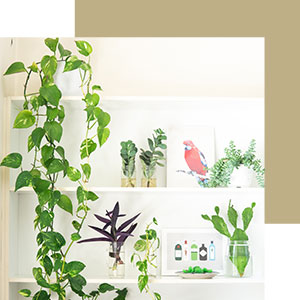 8. Decorate with Nature
Nothing adds a pop of colour like greenery. Pick up a fresh bouquet at your local grocery store or fill your home potted plants. These natural colours will brighten up your home and will always be in season. On top of being a stylish décor piece, greenery also has many mental and physical health benefits!
Monthly Feature

DIY Project: How to Make a Floral Wreath
Create a seasonal, modern wreath that you'll use for years to come.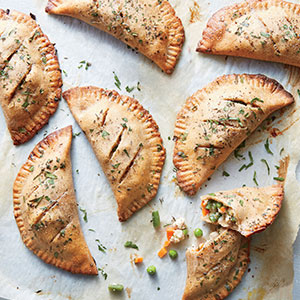 Recipe: Chicken and Vegetable Hand Pies
Everything you love about chicken potpies created to-go. Try out this veggie-loaded chicken hand pie for convenient comfort food.